If you're a fan of Batman: Arkham City then you're probably well aware of Batman: Arkham Unhinged, the DC Comics digital first series that's set in the world of the bestselling video game. You're probably also familiar with the great line of action figures and statues that DC Collectibles has produced based on all of the great characters found in the game.
Well, it was only a matter of time until these two things came together.
Take your first monochromatic gander at the DC Collectibles photo variant cover for BATMAN: ARKHAM UNHINGED #17, which will be available in stores on August 14, 2013. The cover features the upcoming Arkham City Batman statue, which is now available for pre-order.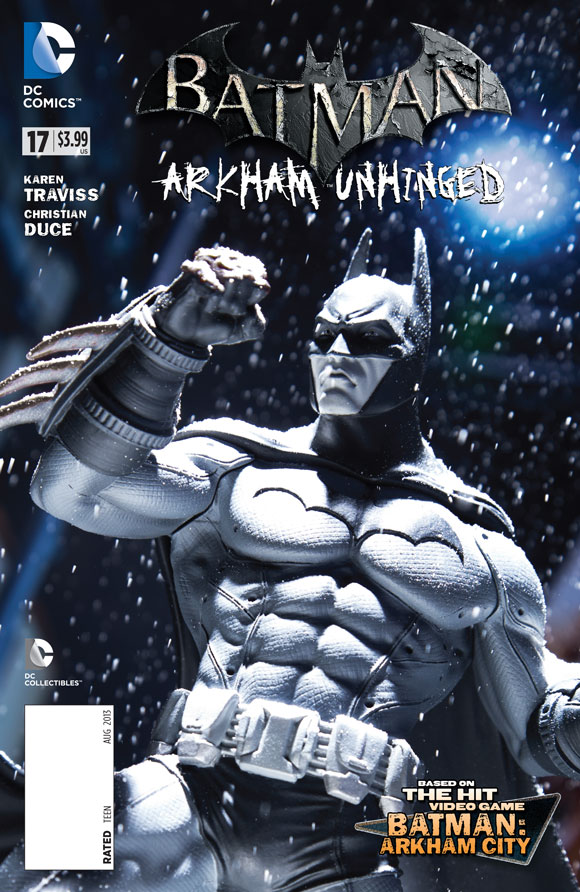 This issue is the second print issue to be written by new writer Karen Traviss and finds Batman dealing with a wave of civil disobedience prompted by a new curfew. You can find the full solicit information below:
BATMAN: ARKHAM UNHINGED #17
Written by KAREN TRAVISS
Art by CHRISTIAN DUCE
Cover by CHRIS MITTEN
1:10 DC Collectibles Photo Variant Cover
On sale AUGUST 14 • 40 pg, FC, $3.99 US • RATED T • DIGITAL FIRST
With a new curfew in effect, arrests for civil disobedience are taxing the prison system and the GCPD. With street crime still on the rise, Batman is coming up cold in his attempts to find Gotham City's latest bizarre killer, but finds his hands full with petty thugs and corrupt officials.
So Bat-fans, what do you think of this variant? And even more important, what do you think it would take to get a six-pack like that?