Last Wednesday, we offered fans of Demon Knights, DC Universe Presents and the artists who draw them a chance to win a Deadman card signed by Bernard Chang. The response, unlike Mr. Brand, was anything but dead.
Here's the winning entry photo: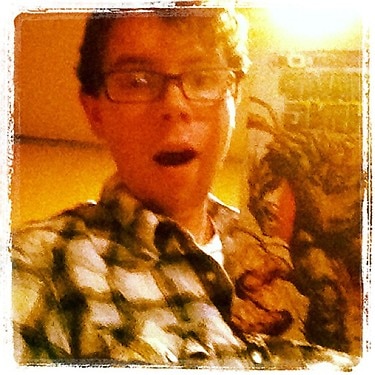 CAPTION: Why didn't I start reading this sooner?!? It's fantastic!
The photo and caption were submitted by @JeremyLivi on Twitter, who along with his new appreciation of Swamp Thing will also be receiving a great new collectible. But if you didn't win, don't despair because we're doing it all over again. If you're a Vertigo fan, you probably know that FABLES #121 is out this week. This issue wraps up the eight-issue "Cubs in Toyland" storyline that has been brought to vivid life by artists Mark Buckingham and Steve Leialoha. So to celebrate this acclaimed storyline, we're giving you a chance to win a Fables "Cubs in Toyland" card signed by both amazing artists!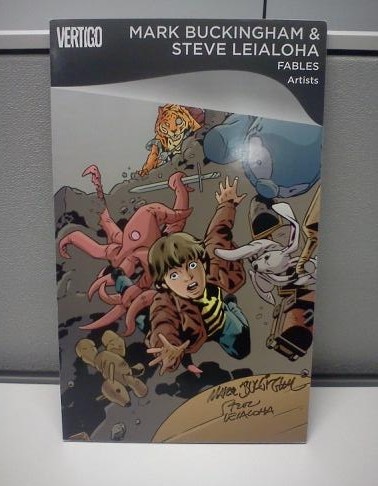 If you're new to this, the card is 11" by 14" and is made of heavy card stock. However, if you'd like to get your hands on this ready-for-framing collector's item, you're going to need to do a couple things.
1) If you're not already doing so, be sure to follow @Vertigo_Comics on Twitter and DC Comics on Instagram.
2) Pick up some of your favorite new DC or Vertigo comics on Wednesday and take a photograph of you reading them. (If you can't make it to a comic shop on Wednesday, a photo of you reading any Vertigo or DC comic will do.)
3) Share your picture with us via Instagram and tag @Vertigo_Comics and #newDCday.

That's all there is to it! At 5 pm PST on Monday, September 24, 2012, one winner will be chosen at random and direct messaged for his/her mailing address. The winner will be featured on Twitter. Vertigo Comics will tweet the winner's photo and a fan shout out on or around Tuesday, September 25, 2012.

Giveaway Details

NO PURCHASE NECESSARY. A purchase of any kind will not increase your chances of winning.

This Sweepstakes is open only to legal residents of the 50 United States or the District of Columbia who are at least 18 years old as of the date of their entry. Employees of DC Entertainment and any of DC Entertainment's affiliates, parents, subsidiary companies, or advertising and promotion agencies and members of their immediate families are not eligible to enter or win the Sweepstakes. Void where prohibited. By entering the Sweepstakes, entrants agree to these Official Rules and DC Entertainment's Privacy Policy. The decisions of Sponsor are final and binding on all matters relating to this Sweepstakes. Odds of winning depend on the total number of eligible entries received.

One entry per person. All entries must comply with these Official Rules and meet the submission guidelines detailed herein. Each entrant is solely responsible for any and all uses of his/her registered Twitter account.
By submitting a picture, entrant warrants, represents and agrees that: (i) entrant is the person appearing in the picture; (ii) the reproduction, distribution and display of the picture does not violate the rights of any persons or entities; (iii) the entrant has the right to submit the picture to Sponsor; and (iv) Sponsor may reproduce and display the picture on ­­­­­­­­­­­DCComics.com and all DC Comics-operated Twitter and Facebook pages. Sponsor reserves the right to condition the award of prizes upon the execution by the winner(s) of a publicity release. Notwithstanding this reserved right, entry is conclusively deemed to be permission by the entrant for Sponsor to use the entrant's name and the picture (without compensation to the entrant) if the entrant is a winner to publicize the Contest and otherwise, as determined by Sponsor, unless prohibited by law. Sponsor reserves the right to require the winner to execute an affidavit of eligibility as a sworn document and provide other proof of eligibility as a condition of receipt of the prize or award.

The random selection will be held on 5 p.m. PST on Monday, September 24, 2012 from all eligible entries received. We will then Direct Message the winners on Twitter to get mailing address and other information. If a selected winner does not comply with these rules or respond to the request to claim their prize, an alternative winner will be selected from the remaining eligible entries. Total value of prize is $50.00.

Sponsor not responsible for late, lost, stolen, incomplete, misdirected, garbled, damaged, delayed or undelivered entries.
Winners' List: For the name of the winner, available after Monday, September 24, 2012, send a stamped, self-addressed envelope, to be received by DC Entertainment to: Gerard Maté 4000 Warner Blvd. Burbank, CA  91522.

The Sponsor of the Sweepstakes is DC Entertainment, 1700 Broadway, New York, NY 10019.