Francis Manapul, THE FLASH artist and co-writer, shares his step-by-step process for a teaser image he created. The first 3 steps incorporate never-before-seen art from next month's issue #3. And in the last step, you can see how Francis manipulated the image for the DC Comics-The New 52 Art Tour. Enjoy! I don't really have a design background. But I am a fan of bold and graphic images. Something about a simple well thought out composition just speaks to me, more so than a detailed drawing. If you've been following any of the new images released for The Flash, I'm sure you've noticed that I've started playing around with my composition and even started dabbling with typography. However when it came to designing this, it really was just dumb luck. I'm a huge, HUGE, Will Eisner fan. He was an absolute genius. Inspired by him I wanted to create pages that not only told a story, but also worked as a title page. So playing around with the composition, and typography I started with a layout.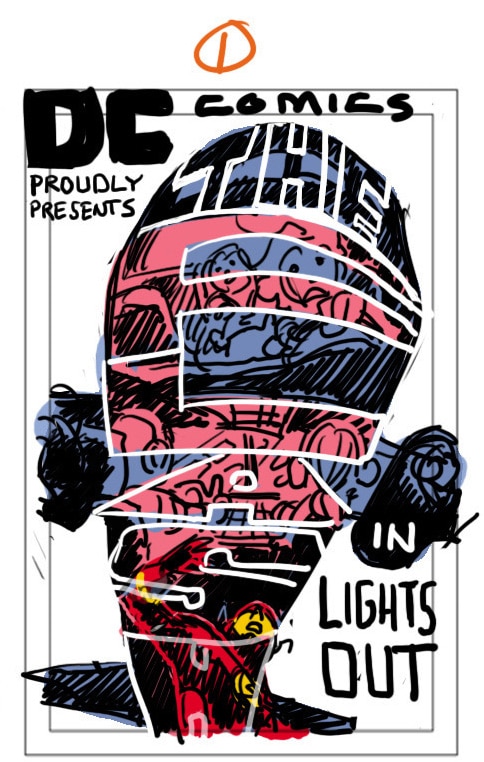 After the layout stage, I illustrated the page using traditional mediums (brushes, ink, and watercolor).
I wanted to incorporate "the Flash" typography with the illustration of the plane, and I knew it was easier to do digitally. It was also a safer route in case it didn't work. Luckily, I like to think it did. I colored the Flash simply because I needed to see what color for the text would compliment his red costume.
This is when dumb luck struck. Ever so often I would turn off the line work layer to pick out the color and make adjustments. Most of the time it looks weird. But this time I found myself saying "hey that kinda looks cooler than the finished version".
From there I put the hand lettering I had done back in. Then inspiration struck!
I cleaned up the coloring, added some standard font types (I don't have many, just the presets in Photoshop) but they work just as well I think, and voila! I get to pretend I'm a graphic designer!
I was asked to try and make the piece work for the  DC Comics-The New 52 Art Tour, so I simply just added some process work in the background. Easy, peasy.