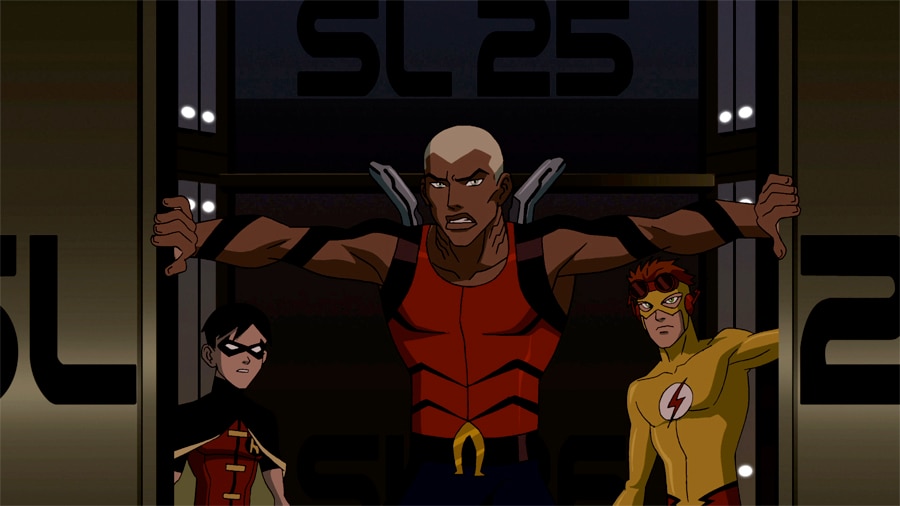 YOUNG JUSTICE, the hit Cartoon Network series from Warner Bros. Animation, will come to DVD for the first time on July 19th with
Young Justice Season 1 Volume 1
.
Fans of the teenage super team can revisit the first season's exciting adventures – and if you haven't seen the series yet, here's your chance to catch up! From the official description of the series:
In Young Justice, being a teenager means proving yourself over and over — to peers, parents, teachers, mentors and, ultimately, to yourself. But what if you're not just a normal teenager? What if you're a teenage super hero? How much harder will it be to prove yourself in a world of super powers, super villains and super secrets? Are you ready to come of age in such a world? Are you ready for life or death rites of passage? Are you ready to join the ranks of the great heroes and prove you're worthy of the Justice League? That's exactly what the members of Young Justice — Robin, Aqualad, Kid Flash, Superboy, Miss Martian and Artemis — will find out: whether they have what it takes to be a proven hero.
These teenage heroes collectively become the Justice League's secret weapon against the forces of evil. The young protégés must put their super hero education to the test and band together to covertly fight the evildoers that exist on Earth-16. Utilizing The Cave as their home base, the teen heroes will take on under-the-radar missions that would be impossible for the league's famous and identifiable elders to handle secretly.
While the team works to take on more super hero responsibilities, they are in constant training by the Justice League to eventually take their place alongside the great heroes. Red Tornado is their supervisor; Black Canary is in charge of their training; and Batman determines and directs their assignments. Of course, in true teenage fashion, the members of the team push the limits of their missions, often turning a simple assignment from Batman into something significantly larger.