Every great superhero origin story like Blue Beetle is a tale of overcoming daunting challenges and making the choice to do good. And don't forget the explosive action, awesome superpowers and super likeable hero—Jaime Reyes, I'm looking at you!
But what I loved the most about Blue Beetle is that it's really about looking beyond appearances to see the hero inside. It's a message that viewers of all ages and experiences can, and should, take to heart. I certainly did.
The opening ten seconds of the Blue Beetle trailer was our first tease of the film's strongest theme. "Mr. Reyes?" a voice asks a sunglasses-wearing young man gazing out at the ocean. We assume he's a rich jetsetter on vacation at an upscale resort—but moments later we realize he works at the resort.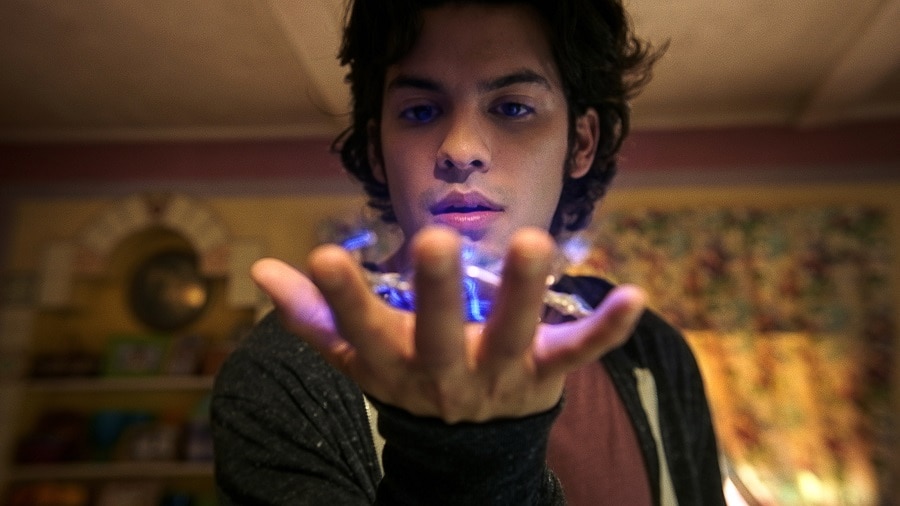 Mr. Reyes is Jaime Reyes, a recent college grad who comes home after several years of hard work as a pre-law student. As our story begins, he's greeted by his proud family at the Palmera City airport: his dad Alberto, mom Rocio, sister Milagro, Uncle Rudy and grandmother, who he calls "Nana." Everything seemed to be fine at home while he was away at school, so he's shocked to learn that they're losing the family home due to the rapid gentrification of their neighborhood. Instead of going to grad school like he planned, Jaime gets a job with Mili at the resort to help out.
It's there he meets just one of many characters who aren't what they seem on the surface. Jenny Kord, member of the wealthy Kord family, is beautiful, refined and stylish. But she's not a spoiled, rich girl who doesn't care about the world outside her door. Jenny, the daughter of Ted Kord, fights hard for what she believes in. She's willing to get her hands dirty to do the right thing. She steals the mysterious extraterrestrial scarab in Victoria Kord's possession before it can be used to create catastrophic weaponry, and in desperation, hands it to Jaime for safekeeping.
When he brings it home, Jaime's family isn't all that impressed by the blue scarab—until it springs to life. It merges symbiotically with Jaime in a shocking transformation complete with an oozing, creeping exoskeleton. But despite appearances, the scarab isn't meant to be a monster. The exoskeleton's purpose is protection. And while Jaime might not realize it, he's the right hero to wear it.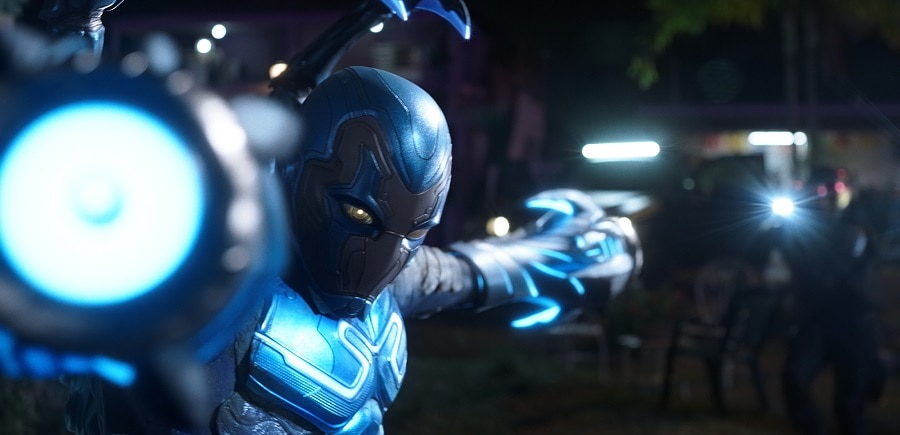 As Jaime learns to work with the scarab—named Khaji Da—his family helps him make sense of what's happening to him. Rudy, Jaime's uncle who dresses loud and talks louder, demonstrates his surprising knack for technology and engineering. Don't let the mullet fool you. Underneath the awesome hair is a brilliant brain that gets Jaime out of more than one predicament, from piecing together his own handy inventions to taking the helm of Ted Kord's Bug.  But more importantly, Rudy supports Jaime by listening and offering advice. We all need an Uncle Rudy in our lives.
And then there's Nana. Sweet, sweet Nana. Jaime's grandmother does all the things you'd expect a Nana to do. She has a kind smile. She listens to music, sews and enjoys watching her telenovelas (especially María la del Barrio!).
But this Nana also does all the things you'd never expect a Nana to do.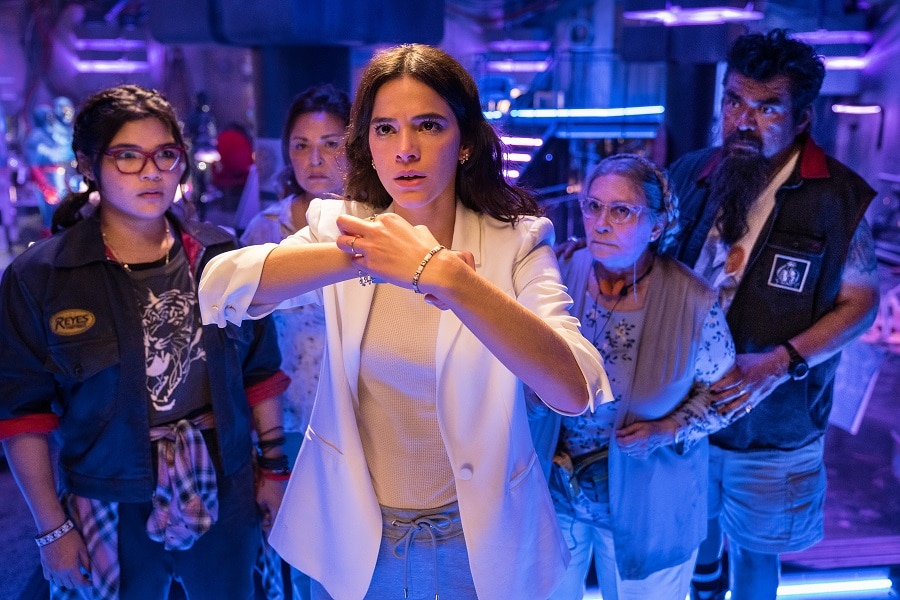 After suffering a devastating loss, Nana tells the Reyes family it's not the time to cry. There's a job to be done. She takes charge, devising a plan to infiltrate the Kord Industries facility on Pago Island to rescue Jaime. Rocio hints that Nana has a revolutionary past, and she proves her mettle when she chooses the biggest gun you've ever seen from Ted Kord's armory. Basically, Nana is badass!
Blue Beetle isn't just about superpowers. Whether it's Jaime, Jenny, Rudy or Nana, the movie highlights the hidden strengths everyone has when given the opportunity. Give people the chance to show off theirs, and you might be surprised at what they can do.
 
Blue Beetle, directed by Angel Manuel Soto and starring Xolo Maridueña as Jaime Reyes, lands in theaters now. Visit our official Blue Beetle hub for more news, features and videos about our newest big-screen hero and share your thoughts on the film right now in the DC Community!
Kelly Knox writes about all-ages comics and animation for DC.com and her writing can also be seen on IGN, Nerdist and more. Follow her on Twitter at @kelly_knox to talk superheroes, comics and pop culture.
NOTE: The views and opinions expressed in this feature are solely those of Kelly Knox and do not necessarily reflect those of DC Entertainment or Warner Bros., nor should they be read as confirmation or denial of future DC plans.