When it comes to summer superheroes, Jaime Reyes is definitely the bug to beat. Once you meet him in his new big-screen adventure in Blue Beetle, you might consider joining him in his very own comic book miniseries to see even more of your new favorite superhero in action.
Blue Beetle: Graduation Day might be just six issues, but it's a complete story that accomplishes the nearly impossible task of feeling both personal and packed with high stakes. Bring this book along as you soak up the last few rays of summer sunshine. It's exactly what you need for your next Weekend Escape!
 
The Premise:
Jaime Reyes has the hang of this whole superhero thing. Mostly. As Blue Beetle, he's fought alongside members of the Justice League and saved the Earth from an invasion of aliens known as the Reach. So, making it through his high school graduation ceremony shouldn't be a problem, right?
Come on, of course there's a problem! There's also the whole matter of deciding what to do with his life after graduation. And why is Jaime suddenly having trouble communicating with his scarab, Khaji Da?
 
Let's Talk Talent: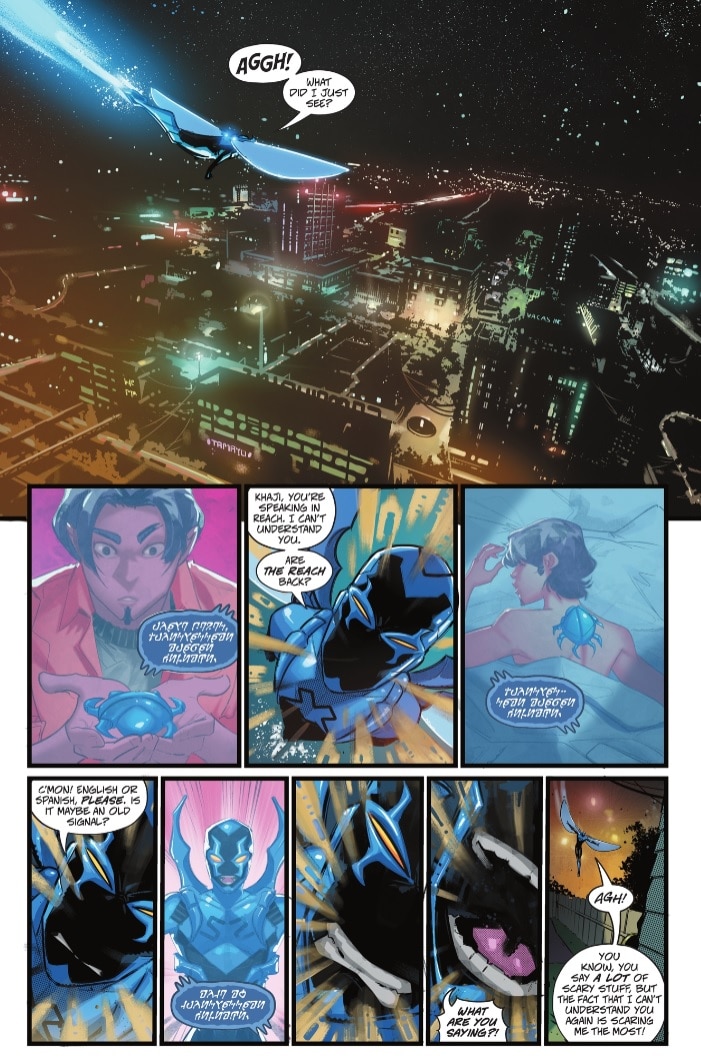 Writer Josh Trujillo is relatively new to the DC Universe, but has already tackled some of its biggest heroes like Superman, Wonder Woman and Shazam. His pitch—the story that would become Blue Beetle: Graduation Day—was voted by fans as first runner-up in the 2021 DC Round Robin competition of stories they most wanted to read.
Adrián Gutiérrez, who pulls double duty as penciller and inker, makes his debut as a DC artist in this miniseries. His work in Graduation Day is so expressive and kinetic that it feels like Jaime is going to literally leap out of every panel. It's clear Gutiérrez is an artist with a bright future in comics ahead of him.
 
A Few Reasons to Read: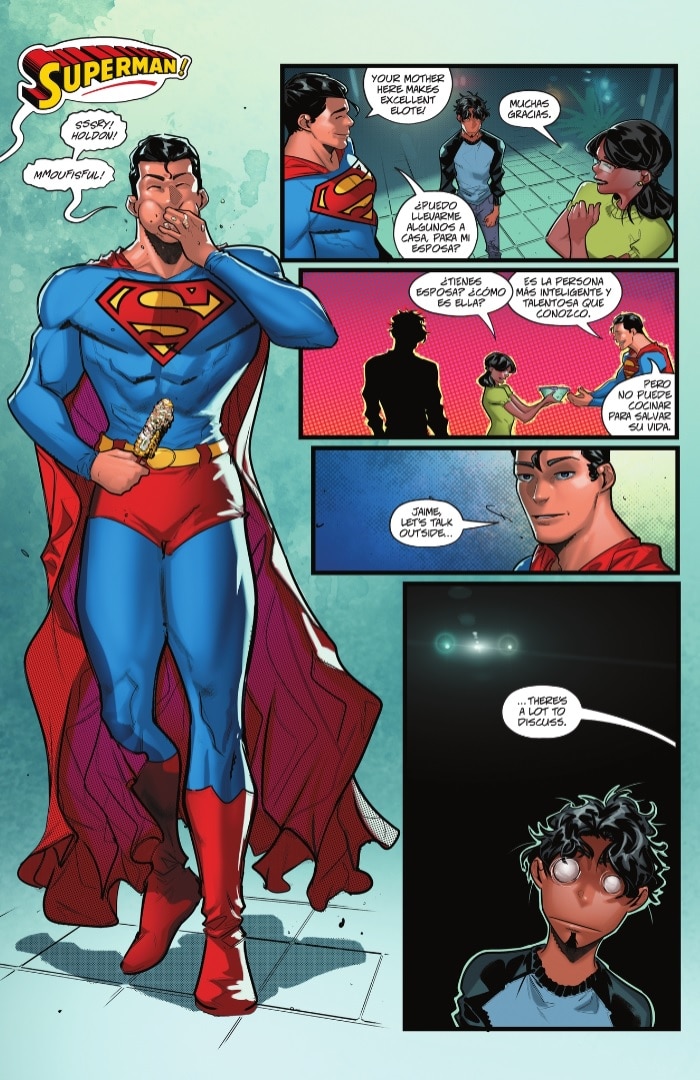 Superman stops by.

Blue Beetle has a lot to deal with, from finishing up high school to facing off against a tricky new super-villain named Fadeaway. But when the reappearance of the aggressive aliens known as the Reach adds to his worries, Superman visits for a pep talk—and snacks on some tasty elote made by Jaime's mom while he's there. The Man of Steel encourages Jaime to sit this one out and focus on his future in his non-superhero life. Superman is a natural teacher, and I'm a big fan of any story that pairs him with a younger superhero. But Clark isn't the only super-powered alien who feels a connection to Jaime…


 

Starfire was made to be a mentor.

While Superman is an ideal partner for any superhero-in-training, Starfire volunteering as Jaime's mentor is an inspired choice. She's much more concerned about Jaime himself than any alien invasion. Experienced with galaxy-spanning battles—and with being underestimated—Starfire understands his situation more than most. She disagrees with Superman asking Blue Beetle to lay low. Starfire, a delight as always, declares her faith in Jaime.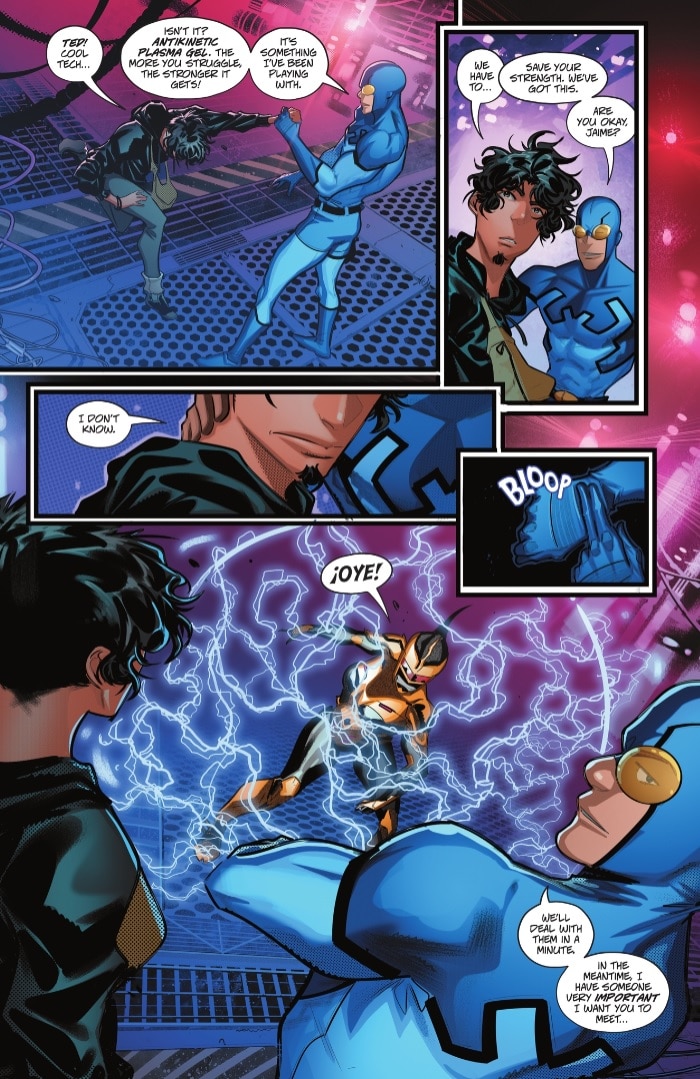 Welcome to Palmera City.

Without any college plans and on a temporary break from Blue Beetle-ing, Jaime moves from El Paso to Palmera City to help at his aunt's restaurant. But working in food service is way more stressful than facing aliens. On the bright side, the city is an up-and-coming hub of technology and innovation, and home to Kord Industries—which means it's also home to Jaime's friend Ted Kord! The glittering Gulf Coast city clings to its cultural roots as it grows. It's a beautifully diverse story setting with a ton of potential.


 

New Beetles!

The Yellow Beetle, Dynastes, and Green Beetle, Nitida, make their debut in Graduation Day. Dynastes is a powerhouse of strength and durability, and Nitida is a shapeshifter. Both were people living ordinary lives before they were chosen by their beetles. They don't seem like bad guys…so why are they going after Jaime? (You'll have to read to find out!)
 
Why It's Worth Your Time: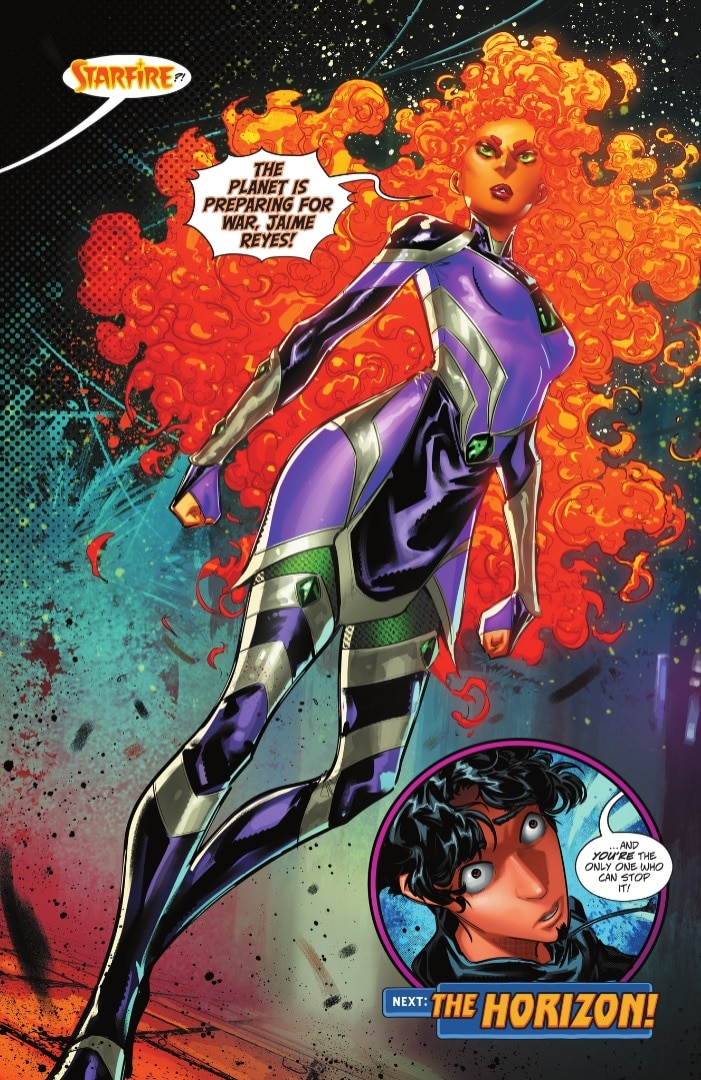 This miniseries is a fun, quick read, featuring a standalone story that new and old fans of Blue Beetle will enjoy. In just six issues, you get an idea of who Jaime Reyes is, how much he's supported by his loving family and friends and why he's a hero. Jaime helps everyone, even so-called super-villains who were punching him not too long again. (Although even he admits that's weird.) You can't help but root for someone who has Starfire and Superman in their cheering section.
Plus, if you enjoy Graduation Day, you don't have very long to wait for more. Trujillo and Gutiérrez return next month for a new Blue Beetle ongoing series that picks up right where this story leaves off!
 
Blue Beetle: Graduation Day by Josh Trujillo, Adrián Gutiérrez and Wil Quintana is available in print as a graphic novel and can be read in both English and Spanish on DC UNIVERSE INFINITE.
Kelly Knox writes about all-ages comics and animation for DC.com and her writing can also be seen on IGN, Nerdist and more. Follow her on Twitter at @kelly_knox to talk superheroes, comics and pop culture.
NOTE: The views and opinions expressed in this feature are solely those of Kelly Knox and do not necessarily reflect those of DC Entertainment or Warner Bros., nor should they be read as confirmation or denial of future DC plans.