Are you ready to take a trip to Warworld? The journey is full of peril, and the destination is deadly. Justice League: Warworld is the latest DC Universe animated film…and it's maybe not what you'd expect. The movie follows Superman, Batman and Wonder Woman as they find themselves in unfamiliar and very different surroundings. The result is a cosmic odyssey that blends multiple genres as it reimagines DC's trinity.
Notably, the film is split into three sections, as Diana, Clark and Bruce find themselves in three distinct settings.
"[Producer] Jim Krieg wanted to do a structure that was like Green Lantern: Emerald Knights," screenwriter Ernie Altbacker reveals. "It's a three-story thing where the stories come together in the final act. He wanted to do a Warworld that we hadn't seen before. Usually, Warworld is about gladiatorial combat. He wanted this to be more of a prison of the mind, where everybody is in a different holodeck situation and they have amnesia."
"We got to play in worlds that we never get to as animators within the superhero universe," adds director Jeff Wamester. "Let's do The Good, The Bad and the Ugly. Let's do Conan the Barbarian. Let's do '50s noir. That was really exciting to do because you never get to do that. It's always modern superhero stories."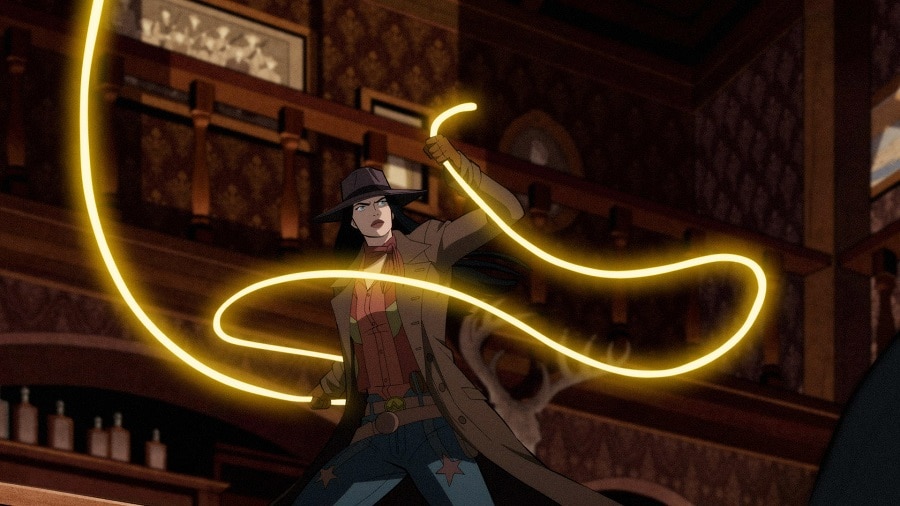 Wonder Woman's section of the film is set in the old west, with the Amazon warrior trading punches wherever she goes. It seems like a natural alternate universe for Diana (and in fact, has famously been done before), but according to Altbacker, she wasn't the original choice.
"At first people said, 'Let's do Batman in the old west,'" he says. "There are some comic runs like that. I've seen him blipped back to the old west, but I haven't seen Wonder Woman in the old west. If you think about it, since she's lived so long, what was she doing back then?"
"I've been a big western fan all my life, so I wanted a chance to do that in animation," admits executive producer Butch Lukic. "But I had to incorporate it with other genres because nobody is going to buy a western by itself."
"She's Clint Eastwood," explains Altbacker. "She's the woman with no name. She goes into a town, and she just can't help if there's corruption but to clean it up. We use [the lasso] more as a whip. I think when people see this, we're going to get Wonder Woman in the old west as a cosplay."
So, if Wonder Woman ultimately landed in the old west, what did the producers do with Batman? Bruce Wayne finds himself living as a mercenary in a Conan the Barbarian-inspired setting. Intriguingly, this leads to Batman behaving in ways that aren't quite heroic.
"He's a mercenary in this, so he's playing that character, because that's what he thinks he is," says Lukic. "It gives a different take on him, his nature, and what it could be if things went a different way."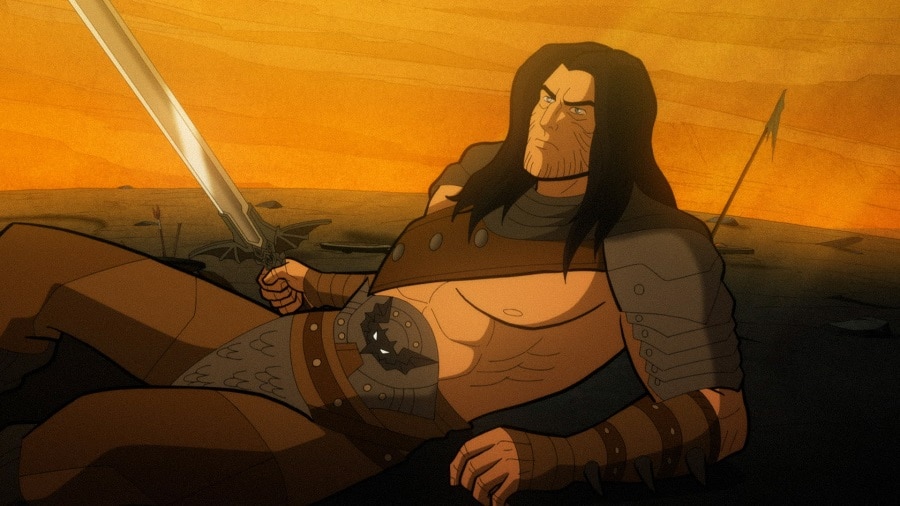 "He's a barbarian," explains screenwriter Jeremy Adams. "He doesn't know he's Batman. That leads to a further question down the road—is any of this particularly real? You'll have to find out."
Adams, as DC fans likely know, is both an avid comic book fan and current writer (you can check out his most recent work in Green Lantern), and he was able to find inspiration in his back issue bins.
"If you're a nerd like me who has been living with these characters for so long, you have amassed a great deal of stored stories in your head," he says. "There is Batman: The Return of Bruce Wayne where he went back in time, and I've always thought about what I would do."
The third act features Clark Kent tackling alien paranoia in a black-and-white noir story straight out of the 1950s.
"I believe mild-mannered would be a good description of him," producer Jim Krieg shares. "What's fun about that is we're mixing the cold war paranoia and the alien fear. All of the characters are sort of who they are anyway, just a little tweaked and a little manipulated by Warworld into being angry or hateful. It's leaning into a specific aspect of them."
Although the stories feature our heroes in different settings, Krieg was also quick to remind us that this isn't an alternate reality. This is all canon to the "Tomorrowverse" series of animated films, and in fact, marks the first time that the trinity have all appeared in the same film together.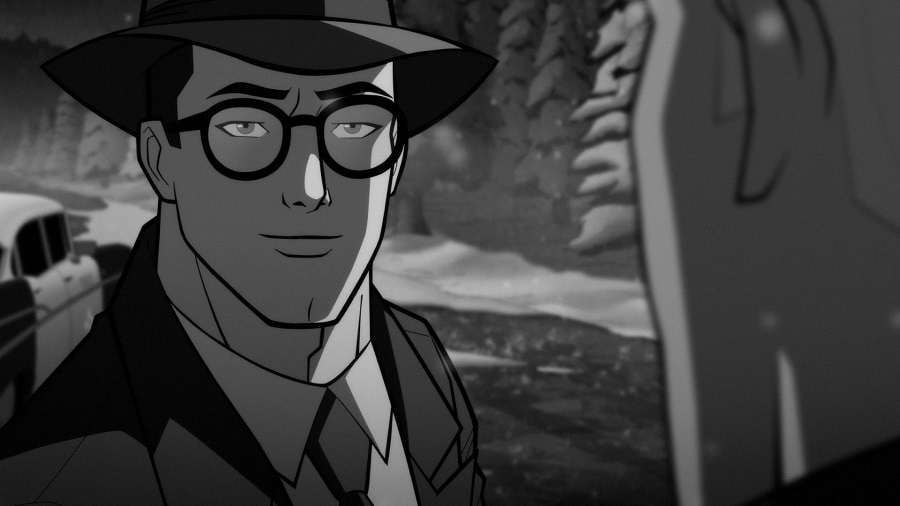 "I think the fact that they're each so different from each other is the thing that excites me about it," he enthuses. "They're all good stories, and they're not Elseworlds, because they're actually happening. They actually happen to the characters."
One thing worth noting, as with most of the DC Universe animated movies, Justice League: Warworld isn't for young kids. It's rated R, something that became apparent to the filmmakers pretty quickly. 
"There was some talk about keeping it PG-13, or should we go R," Wamester acknowledges. "We played around with it and we decided it needed to be that because of what we've been doing with the Tomorrowverse in terms of consequences with the characters. And it was on Warworld, which is not a nice world."
"Jeremy Adams saw it and told me he wondered how we got an R, then my section came on and people get shot in the face," Altbacker laughs, referring to his old west sequence.
According to Lukic, this film is part of the overarching saga that Warner Bros. Animation has planned for the Tomorrowverse.
"It's part of a storyline that we've been working on for the past few years," he shares. "It's another part of that puzzle that we're continuing."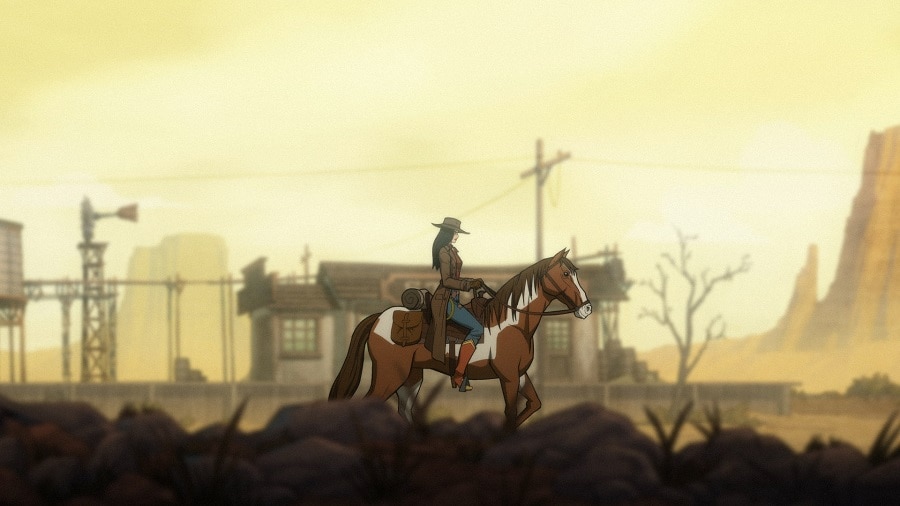 Lukic went on to tease the future plans for the shared continuity animated universe that kicked off with 2020's Superman: Man of Tomorrow.
"We have an end to the Tomorrowverse," he reveals. "This is one of the later movies, so at one point we're ending it. There's two more that I have in the can, and there's another one I'm working on. Beyond that, we don't know."
"When we started this, we had to get the commitment from the main actors that they would stick with it throughout all these movies," Lukic continues. "I didn't want to switch if they weren't committed. Jensen Ackles, Stana Katic and Darren Criss are all in, and they've gone with us on a journey."
 
Justice League: Warworld is now available digitally and on 4K Ultra HD Blu-ray Combo Pack and Blu-ray.