Don't let anyone tell you different, there's no wrong way to become a fan of something you love! Jim Benton's new middle-grade graphic novel Fann Club: Batman Squad is a prime example. Young Ernest Fann wants to take his admiration of Batman to the next level, but not even the World's Greatest Detective goes it alone. So, the earnest fan decides to share the ways of the Batman with others. He recruits his eager best friend Jack, his loyal dog Westy and his wary babysitter Harriet to the Batman Squad. Of course hijinks ensue.
Packed with jokes that superhero fans of all ages will love and more enthusiasm for the Dark Knight than you can throw a Batarang at, Fann Club: Batman Squad is full of humor and surprises. It also features delightful illustrations of expressive characters with over-the-top personalities that practically jump-kick off the page.
And best of all, Fann Club: Batman Squad lets kids know that they don't need expensive toys or an overflowing collection of comics to be a fan of Batman—or anything else. They only need their excitement and creativity.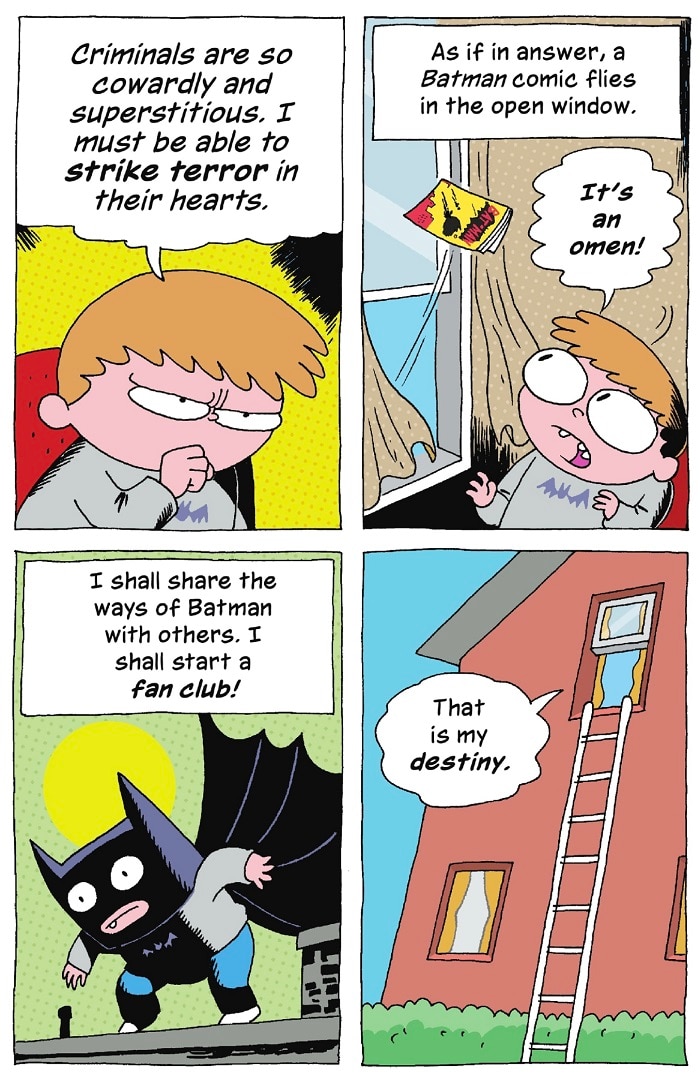 Find Inspiration Anywhere
A favorite episode of Batman: The Animated Series? The latest movie starring one of the members of the Justice League? A comic book flying through the window and almost smacking you in the face? There's an almost infinite number of places to find the inspiration to become part of a fandom. All you need is an open mind and an open window, in Ernest's case.
His eager imagination immediately gets to work. Step number one for forming his own squad of caped crusaders: advertising in the neighborhood. Step two? Everyone needs to look the part.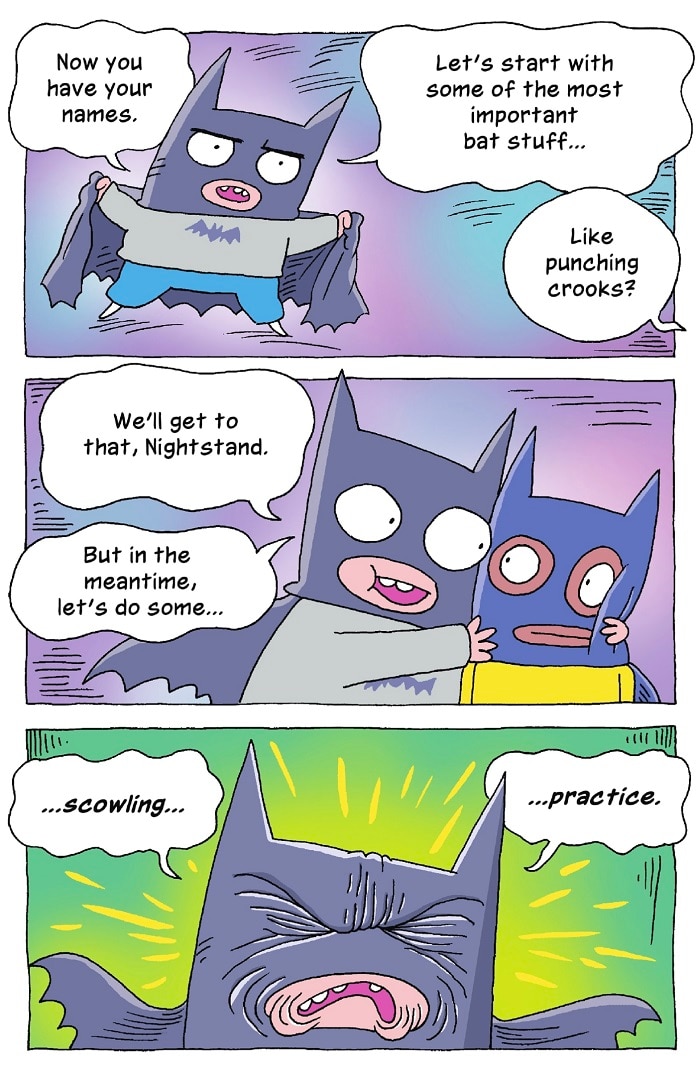 Dress for Success
We're not talking just a T-shirt with the Bat symbol on it (although that absolutely works, too). A long roll of black fabric is just the thing for making some "justice-colored cowls," Ernest decides. For superhero squad members in your own neighborhood, remember that just about anything can be turned into a good cape. Blankets. Towels. Pillowcases. A long-sleeve shirt from Dad's drawer that you will definitely put back later.
Once his new Batman fan club is properly recruited and outfitted, Ernest sets his mind on another vital task on his superhero to-do list.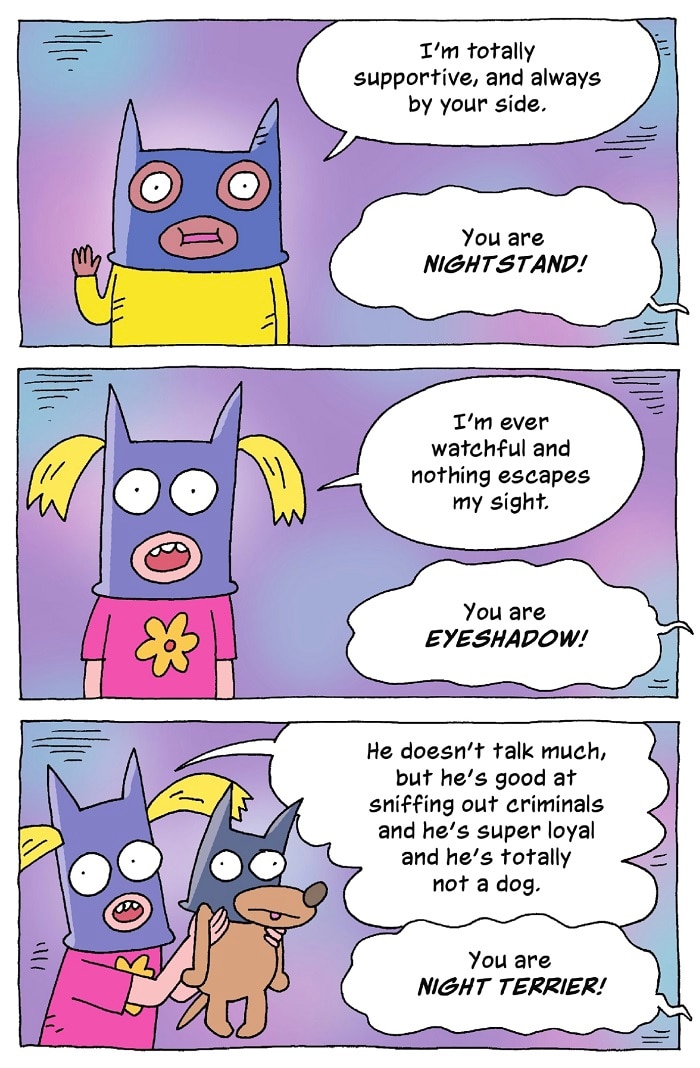 Flawless Superhero Name
Ernest's friends need hero names that fit them as well as their new Batman-inspired looks. Ernest is the dark and brooding Gerbilwing. He dubs Jack "Nightstand" because he's always by his side. Harriet becomes the ever-watchful Eyeshadow, and Westy is the mysterious Night Terrier.
Talking with kids to settle on a superhero name based on their personalities and favorite things isn't just hilariously clever—it's a super way to get to know more about them.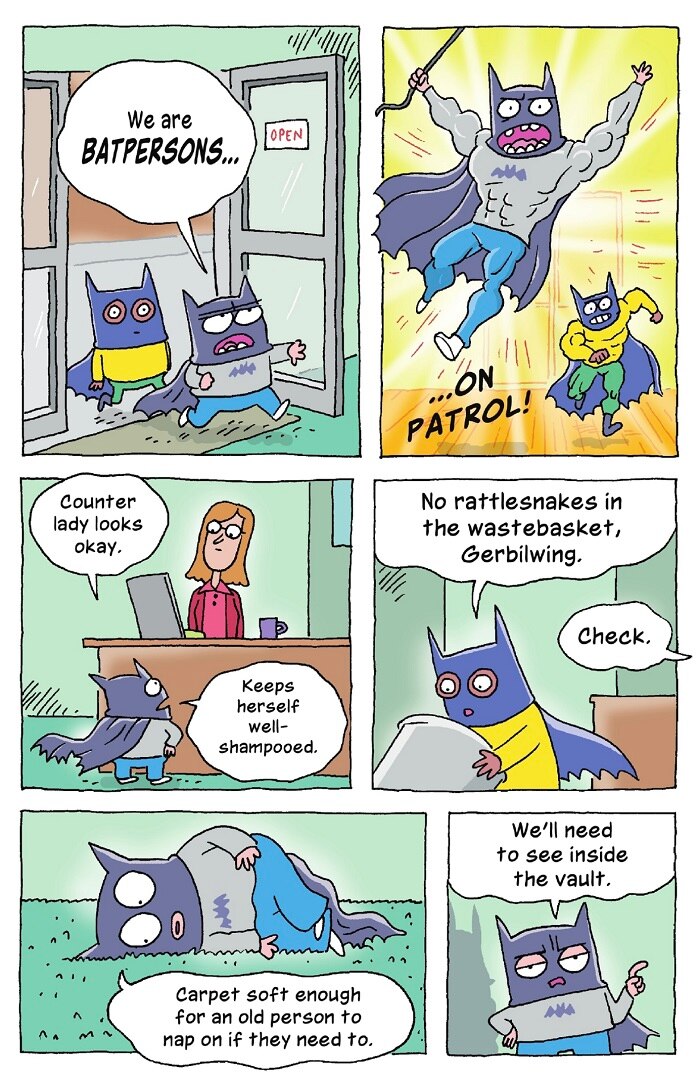 Fandom Is Better with Friends
Ernest and his friends practice their Batman scowls (my favorite part of the book) before setting off on patrol. Things get so wild from there that just describing them would spoil some of the surprises. There's a bank robbery. There's a werewolf. There's a justice cuddle, which sounds amazing, and I'd like one too, please. And there's one very important question posed to the Batman Squad: "What would Batman do?"
Ernest, Jack and Harriet find out that being there for their friends is the most heroic thing a person can do. No matter how far off the beaten path Ernest's passion for Batman Squad might take them, Jack and Harriet listen to his ideas and stand by him when things go awry. Which is frequently. Fann Club: Batman Squad is a fantastic reminder that fandom is fun, especially when your squad sticks together.
 
Fann Club: Batman Squad by Jim Benton is now available in bookstores, comic shops and libraries in print and as a digital graphic novel.
Kelly Knox writes about all-ages comics and animation for DC.com and her writing can also be seen on IGN, Nerdist and more. Follow her on Twitter at @kelly_knox to talk superheroes, comics and pop culture.
NOTE: The views and opinions expressed in this feature are solely those of Kelly Knox and do not necessarily reflect those of DC Entertainment or Warner Bros., nor should they be read as confirmation or denial of future DC plans.