There are a lot of Batmen running around in Batman #135. The milestone issue is not only the conclusion to Chip Zdarsky's "The Bat-Men of Gotham" storyline, but it's also the 900th issue of Batman if you go by legacy numbering. I suppose Chip wanted to celebrate the occasion, and boy, did he ever. Batman #135 is a celebration of the Dark Knight's long legacy across comics, television and film. We should consider locking Chip in Arkham because he's nothing short of a literary madman for what he was able to pull off.
If you're behind on the Dark Knight's current storyline, Batman has been battling Red Mask, a version of the Joker from an alternate Earth. Red Mask's evil scheme forces Batman to chase him across the multiverse, and as the Caped Crusader closes in on his enemy, he comes across various versions of himself.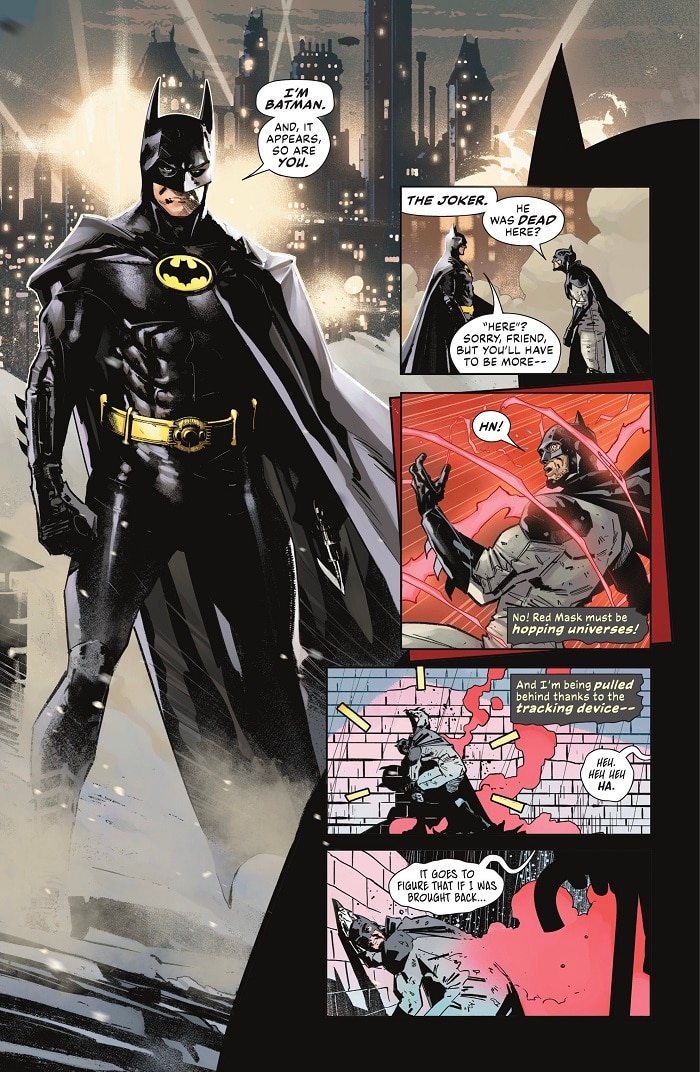 We see the Michael Keaton version of Batman from the classic Tim Burton movies, Adam West's Batman '66, the familiar take on the Dark Knight from Batman: The Animated Series, the Kingdom Come Batman, and so many more. I won't spoil every Batman that shows up because you're going to want to check this issue out for yourself, but what really sells it are all the fun, imaginative little touches. For example, when the Keaton version of Batman appears, Gotham City is drawn to look like it did in the 1989 Batman film. I also appreciated seeing the steps to the Gotham City Police Department from the 1966 Batman television series. Little touches like that made this feel more like a celebration of Batman's legacy.
This is a good time to sing the praises of Mike Hawthorne, Jorge Jimenez and Mikel Janín, who all helped pencil this issue and did a phenomenal job capturing the art style associated with each Batman. They also included some great visual Easter eggs. Pay close attention to each page and you'll notice lots of subtle touches that really help bring each corner of the multiverse to life.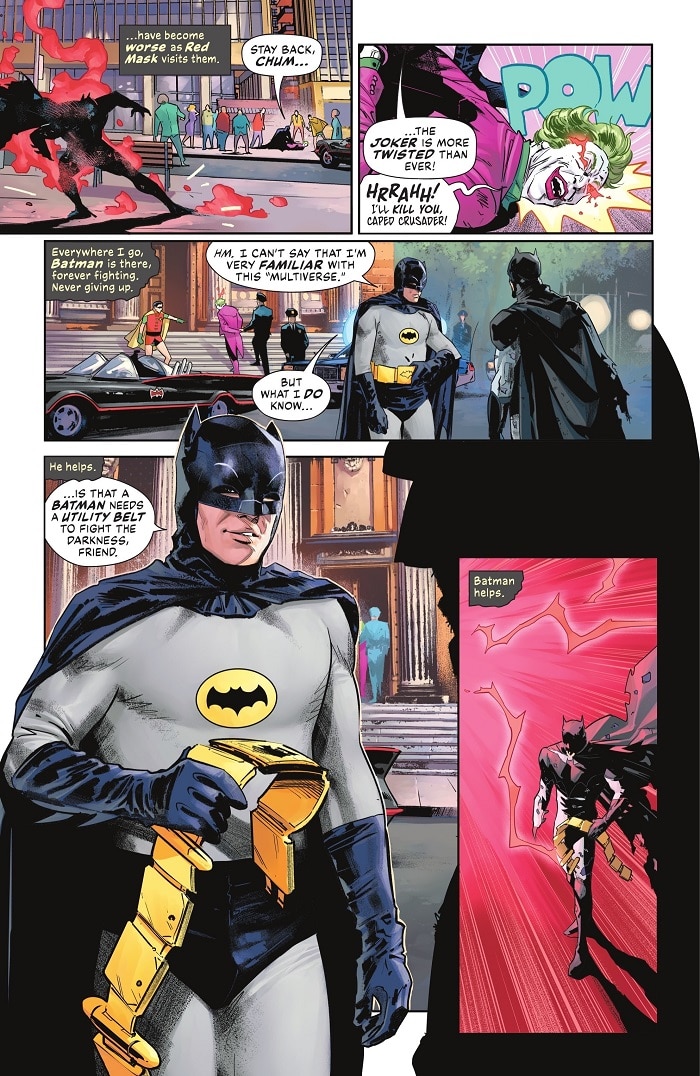 As Batman's journey continues, he loses some of his armor and gadgets. The Batmen of the multiverse help him by giving him pieces of their costumes and tools. By the end of the issue, Bruce is wearing a Frankensteined version of his costume. He has Adam West's utility belt, for example, and armor from Frank Miller's Dark Knight. It's a nice visual, mixing the iconic hero's rich history into one outfit.
Maybe I'm reading too much into it, but it's almost like Zdarsky is saying that the modern DC Universe Batman is the sum of all his parts. As the Dark Knight has evolved, his characterization has been influenced by stories like The Dark Knight Returns and Batman: The Animated Series—we can see this in all of Batman's comics. Adam West and Christian Bale's takes on the character might seem worlds apart, but both of them are permanent pieces of the character's DNA, which continues to influence creators like Zdarsky.
By the way, one of those gadgets plays an important role in saving Batman at the end of the story. I won't spoil which gadget it is, but I will say it's one that has had its fair share of controversy over the years. Its inclusion in this comic feels like a nice piece of redemption.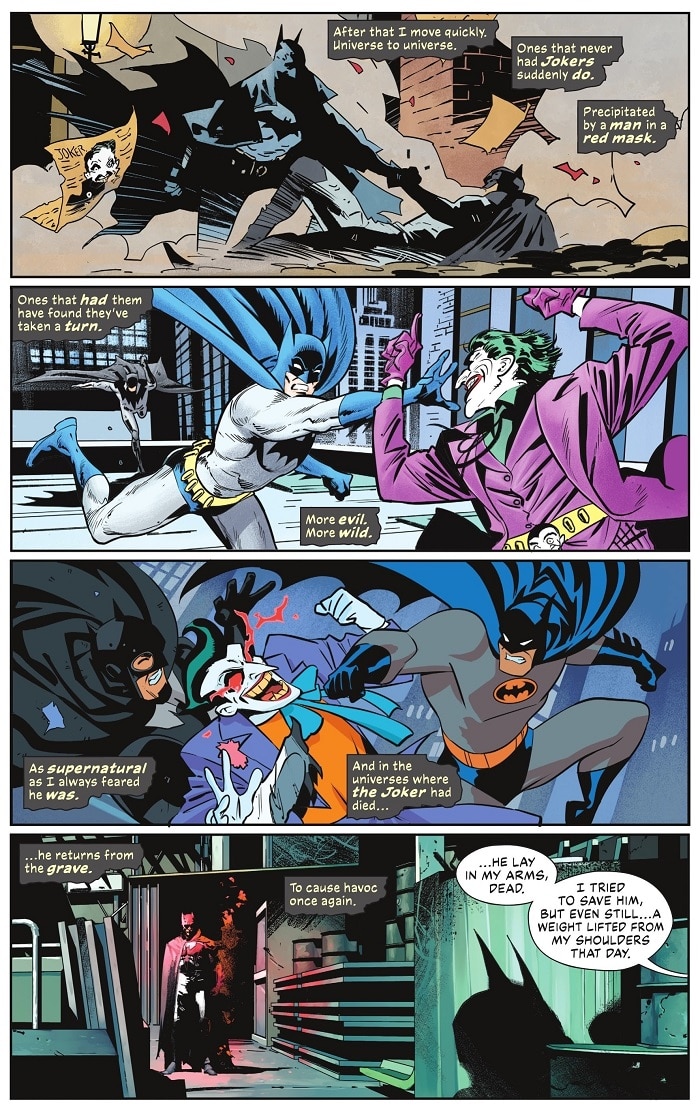 Some people might find the multiverse concept to be played out, but I think they're wrong. The DC Universe has had multiple multiversal mic drop moments, including the "Crisis on Infinite Earths" television event and Beast Boy's pilgrimage into the Red on HBO Max's Titans. In a multiverse of infinite worlds, there are an infinite number of stories you can tell. The multiverse concept hasn't gotten old. All it ever really needs is a talented, visionary creator to take things in a surprising new direction like Zdarsky has done here.
And yes, you can call it fan service, but there's nothing wrong with that. Why do people think we read comics? The idea of a creator putting something fun in for the fans shouldn't be considered a bad thing. Besides, the presence of fan service never stops this comic from telling a thought-provoking story.
In addition to being a multiverse cameo-fest, Batman #135 is an interesting character study on the Dark Knight's rivalry with the Joker. A lot has been said about Batman's relationship with the Clown Prince of Crime over the years, and this issue adds some interesting things to the conversation. At one point, Red Mask says that the Joker only exists because of Batman, a popular theory.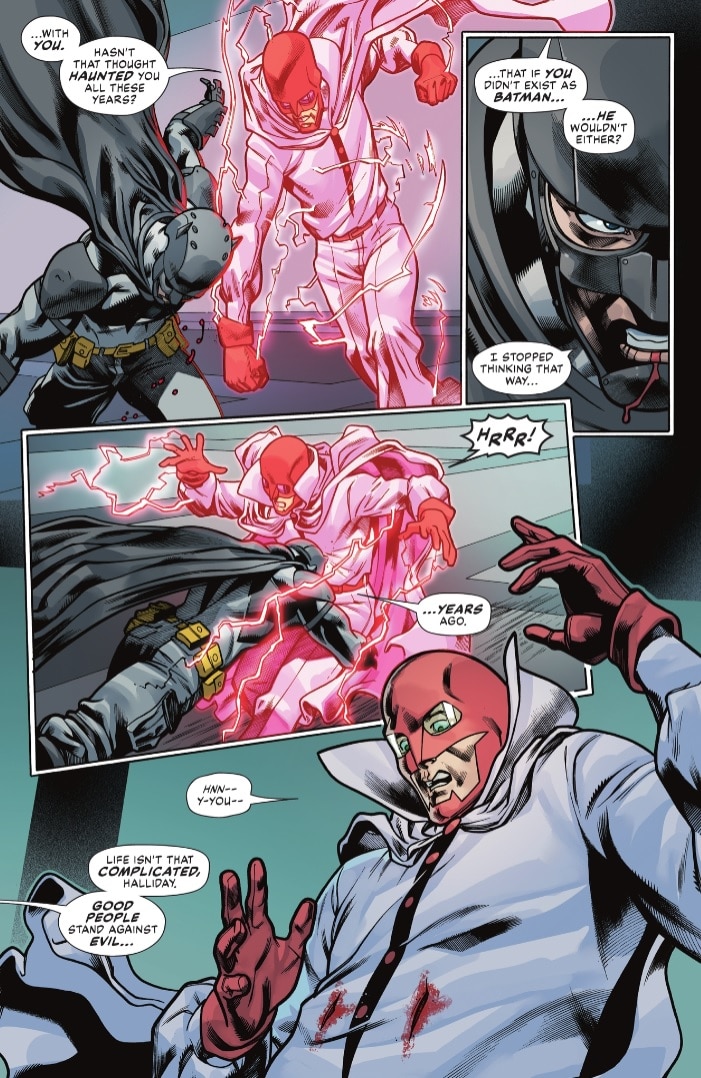 "Hasn't that thought haunted you all these years?" Red Mask asks. "That if you didn't exist as Batman, he wouldn't either?"
"I stopped thinking that way years ago," Batman responds. "Life isn't that complicated, Halliday. Good people stand against evil." The Dark Knight goes on to explain that he's seen what a world without Batman is, and it's still a world of monsters.
Who is Batman? Is he the dark and gritty warrior from Frank Miller's The Dark Knight Returns, or is he the campy Caped Crusader from the 1966 Adam West television series? These characterizations might seem contradictory, but they're all part of the beautiful tapestry that is Batman. Batman #135 is a wonderful reminder of that.

Batman #135 by Chip Zdarsky, Mike Hawthorne, Jorge Jimenez, Mikel Janín, Adriano Di Benedetto and Tomeu Morey is now available in shops and on DC UNIVERSE INFINITE.
Joshua Lapin-Bertone writes about TV, movies and comics for DC.com, is a regular contributor to the Couch Club and writes our monthly Batman column, "Gotham Gazette." Follow him on Twitter at @TBUJosh.
NOTE: The views and opinions expressed in this feature are solely those of Joshua Lapin-Bertone and do not necessarily reflect those of DC Entertainment or Warner Bros., nor should they be read as confirmation or denial of future DC plans.