The Dawn of DC Crossover Event Has Batman Taking On the Brand-New Crime Boss, Catwoman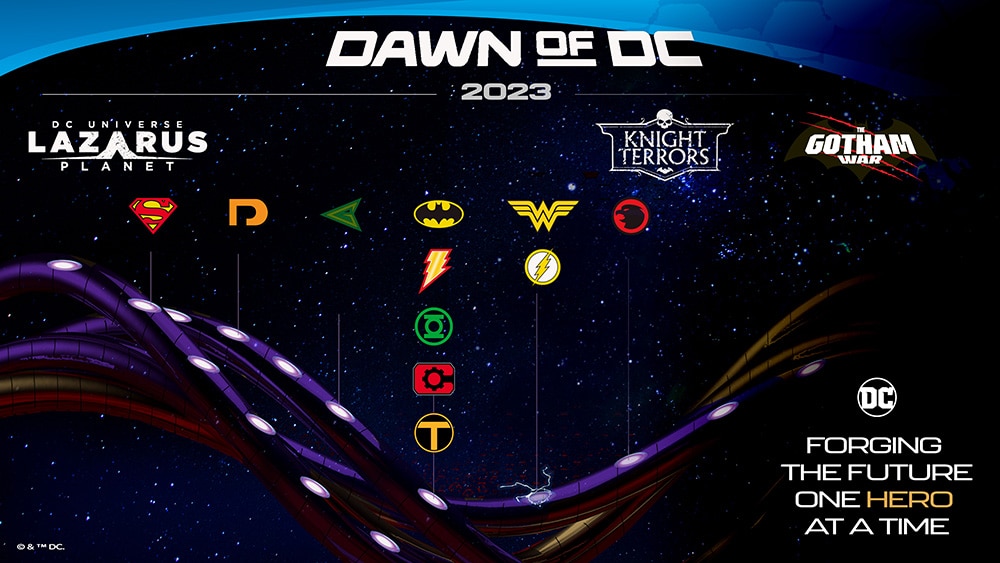 A battle is brewing in Gotham between the Bat and the Cat, but crime is down in Gotham City…could that be a bad thing? Spinning out of the nightmares that haunt Batman in Knight Terrors: Batman, Batman/Catwoman: The Gotham War begins on August 29, 2023. The Dawn of DC crossover event takes place in Batman and Catwoman, as well as in special one-shots and a miniseries.
A coordinated effort in Gotham City has led to a reduction in violent crime, but at what cost? Villains scatter as their lives begin to crumble under a new regime. And as Batman recovers from his epic battle through the Multiverse and the horrors of Knight Terrors, one name runs through his mind. One name at the heart of this new, safer Gotham: Catwoman.
A conflict that's been brewing for well over a year finally hits the streets, and it will fracture the Bat-Family as war erupts! From bestselling writers Chip Zdarsky and Tini Howard and artists Mike Hawthorne and Adriano Di Benedetto comes the opening shot of the Gotham War in Batman/Catwoman: The Gotham War - Battle Lines #1, available at comic shops on August 29! The special kickoff issue features a main cover by Jorge Jimenez, open-to-order variants by Joe Quesada and Kael Ngu, a 1:25 variant by Otto Schmidt, a 1:50 variant by Ngu, and a 1:100 inked version of Quesada's cover.
"From the moment Tini and I started working on these titles, we realized we had a huge opportunity to build toward something that would shake up the power structure of Gotham City," said Batman writer Chip Zdarsky. "The Gotham War is just that: relationships explode, relationships are formed, and it all leads to massive changes! Being able to take these kinds of big swings together has been extremely exciting."
The second part of Batman/Catwoman: The Gotham War takes place in the pages of Batman #137, available at comic shops on September 5, written by Chip Zdarsky with art and main cover by Jorge Jimenez. Batman descends on Gotham City, full of rage and force, more driven than ever to save his home. But the new landscape has turned friends into foes. Can anyone stop his reign of terror? Should they? The issue will also feature open-to-order variant covers by Joe Quesada, Gabriele Dell'otto and Rose Besch. A 1:25 variant will be available from Salvador Larroca and Quesada's cover will also be available as a 1:50 variant.
Batman/Catwoman: The Gotham War continues in Catwoman #57, written by Tini Howard with art by Nico Leon. While Batman finds himself more and more isolated, Selina is never alone. With a volunteer army and two powerful generals by her side, the ballet between her and Bruce enters its next act with a shocking twist. Catwoman #57 is available on September 19 with a main cover by David Nakayama, open-to-order variants by Jamie McKelvie and Joshua "Sway" Swaby, a 1:25 variant by Rian Gonzales, and Sway's cover available in a 1:50 version.
"Comics thrive on team-ups. Whether it's a team of creators or a heroic partnership, all of my favorite stories are about two strong personalities and the space between them," said Catwoman writer Tini Howard. "On the page, we've got one of comics' greatest love stories: the world's greatest detective and the world's greatest criminal. And they both love Gotham City. But the course of true love never did run smooth."