While she's been a popular character since her introduction in 1973's Wonder Woman #204, Nubia has rarely been explored in those fifty years since. But that all changed in 2021 with the arrival of Nubia & the Amazons. The dynamic and beautifully illustrated new series reintroduced the famed Themysciran in the hands of some of comics' most brilliant creators. This wasn't just a reconsideration of Nubia, though, but also of the Amazons and Themyscira itself. Nubia's first solo series is an action-packed superhero adventure that firmly places her at the forefront of the DC pantheon. You can read the collected edition of Nubia & the Amazons—which contains the whole six issue miniseries as well as the Nubia: Coronation Special #1—on DC UNIVERSE INFINITE now. It's not a bad way to spend this first weekend of Black History Month!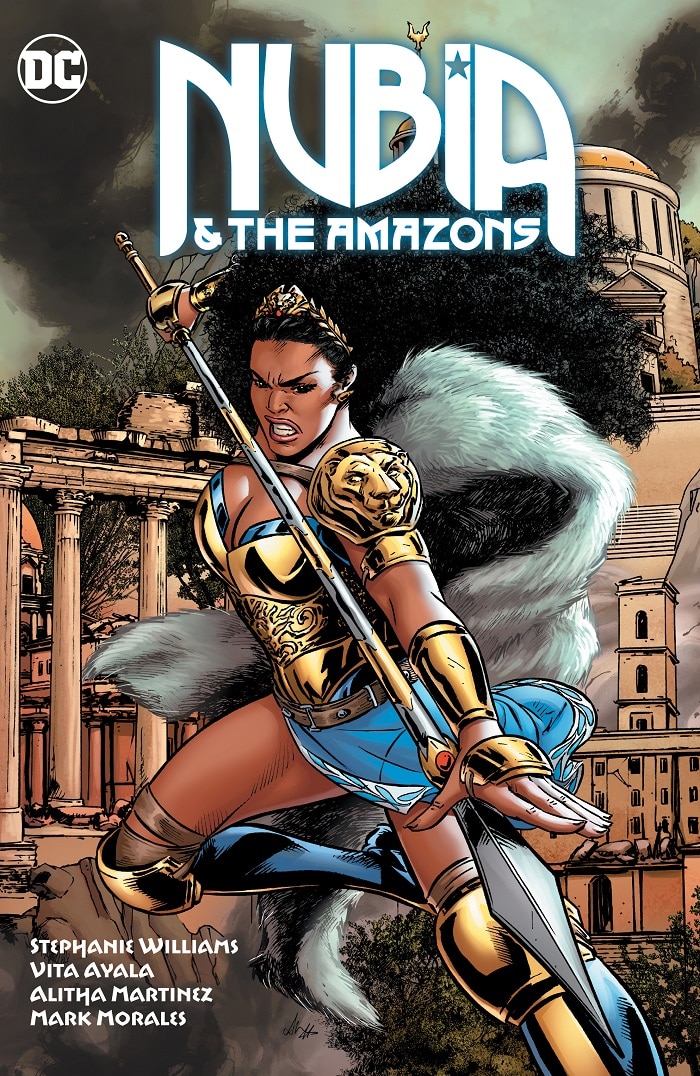 The Premise:
When Hippolyta is called to Man's World to join the Justice League, Themyscira needs a new leader. The mystical isle finds one in an Amazonian champion known as Nubia. This miniseries centers on Nubia welcoming new Amazons to her homeland and finding her way as a leader.
The Well of Souls has reopened—restoring the George Pérez-era creation—bringing new Amazons into the fold after a long period of fixed population on Themyscira. This creates challenges for the untested queen, who must pacify the long-standing members of her community while creating an inclusive space for new arrivals to the majestic island.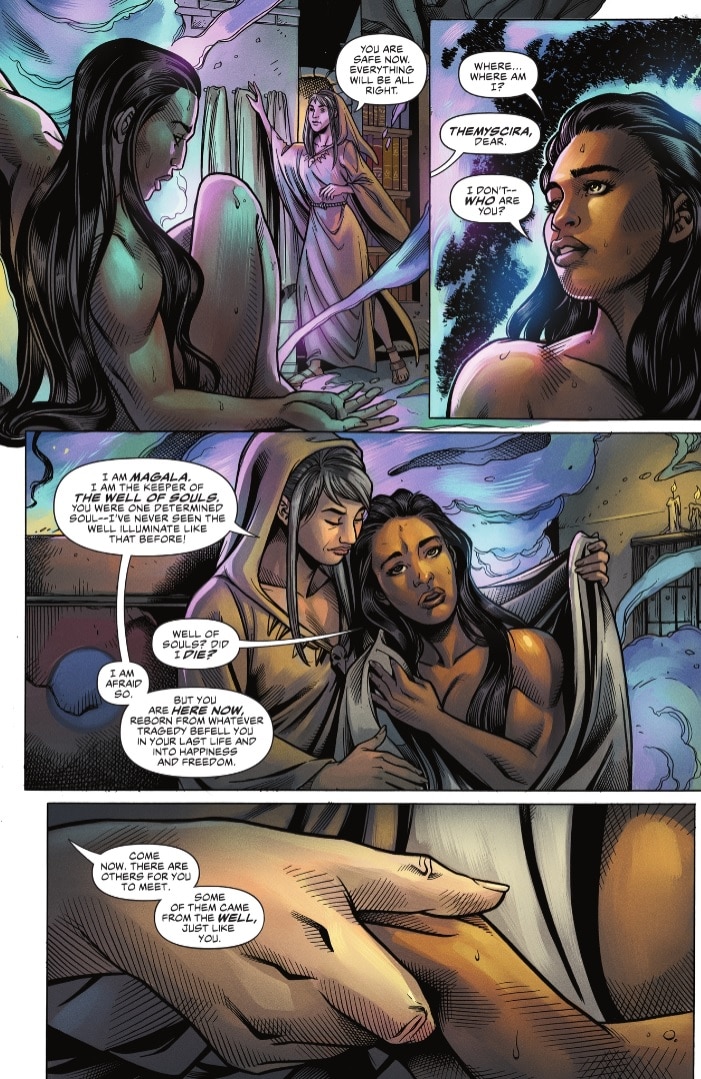 Let's Talk Talent:
This is nothing short of a star-studded book. The story comes from rising star Stephanie Williams and DC Comics legend Vita Ayala. It's the kind of pairing that should make you very excited if you've been following either of their work. Williams scripted the story, bringing her skills to crafting unique voices for each of the Amazons and, of course, the titular hero. All-star artist Alitha Martinez teams up with the talents of inker Mark Morales and colorist Emilio Lopez to bring the visual landscape of Themyscira to life, and they do so with an inspired energy and vision. Letterer Becca Carey rounds out the creative team, bringing a distinctive style to her letters that balances brilliantly with the often stacked artwork and intricate backgrounds. Other artistic talents include artists Domo Stanton and Darryl Banks, inker Allan Passalaqua and colorist Romulo Fajardo Jr.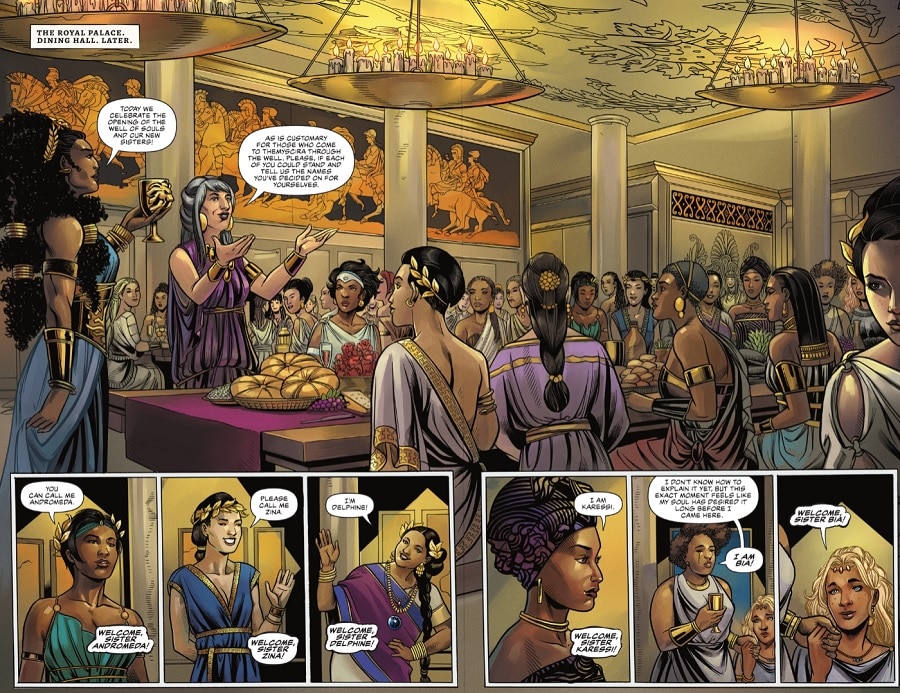 A Few Reasons to Read:
It ushers in a whole new era for the Amazons: Together, Williams and Martinez present a much needed update of not only Nubia but also the shores of Themyscira and the women who live there. This is a gorgeous world and thoughtful society that recognizes all women and their lived experiences. In that way, the series feels just as radical as its hero, who makes her solo series debut here in unforgettable fashion.
 
Alitha Martinez is a comic book icon: With comics credits going back to the early '90s, Martinez has crafted a career as a superhero stalwart working on some of the most iconic heroes that the medium has to offer. But despite her impressive catalog of work, she's often been overlooked. In Nubia & the Amazons, Martinez is given space to shine and showcase her unique artistic talents. The vibrant world of Themyscira and the powerful cast of Amazons are brought to life brilliantly by Martinez' style, which feels both recognizably classic and uniquely fitted to this specific mythical epic.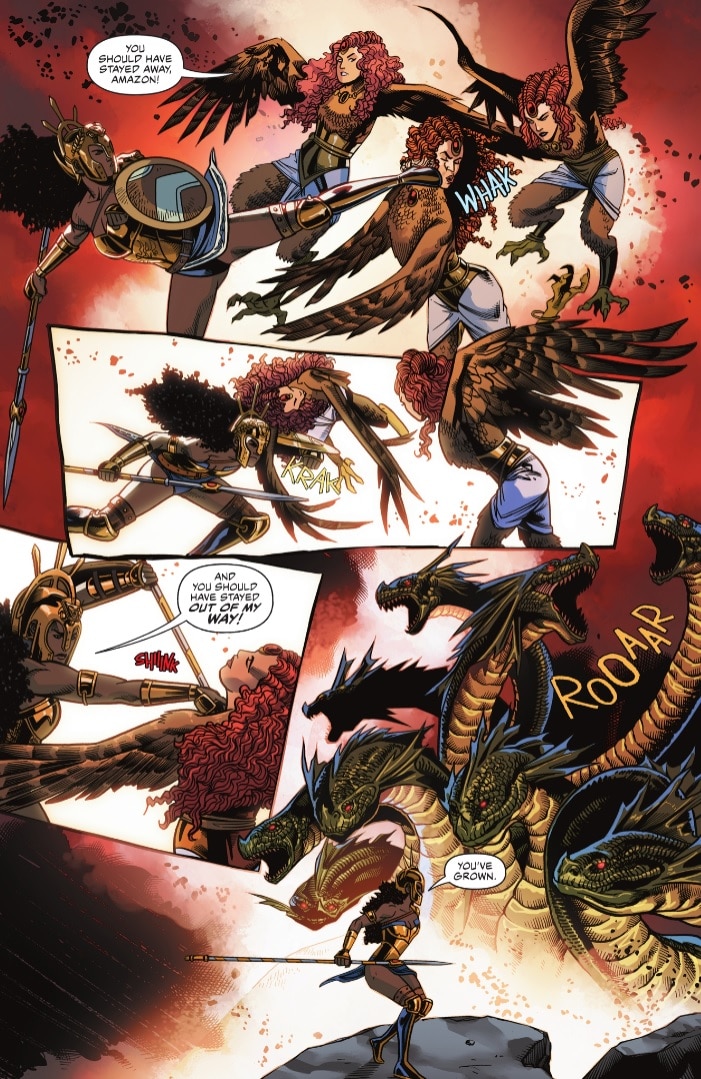 It's a classic superhero adventure: When we think about superhero comics, our minds race to action-packed rumbles through towering cities, cosmic flights through the stars, and monstrous villains being defeated by our lauded heroes. That energy and tone shines through in Nubia. Although Williams and Martinez put a much needed fresh historical fantasy spin on things, they both have so much love and knowledge of the comic book medium and DC lore that this feels like the perfect pick-up for superhero fans of all ages. Muscled heroes and daring fights fill these pages, but so do nuanced character studies and moving moments of growth, courage and heroism.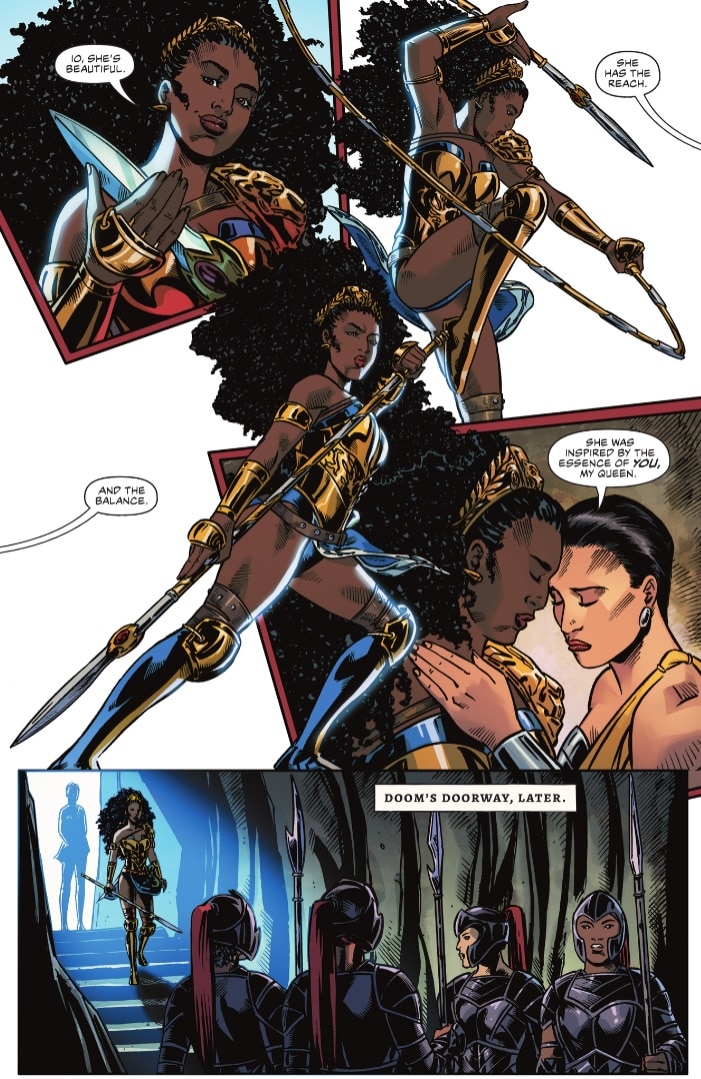 Why It's Worth Your Time:
Ambitious, fun, and filled with characters you'll love, Nubia & the Amazons is a much-needed reconsideration and refocusing of the new Queen of Themyscira. Whether you've never heard of Nubia before or she shaped your love of comics in the 1970s/80s, you'll be gripped by this fantastical adventure alongside the Amazons. Featuring both classic and new Wonder Woman antagonists alongside excellent storytelling and characterization from Williams, this is the perfect jumping on spot for readers who might be less familiar with the lore of the Amazons. The best news is that if you're a fan of Nubia you can follow her further adventures in Trial of the Amazons and Nubia: Queen of the Amazons.

Nubia & the Amazons by Stephanie Williams, Vita Ayala, Alitha Martinez and Mark Morales is available in bookstores, comic shops, libraries and as a digital graphic novel. You can also read it in full on DC UNIVERSE INFINITE.
Rosie Knight is an award-winning journalist and author who loves Swamp Thing, the DC Cosmic and writing about those and more here at DC.com. You can listen to her waxing lyrical about comics, movies and more each week as she co-hosts Crooked Media's pop-culture podcast, X-Ray Vision.
NOTE: The views and opinions expressed in this feature are solely those of Rosie Knight and do not necessarily reflect those of DC Entertainment or Warner Bros.