If you're a Cyborg fan who's ever dreamed of writing the character yourself, you have quite a lot in common with Morgan Hampton. After years of reading about Cyborg, he'll soon debut as the writer of DC's first Cyborg series in nearly five years. If Hampton isn't a name you know yet, don't worry, that'll soon change. Hampton was one of the participants in the Milestone Initiative Talent Development Program, which opened the door to his first major DC project. Partnering with veteran artist Tom Raney, Hampton's upcoming Cyborg will explore new sides of Victor Stone as the Titan returns home to Detroit.
Cyborg won't be in stores until May, but if you want a preview of what you can expect from Vic's return, check out Hampton's story in the just-released DC Power: A Celebration. An anthology title featuring the work of over two dozen Black writers and artists telling stories about DC's Black superheroes, it features the first Cyborg tale penned by Hampton, brought to visual life Valentine De Landro and Marissa Louise.
Just ahead of its release, we spoke with Hampton about his plans for Cyborg, and unsurprisingly, he had plenty to say. In some ways, Hampton has been preparing to write this title since childhood. As he got ready to check it off his bucket list, Hampton broke down how he plans to take Victor Stone into the 21st century, why he is redefining Cyborg's catchphrase and more.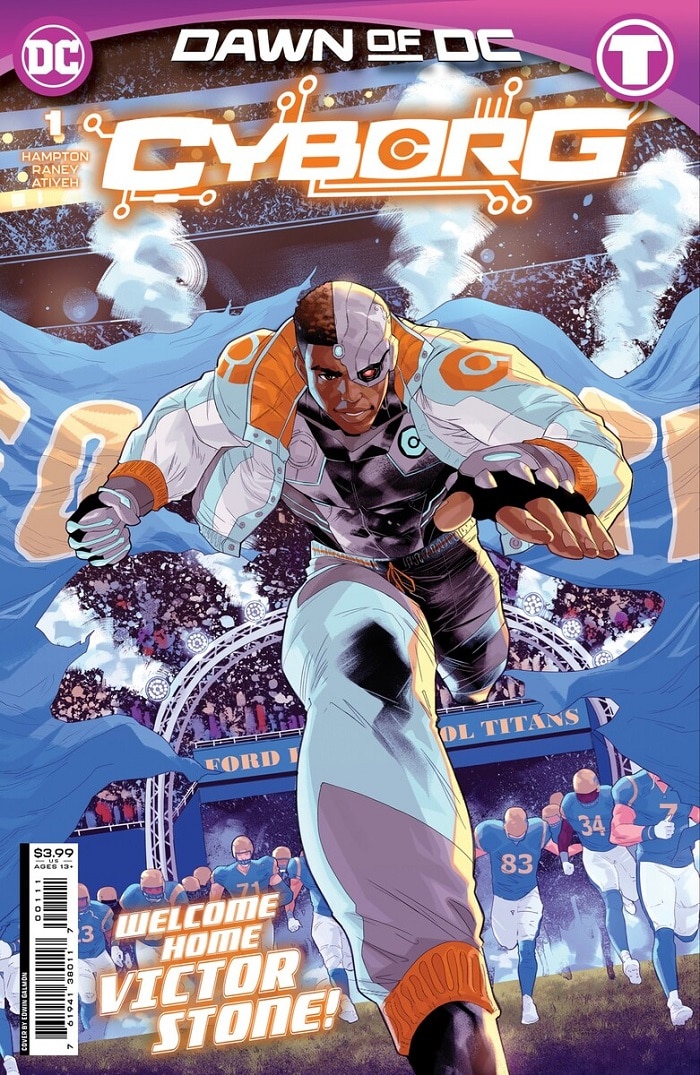 First of all, since the news of your new Cyborg series dropped, you've gotten lots of responses on social media, including one from Cyborg himself—Doom Patrol's Joivan Wade!  How awesome was that?
I was not expecting that whatsoever. That was really cool. I got followed by him too, which is really nice. So maybe we will keep chatting in the future. Maybe I will have to give him a copy of the book when it comes out. (Editor's update: Morgan did in fact give him a copy!)
I'd love to hear about your relationship with Victor Stone. How did you first meet him? What versions of him or stories about him really spoke to you?
I feel like a lot of people my age—I'm 29. I'll be 30 in about a month—grew up watching the Teen Titans show. So that was kind of my introduction to the character. I resonated with him a lot.
I have a bleeding disorder called hemophilia, which is kind of an invisible disorder, but it is a physical disorder. My physical limitations were limited and continue to be limited to this day. I think seeing Victor having a kind of physical disability as well was something I really resonated with as a kid and continue to resonate with. I feel like I can bring a voice of what that feels like internally to this character that we haven't seen a lot of nuance with. I kind of want to explore what it feels like to just be dealt a bad set of cards in life, and how do you respond when bad things have happened to you that you can't control?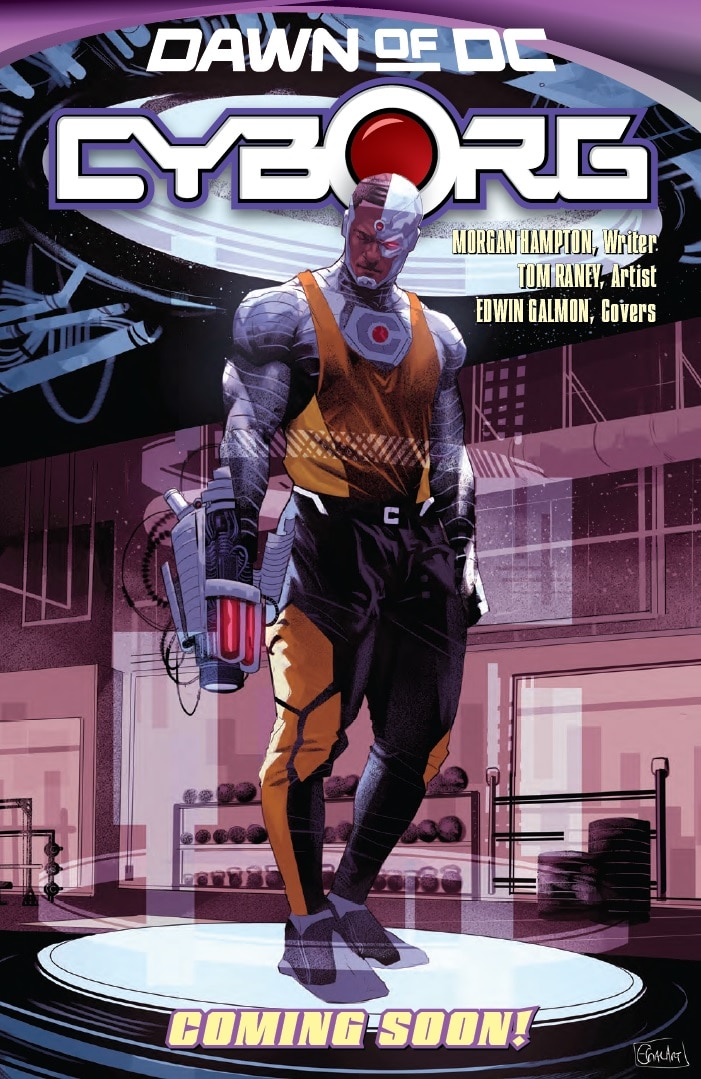 Not only are you launching this new Cyborg series, but the series is going to be part of the Dawn of DC rollout. This will raise its profile and bring a lot of new eyeballs to the comic. How exciting is that?
It's crazy! It's also a little daunting, I'm not going to lie, but I'm very excited to come into DC at this new era. I'm someone who's always been an advocate for uplifting a lot of those characters that are kind of in the background. Not just with Cyborg, but it's really exciting to see that this era is kind of shifting towards them. Sure, there's a little bit of legacy, but giving more of the spotlight to some of these characters that I think fans have been kind of yearning for. It kind of fits really in line with my philosophy on superheroes in general, so it's really great to come in at the same time as it.
I'd love to hear about your experience with the Milestone Initiative Talent Development Program and how it got you here.
I just can't believe I was a part of that. It came and went pretty fast, but it was a dream come true. I remember when they first announced that Milestone was coming back. I remember thinking I've got to be in there somehow. It was before they announced the Milestone Initiative. And then I think a year went by, then they announced that, and I'm just like, "I have to apply." I was in grad school at the time, really busy, but I'm just like, "There's no way I can let this opportunity slip by."
So I applied, and luckily, thankfully got in. It was definitely a foundational moment for me and something that I will remember forever. I think above all else, just getting the access and the resources was great. The cohort of people that they chose with us I think were all really great and supportive of each other. I think I've got 23 brothers and sisters with the Milestone Initiative where we're all kind of launching our careers at the same time, which is really, really dope.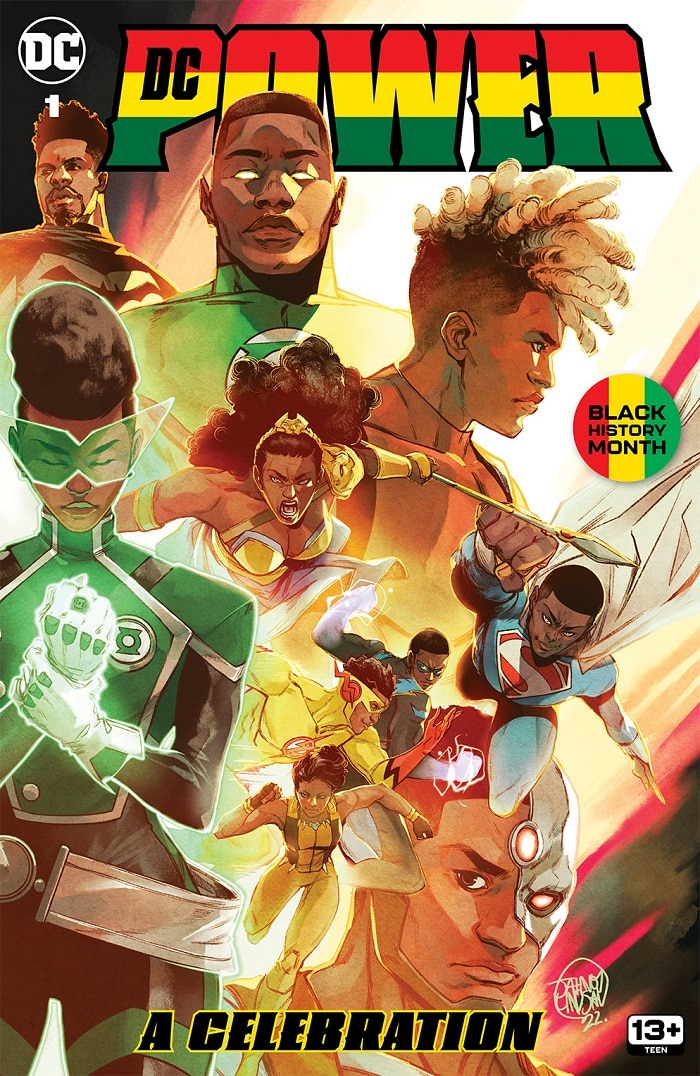 You have a Cyborg story that's in the new DC Power anthology. It's really good. Did you know that you would be doing the Cyborg ongoing before writing it?
I didn't know until after. After the Milestone Initiative, I reached out to a bunch of editors to see if there were any opportunities out there and Marquis Draper thankfully gave me this opportunity to write this story for DC Power. This was back in August, and I didn't know about the series until months later. I guess he liked what I did in the story, and I guess when they were internally thinking about doing a Cyborg series, I was someone he thought of.
I'm eternally grateful for that. I think the themes and the tone that I explore in this story are some things that can kind of launch into the series as well, which is really cool.
Was your DC Power story always going to be a Cyborg story? Or did you talk about different characters?
I pitched this story to Marquis last year when I was interviewing for the Milestone Initiative. I remember they asked us outside of Milestone what characters we would like to write, and I went on this long soliloquy about Cyborg and how there's a lot of potential to explore him more. When I reached out to him over the summer, he mentioned that interview, and he was like, "Yeah, I think I have a spot for you in this anthology. And I think I would like you to write about Cyborg, like we talked about months ago."
I was like, "This is crazy." Because at the moment, when we were having that interview, I wasn't thinking of it as a pitch, I was talking from the heart, and I guess that was something that he resonated with and he was able to give me that opportunity.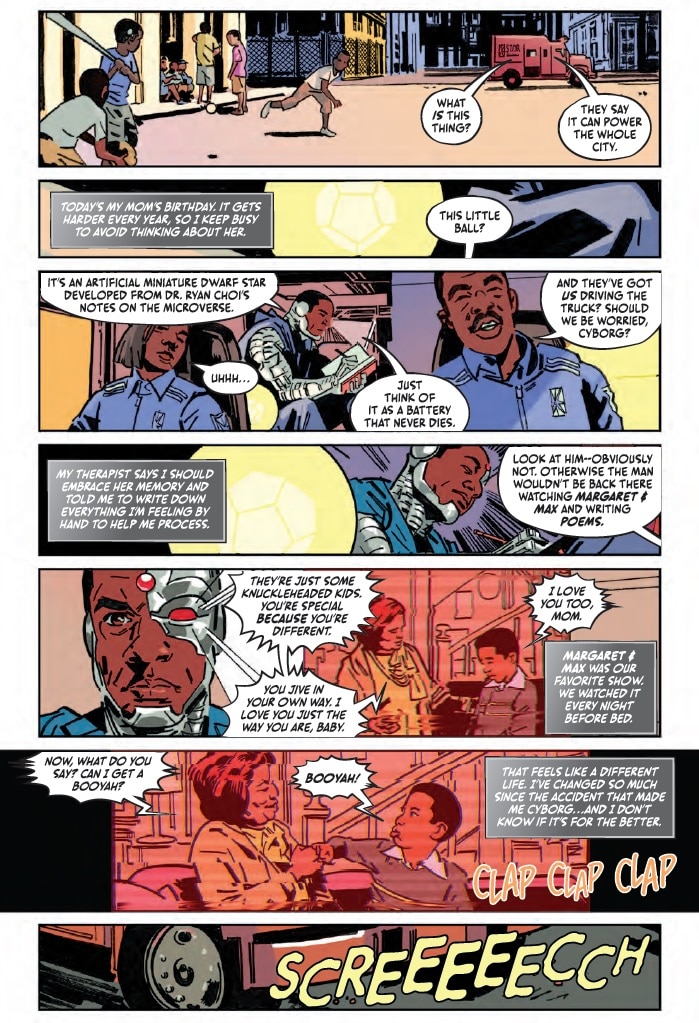 The DC Power story dives into the origin of "booyah" and how the catchphrase has a deeper meaning for Victor. You're already adding layers to the character with your first outing. How did you come up with that approach?
It was something that I think I've been thinking about for a couple years. I've heard a lot of people take issue with that word, which I understand, you know, as a Black character, using kind of a corny line like that. I think a lot of people have taken issue with what that might represent for a Black character.
I think for every character, there needs to be a why for everything. I do like that he uses that word in very pivotal moments. It always brings a lot of levity, but I wanted to give a meaning for it for Victor, to kind of recontextualize it and make it more of a word that I think people will be comfortable with moving into the 21st century. I wanted to tie it to his mom, because that's something that he is always dealing with. It was something that I just wanted to add to the character that I hadn't seen done before and I hope it's something that resonates with people.
When your Cyborg series begins, what is life like for Victor Stone? Where is his head at?
Titans is kind of where he became Cyborg, so to speak. And now that they're the premier team, I think he's feeling a lot of pressure to be there for the people, for everyone who's looking up to him. With some of the stuff I said earlier about Cyborg being someone who never really had a choice, I think he's really struggling with the power of choice at this point of his life, because he does have to be Cyborg for the people, but he also wants to be Cyborg and Victor for himself. He's struggling with what that balance looks like when he has a lot of renewed responsibility.
That's going to come to a head when he comes home to Detroit because of a family emergency. He's going to have to navigate who he was, who he is now and who he wants to be, and hopefully how he can mesh all those things together.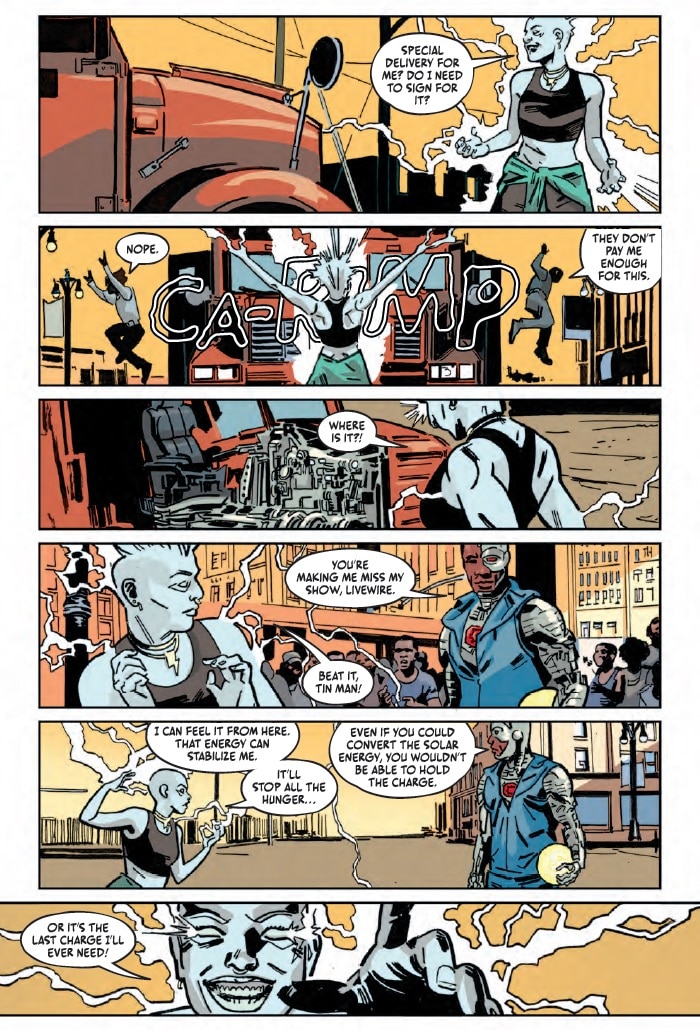 What kind of a supporting cast will Victor have in Detroit? Old friends, new friends and familiar faces stopping by?
Yeah, I think it's going to be a little bit of all of that. I am going to have some new friends for sure, but because this is a book that's launching alongside Titans, I'm going to try to implement some of those characters as well. But I do want to stress that this is Cyborg's story. People might be stopping by to chat, but this is something that Victor is going to have to do on his own, because I think that's something that we haven't seen with the character a lot. Over the years he's been in a lot of books, but he's always in the background. I really want this book to be about Cyborg getting the agency that he's always deserved.
And on the subject of challenges, what kind of threats will he be facing?
It's important to me for a tech-based character to kind of deal with a tech-based threat. I wanted to bring Cyborg into the 21st century and give him problems that we all deal with today with these kind of tyrannical tech companies ruled by idiots. I want to see how he can navigate that as someone who is younger, because I think we haven't really seen that with him. And I think the threat that he faces is something that we are all going to be able to resonate with because it's something that aggravates us to no end in the real world. But for Cyborg and the city of Detroit, this is something that's going to have dire consequences and he's going to have to step up.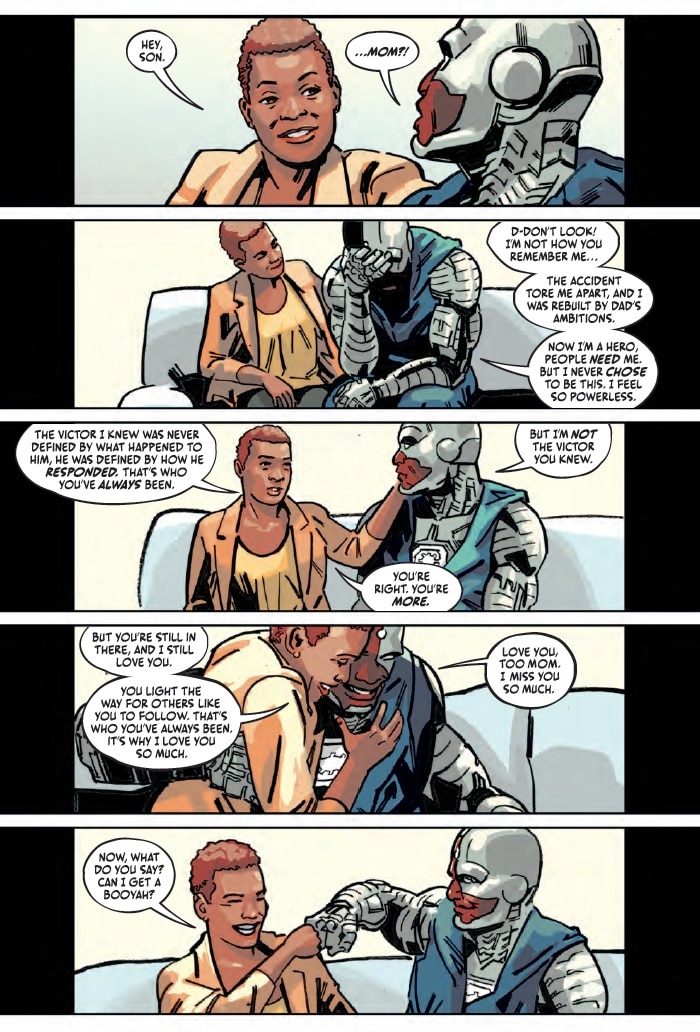 I'd also love to hear about your working relationship with Tom Raney. What has that collaboration been like?
It is in the very early stages, but it seems to be really fun so far. I've never done anything of this magnitude yet. I've done a lot of self-published work, which is a lot different than this. I haven't had the kind of framework that working under this type of thing gives you. Tom is an artist that seems to want a lot of suggestions. You know, every artist is a little bit different, but it's fun how collaborative it seems to be with him. I'll give him some references, and he'll be like, "No, you can give me more. You can tell me specifically how you want it." It's really fun.
While breaking the Cyborg story for the DC Power special and plotting the ongoing, you've had to live in the character's head in a way that you probably never did as a reader. Have you learned anything new about Vic as you've been looking at him from a writer's perspective?
I actually think it's a little bit the opposite. I have kind of lived in his head a little bit over the years because I've always been someone who was a champion for Victor. He's always around, but often not doing much. I've always been thinking about what his potential is and what he can do.
While breaking the story for DC Power and for this series, I found that we're a lot alike, and I think we have a lot of the same sensibilities. Going back to me having hemophilia, I grew up having a lot of limitations on my physicality, but wanting to play sports. Vic is a little opposite. He was able to play sports and then had a lot of physical limitations on his body. I think we've kind of met in the middle. I found that Victor is definitely someone who I would be friends with if he existed in the real world.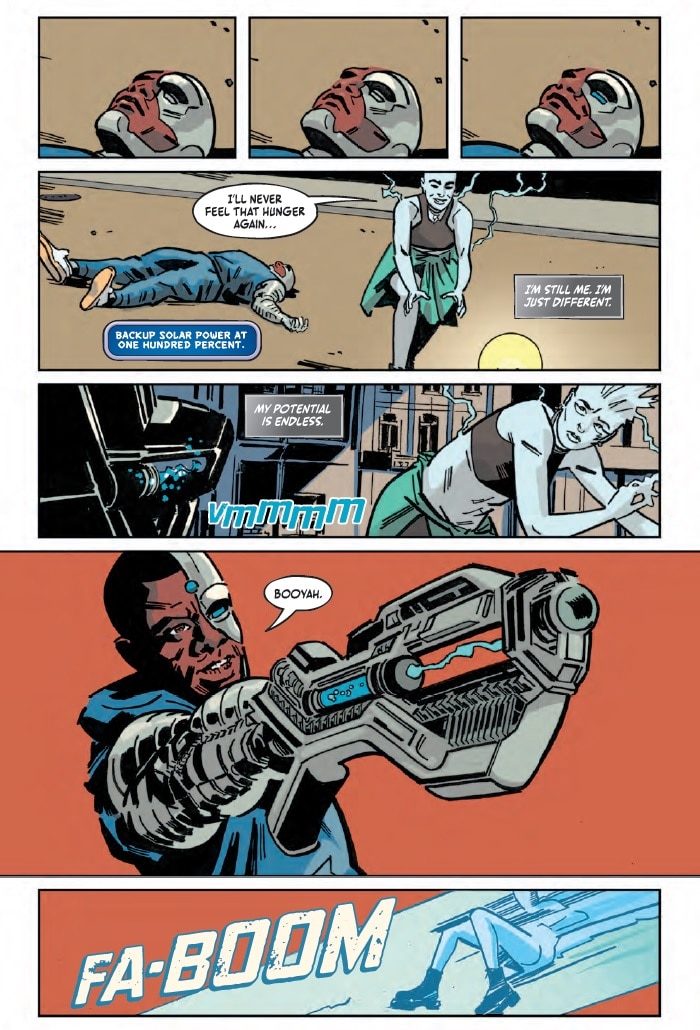 In your mind how has Victor grown as a hero since his New Teen Titans debut in 1980?
A lot, but also not a lot. He's grown a lot in other mediums, like I mentioned the Teen Titans series and even some of the stuff in the movies. But I think Cyborg has not really been brought into the 21st century as much as he could be. And I don't know, I could be wrong, but I might be the first millennial to write a Cyborg series. Maybe not a Cyborg story, but maybe a Cyborg series. I think there's a lot of potential for him to grow into this generation and the generation below me, and be a hero that represents the future. Not just with his powerset, but because of who he is and what he represents as just a Black man in the world.

DC Power: A Celebration #1, featuring "Booyah" by Morgan Hampton, Valentine De Landro and Marissa Louise, is now available in print and as a digital comic book. Look for the first issue of Cyborg by Morgan Hampton and Tom Raney on May 16, 2023!