I always find it interesting when DC fans refer to "Elseworlds" in the past tense. True, the actual line of comics may be no more and the name may have been retired in the official sense, but the spirit of "Elseworlds" has never been stronger, with alt-universe titles like DCeased, DC vs. Vampires, Injustice, DC: Mech and pretty much all of DC Black Label drawing fans and critical acclaim in equal measure. If comics are indeed "escapes," then it's hard to imagine ones that are more encompassing than these tales starring characters we know and love, but set in vastly different worlds than the superhero universe we're accustomed to. And for my money, there's none more fun and surprising at the moment than Dark Knights of Steel, the currently ongoing swords-and-sorcery-and-superheroes fantasy epic that released its first trade collection last fall. Dark Knights of Steel Vol. 1 includes the opening six issues of the series and can be found both in print and digital, as well as on DC UNIVERSE INFINITE for Ultra subscribers.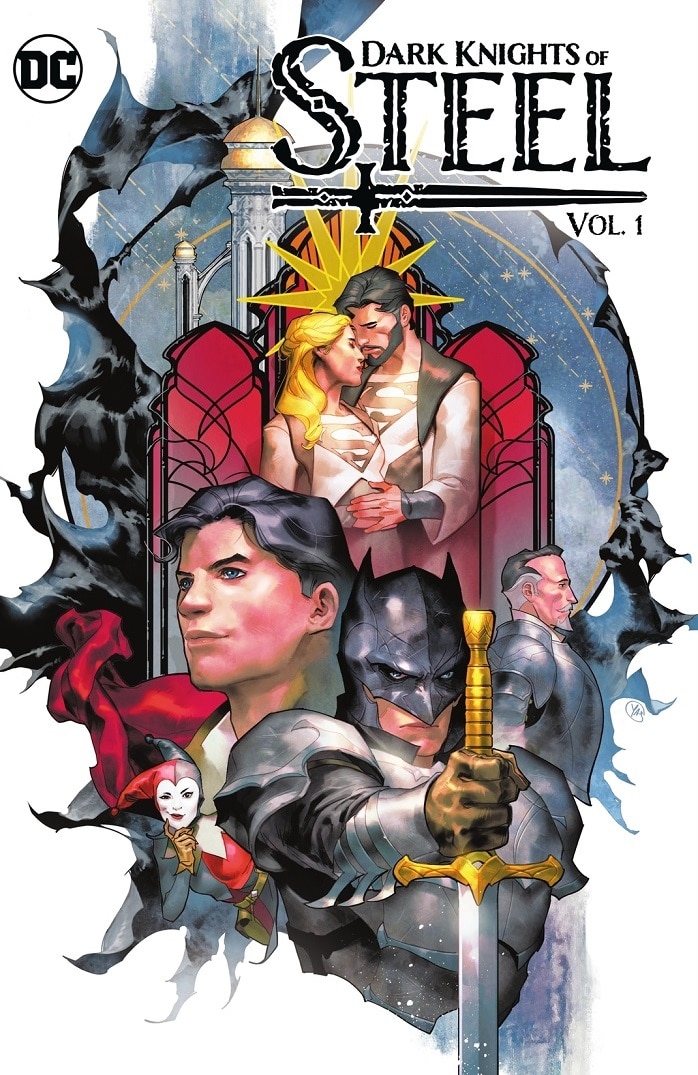 The Premise:
An otherworldly rocket crashes into a sun-swept field. And yet, unlike the story we're most familiar with, this one contains not just the baby Kal-El, but his two still-living parents as well. The field is not in a rural Kansas town, but in a medieval-era kingdom. And in an ominous beginning, Jor-El's first confrontation with their new home's residents results in the death of everyone in eyesight.
From there, we flash forward. Kal-El is now nearly an adult with a younger sister named Zala. His parents, Lara and Jor-El, are ruling the realm with a young Bruce Wayne, his mentor Alfred and their family of Robins serving as the castle's protectors. But while the Els seem to be beloved by their subjects, outside their borders, things aren't so peaceful. The neighboring Kingdom of Storms, led by their monarch, Jefferson Pierce, believes the arrival of the House of El portends the world's destruction thanks to a prophecy given by a young John Constantine. And aided by the mysterious "Green Man," who possesses a familiar emerald power ring, they're ready to take action. When a certain goateed archer murders Jor-El under orders from the Green Man, a chain of events begins that seems destined to lead to war. However, is this fight against the Els truly for the good of the realm…or are there other more sinister forces in play? And on which side will the third neighboring kingdom—the Hippolyta-led Amazons—ultimately come down?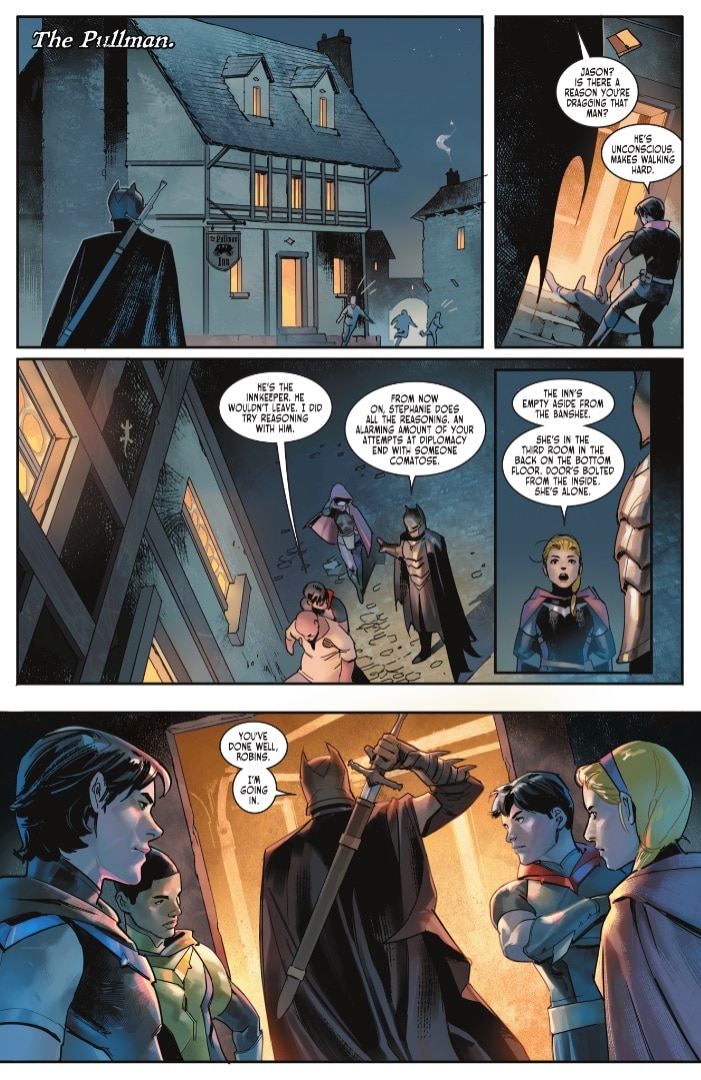 Let's Talk Talent:
While lately he's been winning kudos for his forward-thinking runs on Nightwing and Superman: Son of Kal-El, Tom Taylor clearly has a knack for alt-universe stories. Following both Injustice and DCeased, Dark Knights of Steel marks at least his third big world-building DC adventure. While all three titles are stellar and worth your time, Taylor is a self-professed fantasy lover and that passion is on full display here, as is his impeccable ability to startle and shock readers with unanticipated twists.
Taylor is joined primarily by artist Yasmine Putri for the bulk of this first volume, and it's an inspired pairing. Putri's art is intricate, emotional and powerful. This very well could be a star-making turn for her. Putri's landscapes and interiors are packed with detail, but not overwhelmingly so, and her ability to communicate emotion in her characters—from subtle to overbearing and everything in between—is top-notch. Recognition also needs to be given to Arif Prianto, who colors most of Putri's art and breathes further vibrant life into her many pages, especially the destructive lightning of Jefferson Pierce and his daughter Jennifer.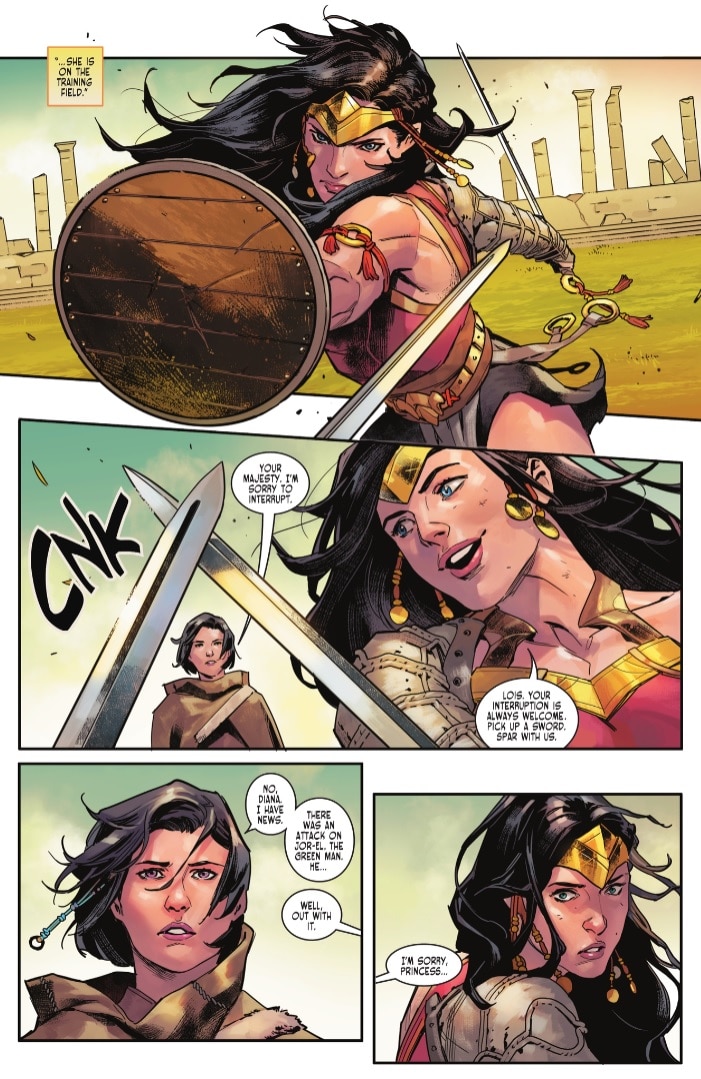 A Few Reasons to Read:
Fantasy, fantasy, fantasy! While at one time, DC may have had a rich slate of sword-swinging adventures like Warlord, Amethyst and Sword of Sorcery, the genre has been all but overlooked recently until the debut of Dark Knights of Steel. If you're a fan of knights, wizards, magic, castle intrigue and everything else that makes fantasy so fun, you'll find much to love here. And if you're a superhero fan to boot (and why are you here if you're not?), then Dark Knights of Steel may soon become you favorite comic currently on the stands.
 
One of the things that makes "Elseworlds" stories so much fun is discovering how your favorite DC characters might be incorporated into their vastly different worlds. It's a blast seeing how Taylor and Putri utilize characters like Black Canary, Poison Ivy, Lois Lane and Lex Luthor in ways that feel both true to who they are and completely fresh. My personal favorite is Harley Quinn, who, as the House of El's jester and adviser, perfectly embodies Harley's dichotomy of psychiatry and psychopathy.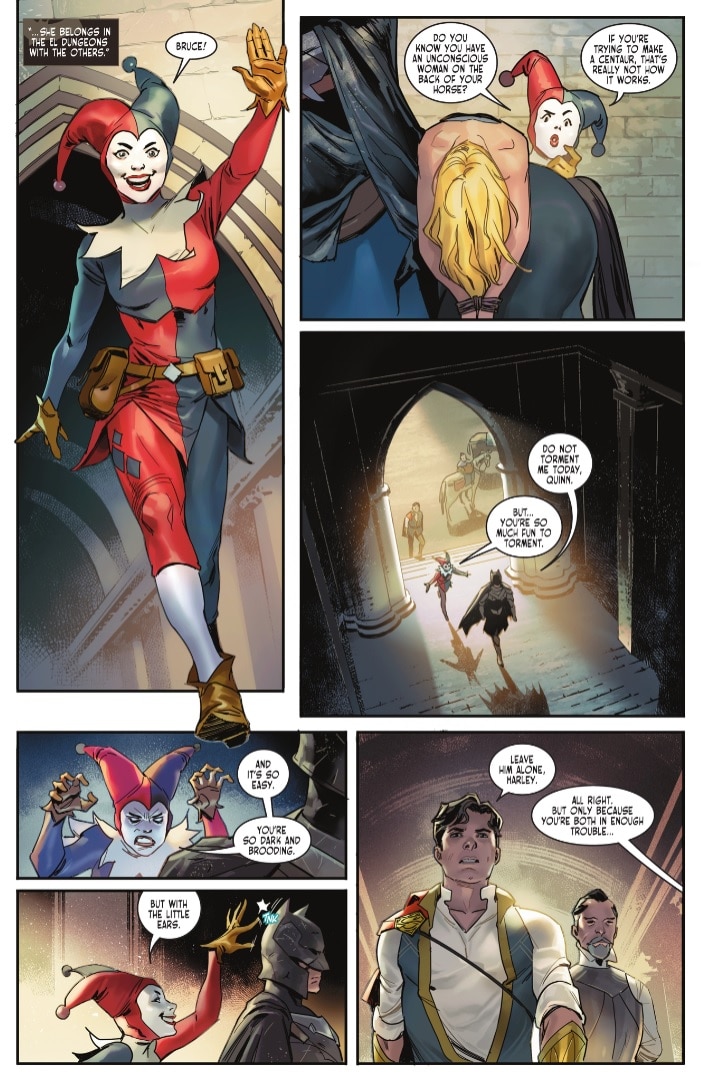 Much of Tom Taylor's work lately has been in the DCU, and that's a good thing. His efforts to reground Dick Grayson and establish Jon Kent as our world's newest Superman have made both Nightwing and the recently concluded Superman: Son of Kal-El two of DC's most exciting books. But there's something special about Taylor when he works out of established continuity. The gloves are off, and Taylor's not afraid to draw blood…both figuratively and often literally.
 
On that note, I can't emphasize enough how truly shocking this first volume is at times. Taylor's clearly a Game of Thrones fan because much like in that groundbreaking series, nobody in Dark Knights of Steel seems to be safe. The stakes here are high and the wait between each new issue, if you're reading the series month-to-month, is far too long.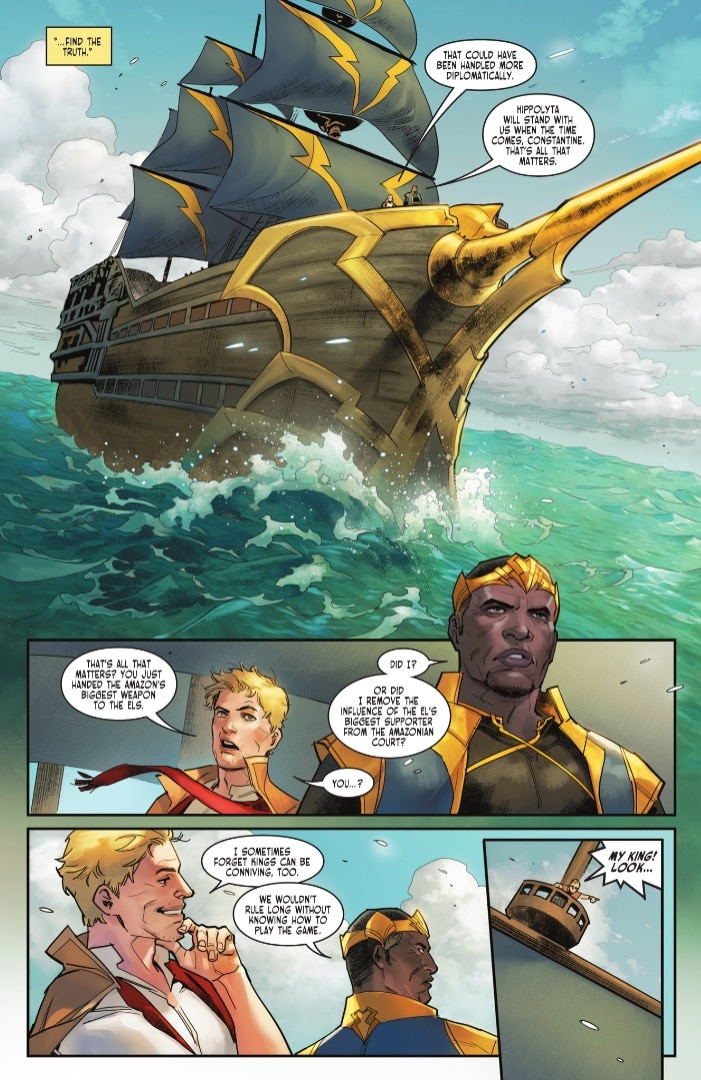 Why it's Worth Your Time:
Dark Knights of Steel is unlike anything else DC is currently publishing right now. While it's still ongoing, meaning we don't know how satisfying the series as a whole will be, it's certainly been a blast so far. With popular, highly-discussed shows like House of the Dragon, The Witcher, Lord of the Rings: Rings of Power, The Wheel of Time and more currently on the small screen, it feels like fantasy is experiencing something of a television golden age right now. However, all of those series are currently on hiatus, filming their new seasons. Dark Knights of Steel could be the perfect comic to fill the void and bring some magic to what otherwise promises to be a pretty unexciting weekend. And if its success means DC might be willing to publish a bit more fantasy, well, I'd say that's a prophecy we'd all be happy to see fulfilled.

Dark Knights of Steel Vol. 1 by Tom Taylor, Yasmine Putri and Bengal is now available in bookstores, comic shops, libraries and as a digital graphic novel. It can also be read along with the rest of the series on DC UNIVERSE INFINITE.
Tim Beedle covers movies, TV and comics for DCComics.com, writes our monthly Superman column, "Super Here For...", and is a regular contributor to the Couch Club, our recurring television column. Follow him on Twitter at @Tim_Beedle.
NOTE: The views and opinions expressed in this feature are solely those of Tim Beedle and do not necessarily reflect those of DC Entertainment or Warner Bros.