Galaxy: The Prettiest Star by Jadzia Axelrod and Jess Taylor is one of those graphic novels that stays with you a long time after you finish the last panel. It's an emotional tale that resonates with anyone who's ever felt uncomfortable in their own skin. It's a gorgeous allegory for the transgender experience. It's a heartfelt homage to David Bowie, a sweet love story and even a possible superhero origin story all wrapped up in one beautiful book. All this, and there's an adorably prim corgi who just happens to be a robot.
Want to know more? Read on for my breakdown of Galaxy: The Prettiest Star!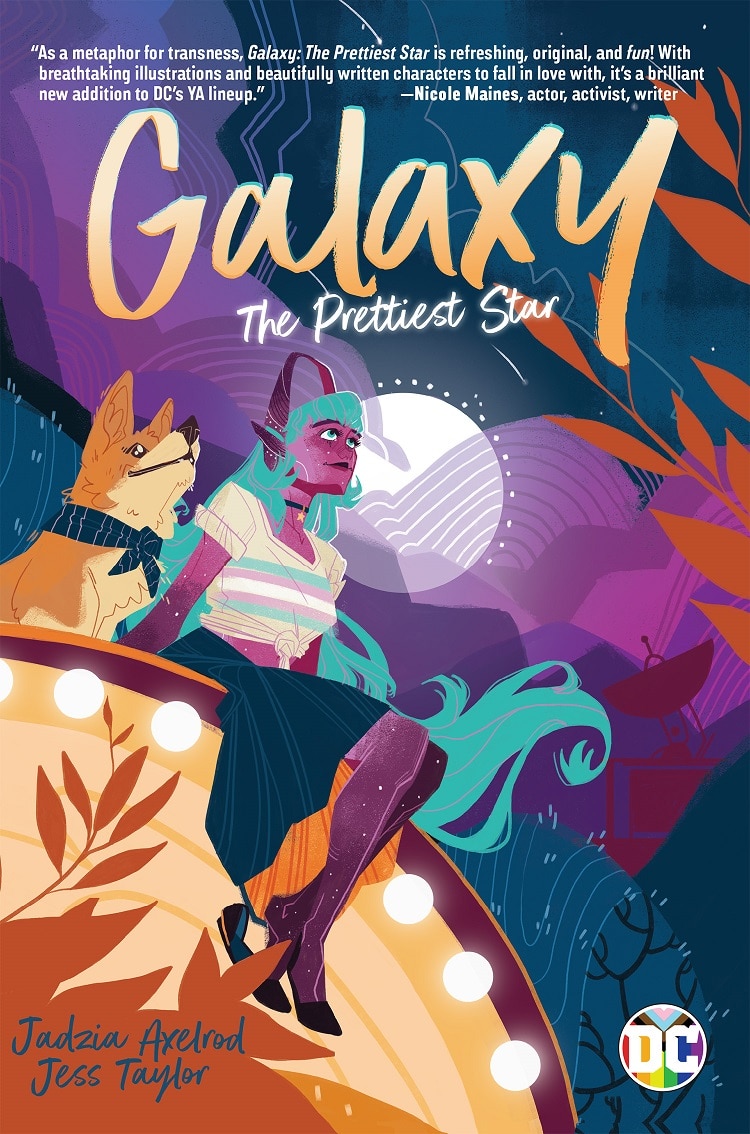 Cover Crackdown:
Jess Taylor's exquisite cover is suitable for framing and hanging on the wall. The dreamlike illustration evokes the cool, crisp air that fills your lungs as you wait for the stars to come out at twilight. Our main character Taylor, in her alien form, shares the same skin tone and hair color with the Trans Pride flag emblazoned on her shirt. Her shoe dangles elegantly from her foot. All together, the striking color palette, the hopeful smile on Taylor's face and the shining stars set the tone for Galaxy: The Prettiest Star perfectly.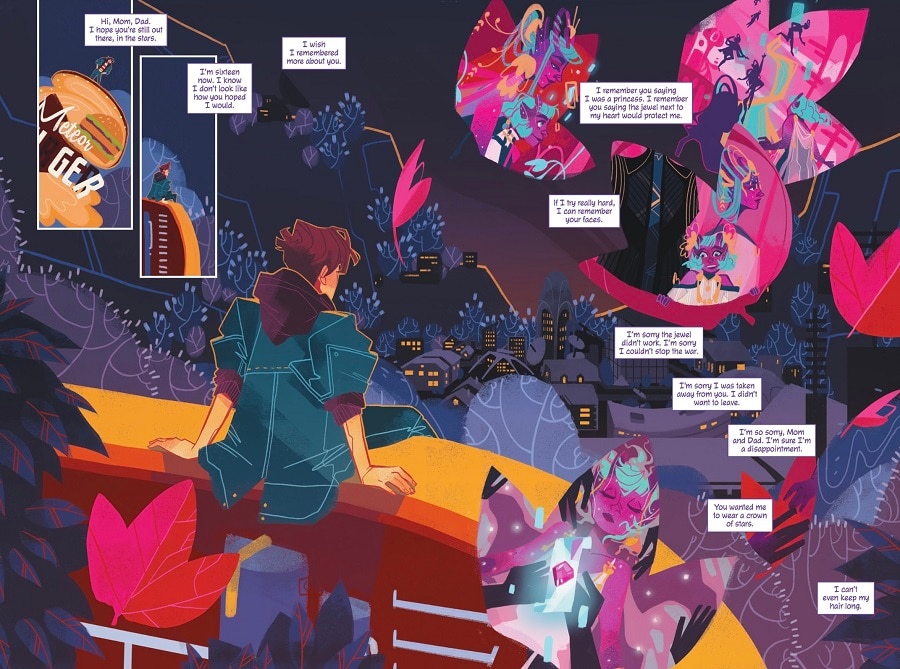 Tell Me a Story:
Taylor Barzelay is the star on his high school basketball team. He's got plenty of friends and a close-knit family. But not everything is as it seems, including Taylor. In truth, Taylor is an alien princess from the planet of Cyandii posing as human boy on Earth to hide from the invaders who attacked her planet. It's been six long years since Taylor left her home and real parents behind. Six long years of pretending to be someone she's not.
When Taylor meets Kat, the new girl who recently moved to town from Metropolis, he realizes that what he wishes for is for who he is on the outside to match who he is on the inside. Can Taylor become who she longs to be, even though it means risking everything and everyone she loves?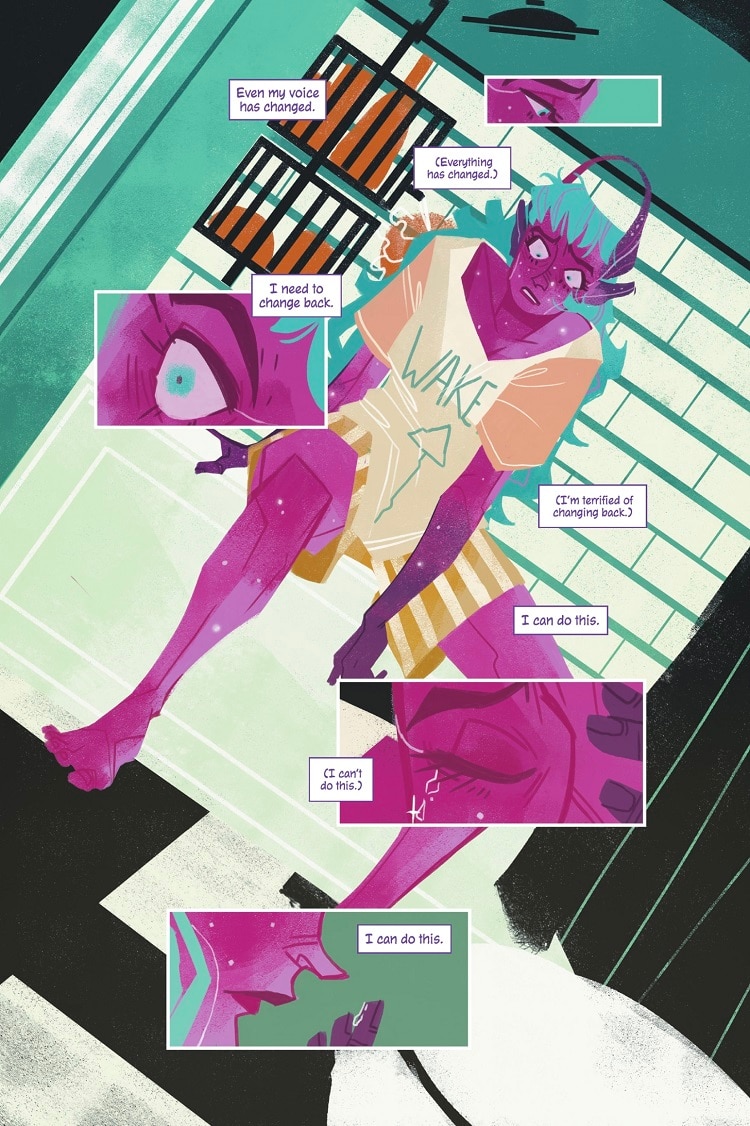 Let's Talk Art:
Every page of Galaxy: The Prettiest Star is a delight for the eyes. The early chapters feature a color palette of cool blues and tans, but as Taylor begins to express her true self, it shifts to include more vivid pinks, purples and turquoise.
The art effortlessly adds just as much personality to the characters as the story, from their physical appearances to the subtle emotions in their facial expressions. Jess Taylor's style is bright and bold, which brings Taylor, Kat and the other characters to life—with flair.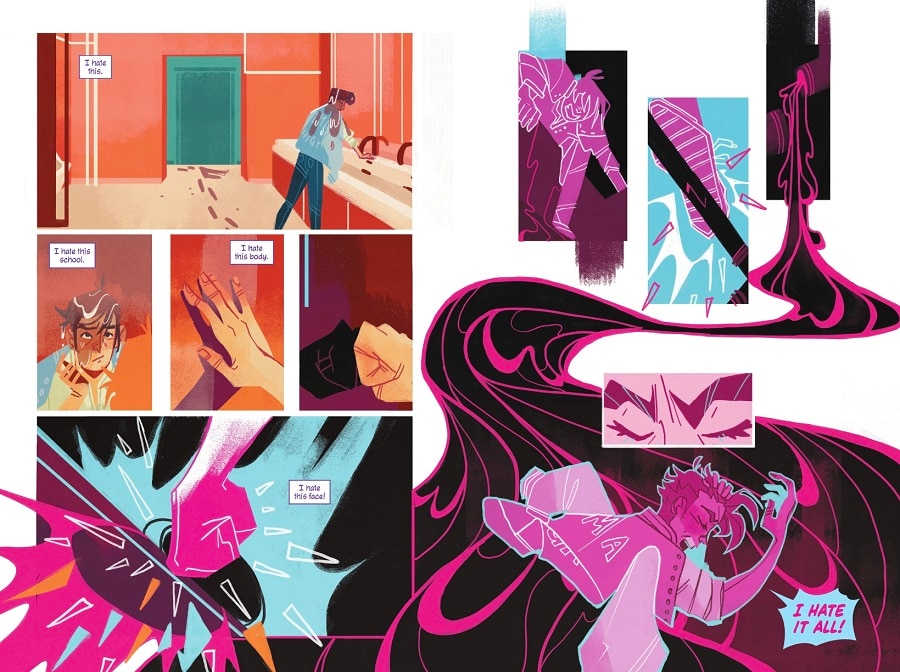 Dialog Discussion:
A lot of the dialogue in Galaxy: The Prettiest Star is internal as Taylor voices her struggles with her identity. Anger mixed with heartbreaking hatred for her human boy self practically burns a hole through the pages. But when Taylor's outside matches how she feels on the inside, as a delightful detail, the speech bubbles for her conversations also transform. The sharp points that previously encircled her dialog turn into curved, graceful shapes that point to Taylor's happier self.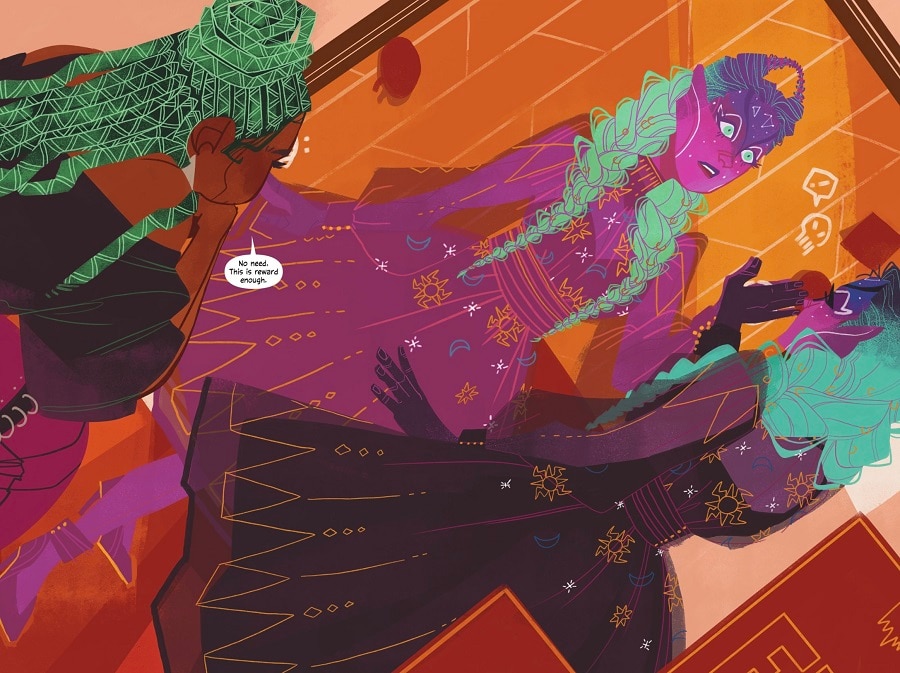 Voted Most Likely:
I kept track of all the outfits I adored in this book (see below), but honestly, I almost lost count somewhere in the middle. If Galaxy: The Prettiest Star was going to win a high school superlative award, it would blow away the competition for Best Dressed! Once Taylor starts exploring the freedom to express herself, she stuns in every fashionable ensemble she puts on.
And can we talk about Kat's flawless style? Bold and beautiful is just the beginning of my gushing. Even Kat's mom and Taylor's little sister are fashion icons in this dazzling graphic novel.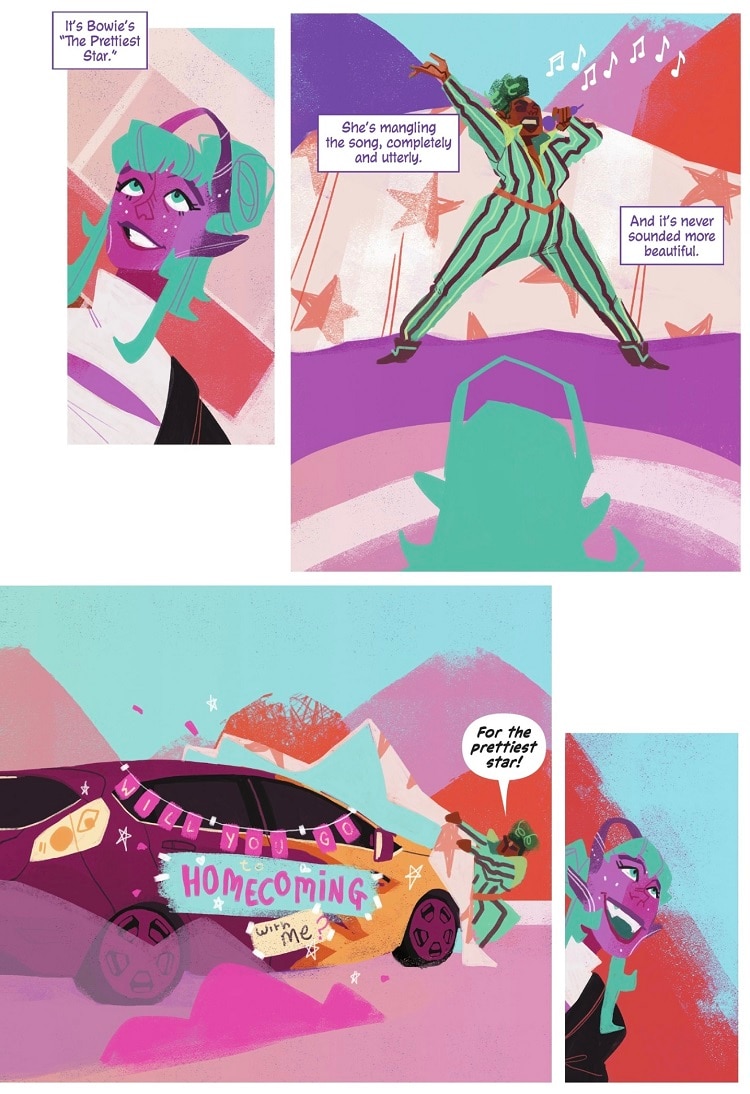 By the Numbers:
Total number of pages in the book = 190
Aliens = 4 ½ (if you count the cute doggie)
Outfits I want IRL = 14
David Bowie references = 11
Beautiful alien princesses who deserve to be happy = 1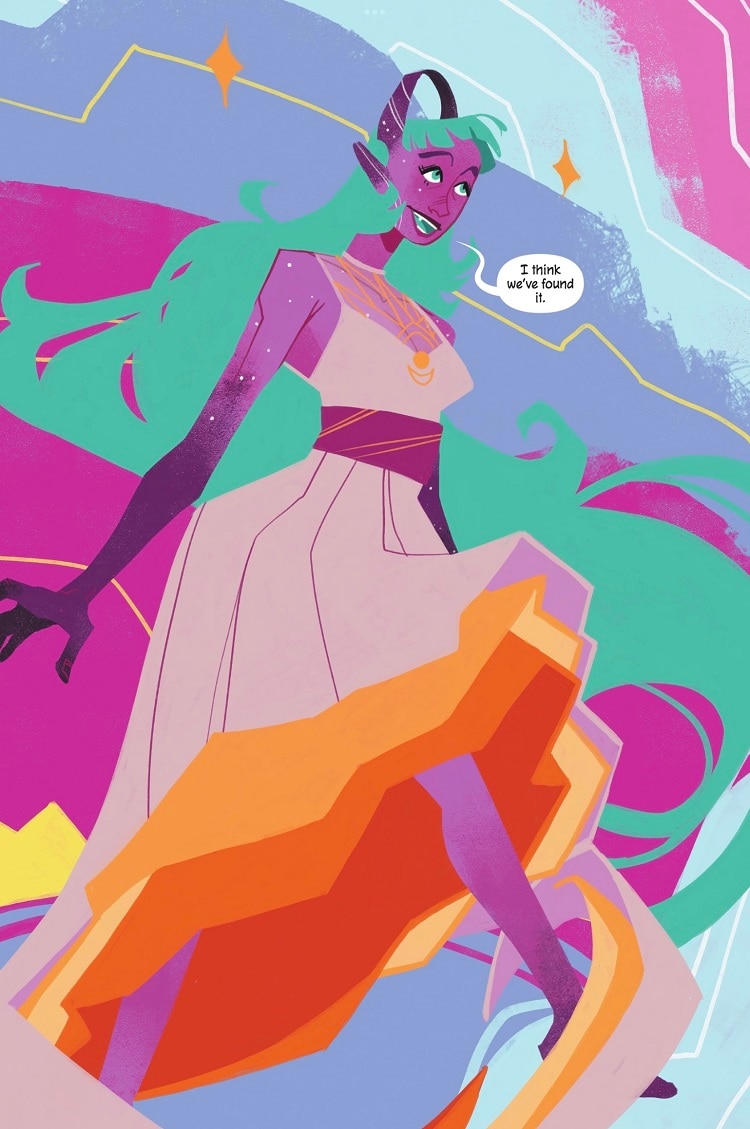 One Perfect Page:
Finding the perfect prom dress is every girl's dream come true, and when Taylor finds hers, the result is pure magic. She feels beautiful inside and out. In that moment, she's also supported by her genuine friend—and her friend's awesome mom—who unabashedly celebrate not just finding the right dress, but how Taylor feels in it. It's a page filled with the joy we all deserve to feel when we are being our truest selves without fear.
Joy, heartbreak, fear, love, Galaxy: The Prettiest Star shines bright by bravely expressing it all. Don't miss your chance to meet Taylor—and maybe sharing her story with someone else who might need it.
 
Galaxy: The Prettiest Star by Jadzia Axelrod and Jess Taylor is now available in bookstores, comic shops, libraries and as a digital graphic novel.
Kelly Knox swoons over Superman and obsesses over every story told about the first meeting of the World's Finest. When she's not reading comics, she's waiting impatiently for the next books by Tracy Deonn and Kalynn Bayron. Find her on Twitter at @kelly_knox.
Not sure what you just read? Click here for the skinny on our Book Breakdowns.
NOTE: The views and opinions expressed in this feature are solely those of Kelly Knox and do not necessarily reflect those of DC Entertainment or Warner Bros.