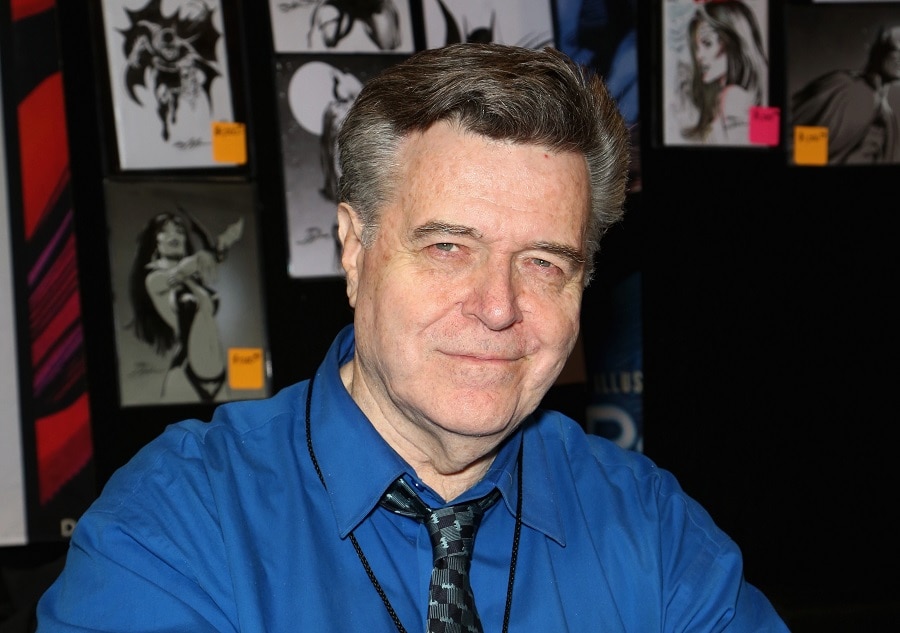 DC joins the world in mourning the loss of Neal Adams, one of the most acclaimed artists to have contributed to the comic book industry.
Born June 15, 1941, Neal received his art training at the School of Industrial Arts in New York City. His first big success came at the age of 21 when he started drawing the Ben Casey syndicated newspaper strip. In 1967, Neal came to DC Comics, where he drew covers for war comics and contributed stories to The Adventures of Jerry Lewis and The Adventures of Bob Hope. His big break came one year later when he started drawing Batman. The artist showed a natural affinity for the Dark Knight, and in 1970, DC editor Julius Schwartz assigned the Batman comics to Neal and writer Dennis O'Neil.
That was followed by the pair's groundbreaking thirteen-issue run on Green Lantern, an iconic series of books that tackled previously untouched, but socially relevant, issues like racism, ecology and drug abuse. He also, with writer Dennis O'Neil, introduced John Stewart, the first Black Green Lantern, to the DC Universe. In 1972, Neal turned to advertising illustration, but he occasionally returned to DC, notably illustrating a popular Superman vs. Muhammad Ali comic book in 1978 and new Batman and Superman series in 2012 and 2016.
Neal Adam's work set standards for every artist after him, and it continues to inspire, even to this day. Neal's gritty, realistic art brought comics into the modern era. His work changed how we think of heroes like Batman, Superman, Green Lantern, and the X-Men, and his influence can be seen in generations of artists who have followed in his footsteps.
Those artists, as well as his contemporaries, comic book writers, editors, and more remember Neal for his incredible work, both on the page and as a teacher and collaborator:
Jim Lee - Artist, CCO and Publisher for DC
When I was a kid, I idolized the work of Neal Adams. His work brought the world of superheroes to life with a sense of realism and dynamism that I had NEVER seen before. Every rendition of characters like Batman, Green Lantern, Superman, Green Arrow, the X-Men, the Inhumans—just to mention a few—instantly became my definitive favorites.
He was a master at every facet of art—his range of expressions, the dramatic use of lighting and shadowing, the seemingly facile command of anatomy, and of course, the trademark finger-pointed-in-your-face foreshortening was all just unbelievably next level.
And it all seemed so very magically ALIVE. Neal's work has influenced every image I have created and continues to be the gold standard I aspire to when I put pencil to paper.
Beyond the brilliance of his creative work, Neal was as importantly a selfless champion for creators' rights, endangering his own career in his quest to make the business of comics a better and more equitable one.
He was also as influential in the dozens of artists he mentored, taught and brought into the business through his 'Crusty Bunkers' studio which was also an inspiration in the early days of Homage Studios which I started with Scott Williams and Whilce Portacio.
The list of Crusty Bunkers alumni is a veritable "Who's Who" of some of the best and brightest comic book artists to have worked in the industry.
Neal was tough and as straight forward as they come, but he was also a character as brilliant, impactful, principled, and colorful as the heroes he illustrated. The fact he even knew of my work's existence when I became a pro meant the world to me.
My deepest condolences to his wife of 45 years Marilyn and his five children Kris, Jason, Joel, Josh and Zeea and his many generations of fans all around the world. Rest in power, Neal.
Terry Austin - Artist
Let others expound on Neal's exquisite artwork—my mind turns back to these fond memories of working with Neal at Continuity Associates in the Seventies:  the mornings that he would announce "Put down your pens and brushes, we're going to the movies," and off we'd trundle to Time Square to catch the first showing of A BOY AND HIS DOG and ALIEN; the day that he took all of us out-of-towners on an impromptu tour of the WPA murals from the 1930s hidden inside all the buildings at Rockefeller Center; the afternoon he introduced me to Superman co-creator Jerry Siegel and his wife Joanne (who had famously served as the model for Lois Lane); the day that he sent a young penciling hopeful named Marshall Rogers back to my office because he thought that we would make a good team, artistically; the time I asked Neal if I could buy a particularly lovely piece that he had done and he sadly informed me that I would never be able to afford it, later quietly handing me his pencil layout for the drawing with a big grin on his face…
Cary Bates - Writer
Neal Adams' seismic impact on the comics industry will be felt for decades to come. I was lucky enough to see a few of my early scripts brought to life by his inestimable skills. Even more fortunate for me, it wasn't long before I was renting office space at his Continuity Studios, so I had a front row seat for some small portion of the artistic triumphs that would earn him superstar status throughout a 50-year career. While he was with us, Neal was often referred to as a living legend. Let's all take solace from the knowledge the legend will live on.
Jon Bogdanove – Artist and Writer
Neal Adams was one of the greatest actors in comics history. Make no mistake: Drawing comics is acting in slow motion. You can quote me. Literally everything I've heard my son, Kal-El, directing his actors to do is analogous to something we do. Or should do. But Neal taught me more than how to master nuances of gesture and expression—or how to stand up for myself. He showed me how to stand up and speak out for the causes I believe in.
Denys Cowan – Artist, and Co-Founder of Milestone Media
My boss passed away today, and has gone on to join the ancestors. Neal was like a father to me on so many levels. He (and really the whole family) took me into Continuity when I was 16 years old as an intern in high school. Neal, and that whole experience, taught me so much about comics, drawing—life, really. I owe him and the family a debt that can never be repaid.
Michael Golden – Artist
It's a truism that those who rise above mediocrity can all be judged as heroes or villains; it's always just a point of view and a person's achievements and influence will ultimately speak for itself. It's also true that Neal Adams is one of these people; a force majeure that few can equal and that history will remember. His work here is done.
Mike Gold – Writer, Editor and Co-Founder of First Comics
Neal was a true creators' rights warrior. He had the power and the ability to bring notice and to cause change, and he wielded both with the same massive skills he used as a storyteller. He's not just a legend, he's one of the most important people in the history of the comics medium.
Larry Hama –  Artist and Writer
All of you who had their artwork returned or collected an incentive or royalty since the '80s should have sent Neal Adams a thank-you card at the very least. He fought long and hard for what many take for granted these days.
Jenette Kahn – Editor, Former President of DC Comics
Neal Adams drew like a Renaissance master with a plasticity and elegant line that transformed the look of comics and inspired a whole generation.  But Neal's impact goes well beyond his art.  His fight for Siegel and Shuster was a watershed act that put the value of creators front and center so that no artist's rights could ever be ignored.
Laura Siegel Larson
Neal was a superhero in our personal Justice League that included creator of the Joker Jerry Robinson and my gutsy mother Joanne "Lois Lane" Siegel. They teamed up in the 1970s to bring long overdue recognition, a financial stipend, and medical insurance to my dad and Joe. Their negotiations with DC also restored the credit line "Superman Created by Jerry Siegel and Joe Shuster" that was removed in the late 1940s. This enormous victory brought security and dignity to my dad and Joe in their final years. I will always be grateful for the dramatic way Neal improved life for my family. He was a great man.
My deepest condolences to his wife, daughter, sons, and all his friends and fans around the world.
Paul Levitz – Writer, Editor, and Former President of DC Comics
Neal Adams revitalized key characters, set stylistic and storytelling models, introduced a bevy of brilliant young talents to our pages, argued with us as our conscience, and drew some of the most iconic images of the 20th Century.
Frank Miller – Artist and Writer
Neal changed the game. He made himself a bridge between generations. He forced the industry to pay tribute to his elders and taught my generation to respect ourselves.
Carl Potts – Artist and Writer
With his approach to dynamic representationalism, Neal could do it all – draw powerful action scenes and relatively quiet shots that made you soak in every detail.  He left us a huge body of inspirational work to appreciate and learn from.
Bill Sienkiewicz - Artist
Neal and I would have countless discussions about his pencils and what he felt inkers did or did not do to capture what he wanted. Most of the time, he liked what I did. But when I was `off,' he would not hesitate to call me to discuss what I'd done—or failed to do. To be honest, I loved these conversations, which almost had the opposite intended effect. I'd think, `How can I mess up the inks in just the right way so Neal and I will able to talk for a few more hours?' In fairness, he also called when he really liked something, too, so I didn't have to resort to any nefarious inking screw-ups. I just like to think he enjoyed shooting the #@&% and talking art with a friend. Gonna miss those talks.
Roy Thomas – Writer and Editor
Neal Adams was—is—quite simply one of the most talented and most influential artists in the history of the comic book industry. When his work first began appearing in the latter 1960s, it was a watershed moment. Any artist who saw his stunning artwork, with its unique combination of dynamism, realism, and romanticism, simply had to respond in some way in their own work. Jack Kirby, Neal Adams, and the monolith in 2001—they were simply things, artifacts, monuments that were suddenly and undeniably there. I'm glad I knew him and proud to have been his collaborator on several key projects.
With deep respect for Neal and his tireless work and great love for the comics industry, we extend our condolences to his family and friends. DC will be honoring Neal's rich legacy in our July comics.