There's something funny about Harley Quinn. The DC Universe abounds with comedic characters, from Plastic Man to Booster Gold, but Harley Quinn's particular flavor has always felt a little bit different. Her sardonic wit, her jittering neurosis, her gluttony for punishment, her observational mockery, her occasional bouts of feminist theory. It all seems somehow…familiar, doesn't it? As if she were based on a particular icon, or drawn from some other part of culture entirely separate from the world of comic book heroes and villains?
It seems that way for a simple reason: because that's exactly what happened. In the early 1990s, Batman: The Animated Series co-creator Paul Dini was developing the supporting crew for the Joker in one of the series' first (and best) episodes, "Joker's Favor." For the Joker's #1 gal, Paul Dini found inspiration by imagining a particular person for the role—comedian, screenwriter, daytime soap actress and Dini's dear personal friend, Arleen Sorkin. Through Dini's transformation, Arleen's witty, cabaret antics formed the meat and bones of what would become the media juggernaut we know today as Harley Quinn. And as Dini's muse, Sorkin herself would go on to act as the character's signature voice actress for twenty years, from her 1992 debut in "Joker's Favor" through 2011's DC Universe Online.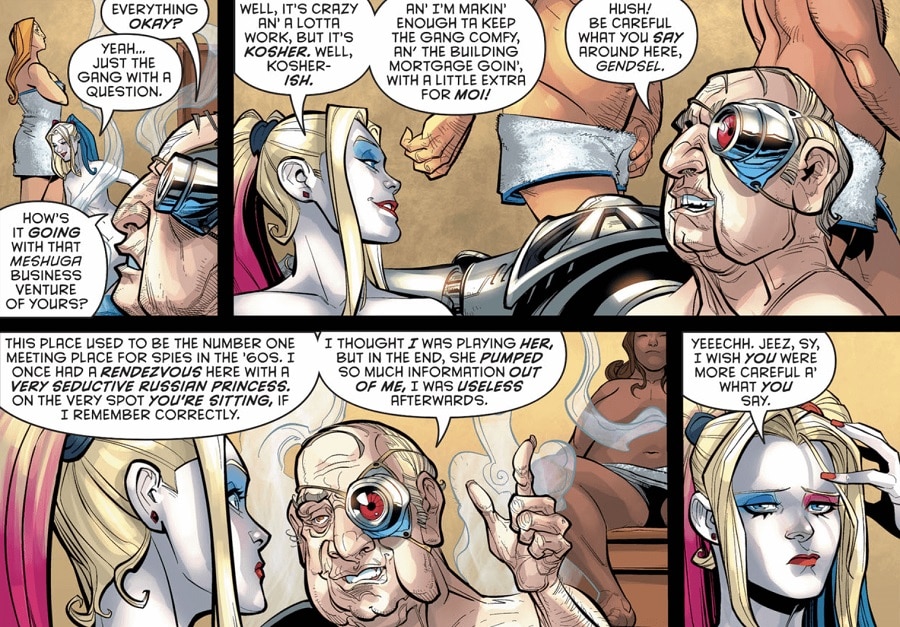 But it wouldn't be the full story to stop there. As a Jewish-American performer, Arleen Sorkin herself descends from a rich cultural history of Jewish immigrant playwrights, songwriters, comic book writers, actors and comedians who settled into the "Borscht Belt" around the New York Catskill Mountains in the early 20th Century. These immigrants were in turn the last generation of the "Yiddish Theater" tradition of Central Europe, where Jewish comedy and music dominated the entertainment circuit with a unique showcase of raucously irreverent songs and incisive observational wit—only for the performers to find themselves driven out by widespread religious and cultural persecution. When the last of the Yiddish Theater scene settled in New York, the ground was cultivated for some of America's most notable comedians. Common themes of Borscht Belt comedy included neurotic anxiety, early waves of feminist ideology and an unwillingness to take accepted social norms for granted without critical examination.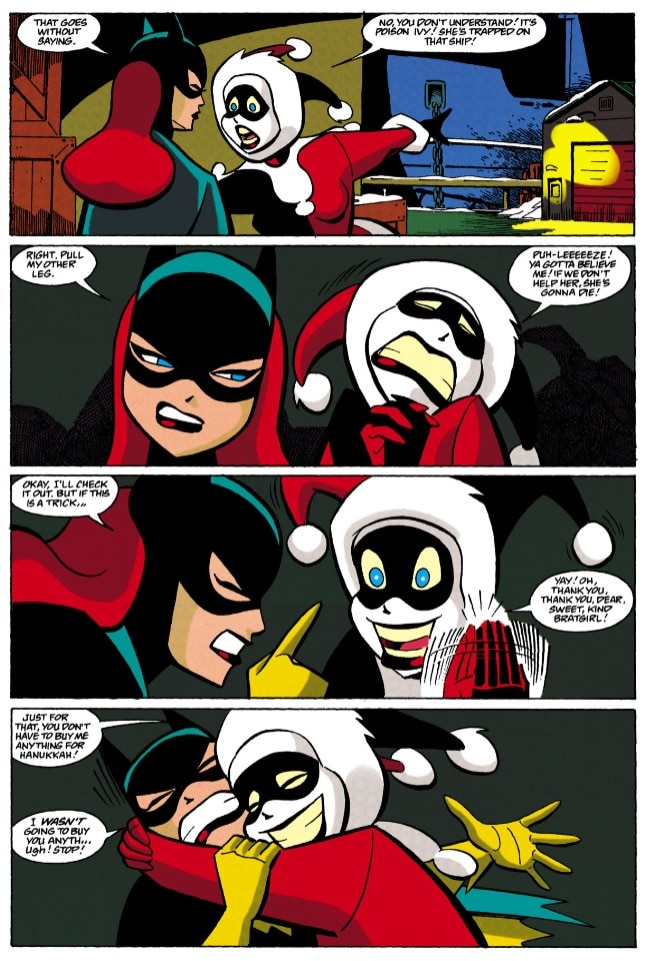 To all those points, the "Borscht Belt" spirit lives on in the DC Universe through the cipher of Harley Quinn. As early as "Joker's Favor," Harley can be heard lamenting her capture by Batman with a signature Yiddish "Oy." When she wants to impress the Joker in "Harley & Ivy," she remarks how he's gonna "plotz"—another Yiddish phrase, meaning to fall over or burst. One of her very first comic book appearances indicates a celebration of the Jewish holiday of Hanukkah. And Harley's Jewish heritage is finally canonized in 2010's Gotham City Sirens #7, when Harley goes home to Brooklyn to visit her mixed Jewish and Catholic family for the holidays.
Harley Quinn experienced a major reinvention in 2013 when Amanda Conner and Jimmy Palmiotti moved her back home to Brooklyn in her own solo ongoing series. A child of the Flatbush neighborhood of Brooklyn himself, Palmiotti drew reference for Harley from the many Jewish friends, neighbors and colorful characters he knew and loved as he grew into maturity as one of the most celebrated writers in mainstream comics today. And in Harley's subsequent comic run, written by Sam Humphries, her connection to her Jewish roots lived on through Harley's relationship with her mother—an often fraught entanglement, particularly as a trope of Jewish comedy.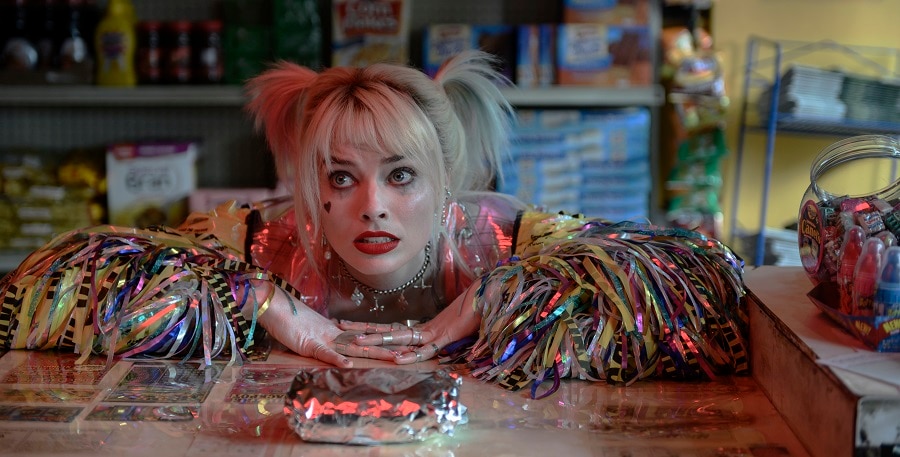 Most recently, Harley Quinn has made her triumphant return to the screen in both animation and live action, in the Kaley Cuoco-starring HBO Max series Harley Quinn and as a sometimes-star-sometimes-scene-stealing-support-character in the DCEU as portrayed by Margot Robbie. Harley's Jewish roots may not be the central thrust of either of these takes on the character, but her heritage from the Catskill comedy circuit remains a part of who she is and the flavor of comedy we can expect from her. Zai gezunt, Harley.
 
DC FanDome returns on October 16, 2021! For more articles like this one, and to stay up to date on all the latest news, visit dcfandome.com.
Alex Jaffe is the author of our monthly "Ask the Question" column and writes about TV, movies, comics and superhero history for DCComics.com. Follow him on Twitter at @AlexJaffe and find him in the DC Community as HubCityQuestion.