With the countdown to DC FanDome 2021 officially kicking off, we found ourselves thinking back to the original DC FanDome. After all, the first part of the two-day event took place at around this time last year.
That's right, it's been more than a year since the last time we gathered in the FanDome with DC fans worldwide. Where has all the time gone?
Taking place on August 22, 2020, DC FanDome: Hall of Heroes set a new high point for virtual events, gathering the biggest and brightest from all throughout the DC Multiverse for a spectacular preview of what's ahead. This first event gave us a sneak peek at some of the biggest DC movies, TV shows and comics of the past year. Wonder Woman 1984, The Suicide Squad, Titans (with its current Red Hood-centric storyline), Zack Snyder's Justice League and the recent return of the Milestone comic line all had exclusive panels during DC FanDome, featuring trailers, behind-the-scenes featurettes and hundreds of memorable moments with your favorite DC stars.
Yet, this represented less than half of the DC FanDome schedule. The rest was devoted to DC projects that haven't yet been released. Many of these movies and games will be back for 2021 with new presentations and never-before-seen surprises. But for fun, we thought it would be interesting to revisit what they revealed last year. These are the trailers, announcements and moments from 2020 that we still can't stop talking about.

Gotham Knights
DC FanDome 2020 included two big game announcements and panels. The first was Warner Bros. Games Montreal's Gotham Knights, in which players will take control of Nightwing, Robin, Batgirl and Red Hood.
In the game, Batman is dead and it's up to the four young members of the Bat-Family to fill the void left by the fallen Dark Knight. WB Games Montreal debuted the game's first trailer, in which a pre-recorded message from Bruce Wayne is sent to the four survivors. The trailer featured looks at all four of them in action, each with distinctly different weapons and fighting styles. It also gave us a look at some of the game's villains, including a menacing Mr. Freeze and the Court of Owls, who looked phenomenal in the small glimpses we got of them.
As if that weren't already plenty, the three panelists, WB Games Montreal's Patrick Redding and Fleur Marty, along with SHAZAM!'s Zachary Levi, also gave us our first look at Gotham Knights' gameplay in an extended trailer that showed Batgirl and Robin cooperatively infiltrating a frozen Elliot Center culminating in a boss battle against Mr. Freeze. The gameplay featured appearances from other Gothamites like Alfred Pennyworth and Renee Montoya, providing a good example of the "living, breathing Gotham City" that the game's developers have promised to provide. We also learned that the Belfry will be an important location within the game and that Gotham Knights' mystery is bigger than just the Court of Owls.
 
Introducing Flash
This was less of a panel and more of a featurette designed to get us all hyped about the upcoming Flash movie that's currently slated for next year (can Barry Allen change the timeline so that date gets here any quicker?), this ten minute presentation featured director Andy Muschietti, star Ezra Miller, screenwriter Christina Hodson and producer Barbara Muschietti who offered plenty of tidbits to get fans excited. While details about the plot were kept largely under wraps, Muschietti and Hodson confirmed that it's a time travel story, while the tone of the movie is in keeping with Muschietti's ability to deftly switch from comedic moments, to horrific ones, to deeply emotional ones. (See his IT movies if you're not sure what we're talking about.)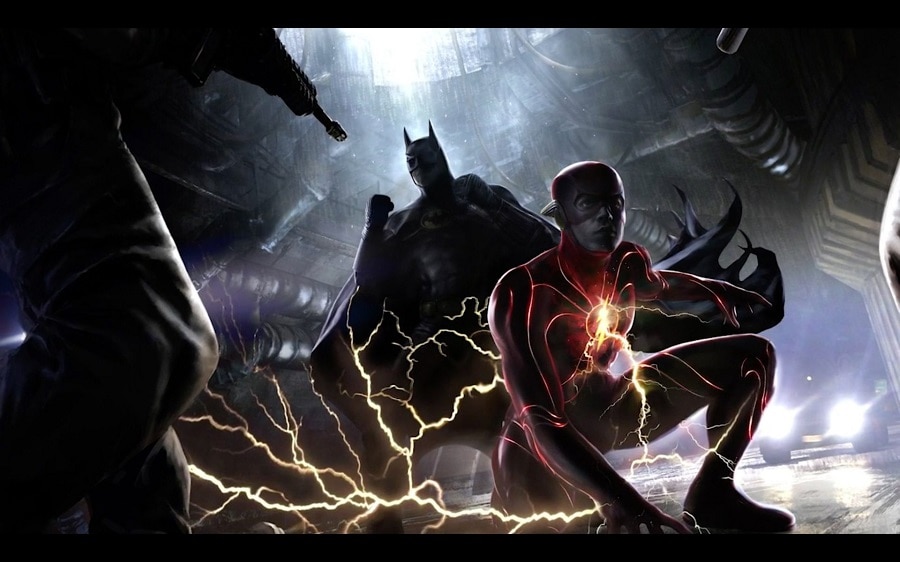 Miller, when he wasn't comedically showering us with "Flash Facts" about…pretty much everything, offered the most enticing promise: Of all the DC movies, this one's important because it opens the same door that the Flashpoint miniseries did in the comics, allowing many of the distinctly different versions of DC characters that we've seen in movies and TV over the years to start to collide. As Hodson promised, "The cinematic DC Multiverse is going to be born out of this movie."
While the movie hadn't yet started filming, so there was no teaser of any sort, Muschietti did give us our first look at the Flash's new suit from the film (above), which is built by Bruce Wayne and is much sleeker-looking than his original Justice League suit.
 
Black Adam
While Black Adam hadn't yet started shooting, so no trailer or featurette was included in Dwayne Johnson's still-very-exciting presentation, we did get a motion comic drawn by Jim Lee and BossLogic and narrated by Johnson. The promo gave us a dramatic glimpse of Black Adam's origins over 5,000 years ago in Kahndaq and set the tone for what we can expect when this movie debuts next year (in short, it's going to be intense).
Johnson went on to answer plenty of fan questions, sharing what he loved about the character and how Adam's origins as a slave greatly inform his vision of justice. He also chatted briefly with actor Noah Centineo, who will appear in the film as Atom Smasher and who shared what his workout regimen has been like as he prepares for the role. Finally, Johnson discussed the Justice Society's role in the movie, and shared at least some of the members we can expect to see—Centineo's Atom Smasher, along with Hawkman (since revealed to be played by Aldis Hodge), Doctor Fate (who will be played by Pierce Brosnan) and Cyclone (played by Quintessa Swindell). Black Adam will be directed by Jaume Collett-Serra, who recently directed Johnson to good effect in Jungle Cruise. In other words, between its suddenly hot director and enticingly diverse cast, this one has only gotten more exciting since its panel last year.
 
Aquaman and the Lost Kingdom
DC FanDome's panel on Aquaman was largely just a look back at the 2018 blockbuster and featured a rollicking discussion between director James Wan and actor Patrick Wilson. Wan did offer a few tidbits about what we can expect from the second film, however, sharing that he was excited to continue the journey of Aquaman's heroes and antiheroes, expand on the world and do things he didn't get to do with the first movie. He also promised that the 2022 sequel will be a little more serious and culturally relevant than the previous installment.
 
SHAZAM!: Fury of the Gods
While this brief ten-minute chat may not have had any trailers to share (the SHAZAM! sequel was yet to start shooting at the time), it was still thoroughly amusing, largely due to series star Zachary Levi's boundless energy and the seemingly unending parade of surprise panelists. Asher Angel! Jack Dylan Grazer! Faithe Herman! Megan Good! David F. Sandberg! Adam Brody! Sinbad!
Wait…Sinbad?!?!
Yes, Sinbad was not only part of the panel, he arguably stole the show (and prompted more than a few news outlets to erroneously report that Sinbad had be cast in the film). The raucous, yet utterly adorable crew of mostly young panelists discussed what they'd like to see in the SHAZAM! sequel (unicorns and jet packs!) and whether it would be possible to get CGI'd into Zack Snyder's Justice League before revealing the official name of the SHAZAM! sequel—SHAZAM!: Fury of the Gods.
If the movie is even halfway as entertaining as its panel was, you're going to want to start lining up now. (Well, maybe not. 2023 is still a long way away.)
 
Suicide Squad: Kill the Justice League
DC FanDome's second big videogame panel came care of the team behind one of the biggest game franchises in gaming history—Batman: Arkham. Rocksteady Studio's Suicide Squad: Kill the Justice League was announced with a provocative teaser image and an even more outlandish title reveal. Why is the Suicide Squad killing the Justice League? Is even possible for a ragtag team of super-villains to take down the World's Greatest Super Heroes?
We got answers to those questions and more in the game's DC FanDome panel hosted by Will Arnett, starting with a phenomenal cinematic trailer that even now, a year later, still blows our minds.
Featuring four core members of the Squad—Harley Quinn, Deadshot, King Shark and Captain Boomerang—the game is set in Metropolis and is, indeed, about taking down the Justice League.
About halfway through the presentation, Arnett was joined by Rocksteady Creative Director and Co-Founder Sefton Hill, who answered some questions about the world of the game and its gameplay. Suicide Squad: Kill the Justice League is set within the "Arkhamverse," and he promised that a lot of throughlines carried over from the Arkham games will come to fruition here. Hill described the game as a hybrid between Rocksteady's experience with superhero empowerment—such as bringing characters like Batman to life in the Arkham games—with some really awesome gunplay. They also wanted to give players the chance to explore an open world Metropolis, which Hill described as the game's fifth character.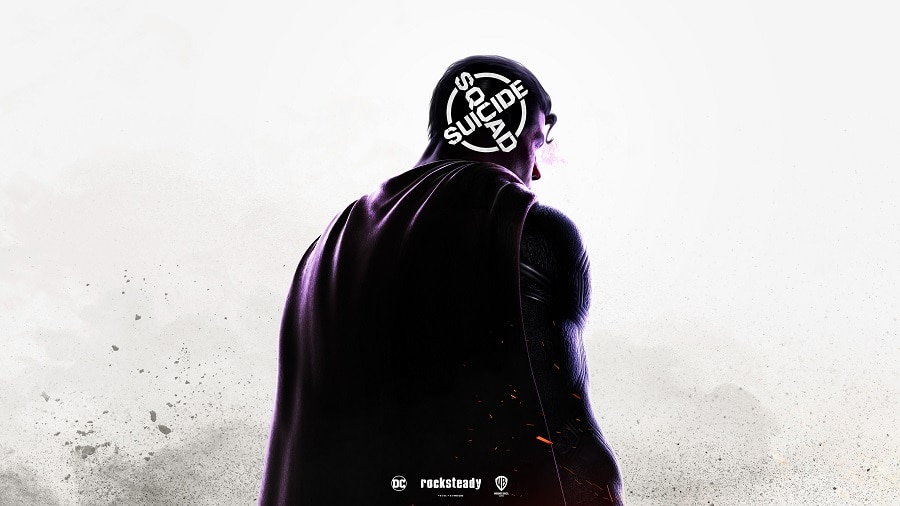 Speaking of characters, it was revealed that all four core characters are playable and Suicide Squad: Kill the Justice League is designed to be played however players prefer. It's a one-to-four player co-op game and is fully dynamic. So, if players prefer playing single player, they can do that and the other three members of your squad will be played by bots. If they feel like switching from one character to another, they can do that as well. Likewise, if they want to team up with friends for multiplayer, that's possible, with each player taking on a different character. The game works either way.
Of course, there's still the fact that the Suicide Squad's essentially taking on the all-powerful Justice League with little more than baseball bats, guns and boomerangs, but we imagine we'll get a better idea of exactly how they're going to pull that off when the game gets closer to its release.
 
The Batman
Of course, as anyone who was there recalls, 2020's DC FanDome: Hall of Heroes wrapped up with a 30-minute discussion with director Matt Reeves about The Batman, and it did not disappoint. Introduced by Robert Pattinson and moderated by DC FanDome host Aisha Tyler, the fast-talking Reeves covered quite a bit over the course of the panel, including giving fans a pretty clear idea of what sort of story they're in for when The Batman debuts in early 2022.
As had been discussed before, The Batman is set during Bruce Wayne's second year as a crimefighter, meaning it's not an origin, but the Dark Knight is clearly still establishing himself and becoming the hero he'll eventually become. As Reeves made clear, "He's far from perfect." While Batman is no longer a new presence in Gotham City when The Batman starts, he's not having the affect on the city that he wants to have…and that's when the murders start.
Those murders really shed some light on the true history of Gotham and open up a world of corruption that touches on Batman's origins, forcing Bruce to confront the question of where his family might have sat in all of that. Reeves promised that The Batman will be a mystery and a detective story, but a deeply personal one for Batman.
Later, Reeves answered some fan questions, including some of the movies that influenced his vision for The Batman (Chinatown, The French Connection and Taxi Driver) and one surprising comic (Darwyn Cooke's Batman: Ego). He even shared a bit of what we can expect from the HBO Max TV series set in the universe of the film. That series, which Reeves is working on with Boardwalk Empire creator Terrence Winter, will be set during Batman's first year in Gotham, during the initial appearances of this new masked vigilante who seems to have declared war on Gotham's underworld. Reeves explained that you'll see this story through the point of view of the corrupt cops of the Gotham City Police Department, one corrupt cop in particular, and that in many ways, the story would be a battle for his soul.
However, the highlight of the panel was definitely the Batman teaser that Reeves debuted, which is still the only official look we've had at the film and is absolutely breathtaking despite being cut from only about 25% of the film. 
We don't know about you, but we can't wait to see what we'll be seeing from The Batman at this year's DC FanDome now that it's finished filming. Heck, we're excited to see more from all these movies and games, and anything else that will be a part of this year's presentation. Will it top last year's inaugural event? It won't be easy, but you'd better believe all of us at DCComics.com will be watching on October 16 alongside the rest of you to see if it does. See you there, DC fans!

DC FanDome returns on October 16th, 2021 at 10 a.m. PDT. Stream it live at DCFanDome.com. For more on this year's event, check out our official announcement.