DC CONNECT #16:  BATMAN'S ONE DARK KNIGHT, THE EXCITING CONCLUSION TO BATMAN: FEAR STATE, A GATHERING OF ROBINS, A CELEBRATION OF GOTHAM CITY'S VILEST VILLAINS, NEW SERIES FROM STEPHANIE PHILLIPS, TOM TAYLOR, JOSHUA WILLIAMSON, AND MORE!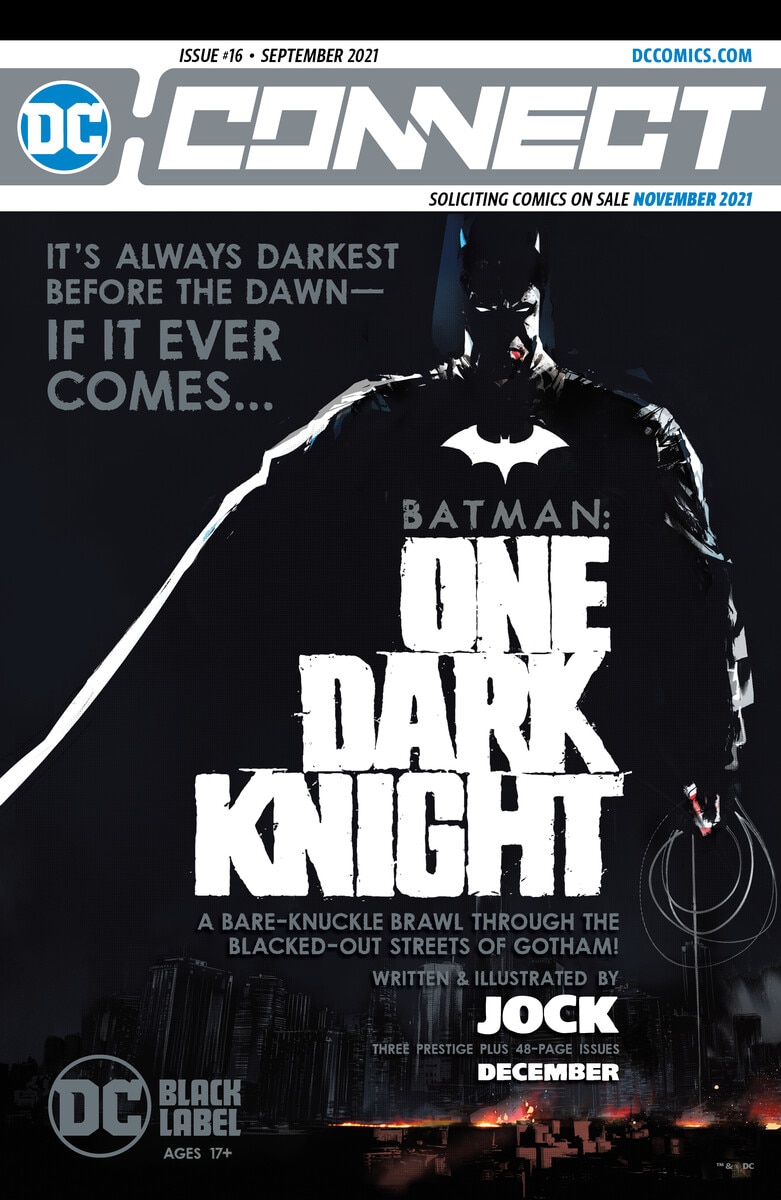 Available Digitally Today and at Participating Comic Book Stores on Tuesday, August 24, 2021
This November, there will be plenty for DC and super hero fans to be thankful for and DC CONNECT #16 has the 411 on what's in store heading into the holiday season!
Spotlighting the upcoming Batman: One Dark Knight miniseries written and drawn by JOCK, this issue also includes first details on fantastic DC comic books and publishing events, including:
The can't miss conclusion of Batman: Fear State:

The final showdown between Batman and Peacekeeper-01,  The Scarecrow, and the ongoing Batgirls story featuring Barbara Gordon, Cassandra Cain and Stephanie Brown! (Batman #116/#117)
The mysterious origin of The Gardener is revealed in Batman Secret Files: The Gardener #1!
Batman Urban Legends #9 spotlights Batwoman and The Outsiders in two Fear State tie-in stories!
Selina Kyle and the Alleytown Strays make their last stand against the Magistrate, Simon Saint, the Wight Witch and Father Valley in Catwoman #37!
Batman and Mayor Nakano must put aside their differences to try and save Gotham while there's still time in Detective Comics #1045!
Harley and the Gotham City Sirens face off against The Scarecrow and Keepsake in Harley Quinn #9!
As the Scarecrow continues his terror campaign across Gotham, Jace Fox is in a race against time to stop a breakout at a juvenile detention facility and rescue his mother in I Am Batman #3!
Nightwing and Batgirl find out the identity of Seer, the force behind the disinformation campaign plaguing Gotham City in Nightwing #86!
Batman: Fear State Omega #1 brings a dangerous new status quo to Gotham City…
More details on two new limited series spotlighting Robin, Batman's crimefighting ally – Robin & Batman from Jeff Lemire and Dustin Nguyen, plus Robins, selected by DC fans as the winner of the 2020 Round Robin Bracket Challenge.
The Gotham City Villains Anniversary Giant brings together a who's who of comic book storytellers to celebrate the villains that have plagued Gotham City and Batman. This anthology includes a special story featuring The Penguin, written by the actor that brought the character to life in Warner Bros. Pictures Batman Returns, Danny DeVito!
A look at early artwork by Yasmine Putri from Tom Taylor's Dark Knights of Steel, Wonder Woman: Evolution by Stephanie Phillips and Justice League Incarnate by Joshua Williamson and Dennis Culver.
DC CONNECT is available now to download digitally on DC UNIVERSE INFINITE  and www.dccomics.com/dcconnect. The print version arrives in participating comic book stories on Tuesday, August 24, For the latest news on the World's Greatest Super Heroes, check out the main page at www.dccomics.com or @DCComics and @thedcnation on social media.
The DC UNIVERSE INFINITE digital comic book subscription service is the destination for the "greatest hits" from across DC's rich storytelling legacy; for more information and a free seven-day trial, check out the website at www.dcuniverseinfinite.com.