It's time to face your fears, Titans fans.
While the plot of Titans' third season remains as well guarded as Titans Tower, we do know that it will see Dick Grayson and his team of young heroes make their way to Gotham City where they'll tangle with one of Batman's most terrifying foes—the Scarecrow.
While the character was first announced last year at DC FanDome, we now know the actor who will be bringing him to life. Titans revealed today that Mad Men actor Vincent Kartheiser would take on the role of Dr. Jonathan Crane, who will start the season as an inmate at Arkham Asylum.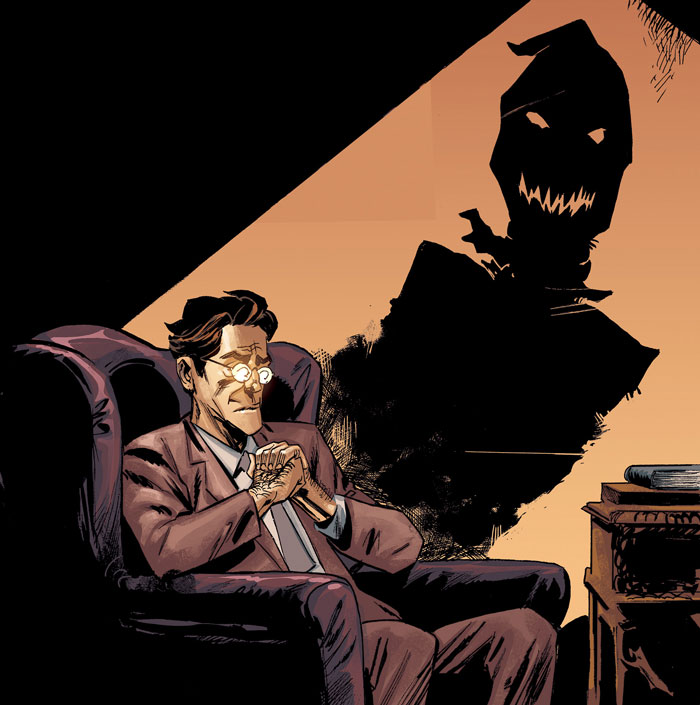 While the Scarecrow has appeared often in animation and video games, he's really only been brought to life twice before in live action—in Christopher Nolan's Dark Knight trilogy and on TV's Gotham. The character does, however, seem to be experiencing something of a renaissance right now. Scarecrow's fear toxin has played a key role this season on Batwoman (though the character himself has not appeared) and he's currently the primary villain in the ongoing Batman comic. While we don't yet know how Titans' take on Jonathan Crane will compare to some of these others, considering the HBO Max series isn't afraid of getting dark, it's not hard to imagine the show's version being our most frightening live action Scarecrow to date.
Scarecrow will mark Kartheiser's first role as a comic book character, though the actor has a long career in film and TV that includes noteworthy roles in genre favorites like Angel, The OA and Das Boot. He's best known, however, for playing Mad Men's ambitious young advertising agent, Pete Campbell—a role he embodied for seven seasons to much acclaim.
Jonathan Crane is one of several well-known super-villains who will appear in Titans' third season, and it's currently unclear how the various villains will intersect or which, if any, will prove to be the season's main adversary. Along with Kartheiser's Scarecrow, season three will also see the return (after a brief season 2 cameo) of Damaris Lewis' Blackfire and Curran Walters' debut as Red Hood.
That's all we know as this point, Titans fans, but keep dropping by DCComics.com or visit our official Titans series page for all the latest news on the show. Also, be sure to drop by the DC Community to let us know your thoughts on Titans' newest baddie. Are you ready to see Kartheiser bring the fear?