With Future State currently offering a thrilling glimpse of the near and far futures of DC's heroes and villains, fans can't help but wonder what's next, and the status of the current DC Universe. That era starts in a big way on March 2 with Infinite Frontier #0, a 64-page one-shot from some of DC's most innovative creators—setting the stage for new story lines, surprises, and mysteries unfolding over this year and beyond.
In the past week, DC has given fans a tease of what's inside Infinite Fronter #0 via DC Nation on Twitter, with breathtaking panels and tantalizingly out-of-context dialogue from the issue. Now, the truth can be revealed—some of it, at least—with the full pages of those previously revealed panels seen in the gallery below.
Additionally, here's the full lineup of Infinite Frontier #0's stories and creators:
Framing sequence written by Joshua Williamson with James Tynion IV and Scott Snyder, illustrated by John Timms and Alex Sinclair
Justice League by Brian Michael Bendis, David Marquez, and Tamra Bonvillain
Batman by James Tynion IV, Jorge Jiménez, and Tomeu Morey
Wonder Woman by Becky Cloonan & Michael W. Conrad, Alitha Martinez & Mark Morales, Emilio Lopez
Wonder Girl by Joëlle Jones and Jordie Bellaire
Green Lantern: Alan Scott by James Tynion IV and Stephen Byrne
Teen Titans Academy by Tim Sheridan, Rafa Sandoval & Jordi Tarragona, and Alejandro Sanchez
Superman by Phillip Kennedy Johnson, Jamal Igle, and Hi-Fi
Green Arrow & Black Canary by Joshua Williamson, Alex Maleev, and Jordie Bellaire
Stargirl by Geoff Johns, Todd Nauck, and Hi-Fi
Green Lanterns by Geoffrey Thorne, Dexter Soy, and Alex Sinclair
The Flash by Joshua Williamson, Howard Porter, and Hi-Fi
Epilogue by Joshua Williamson, John Romita Jr. & Klaus Janson, Brad Anderson
Plus, the issue arrives with a wraparound main cover by Dan Jurgens and Mikel Janín: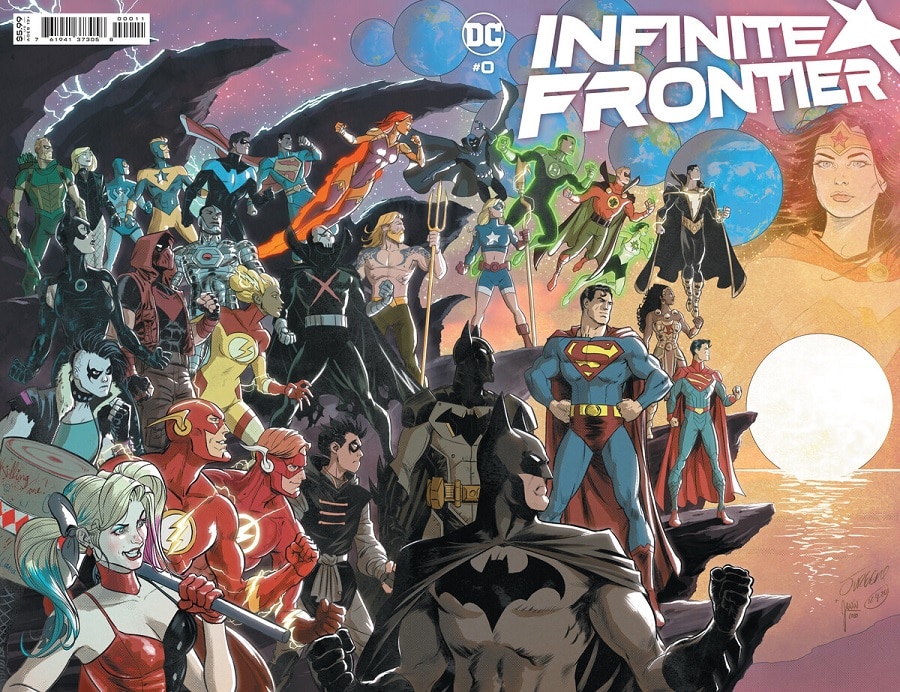 And a variant cover by John Timms: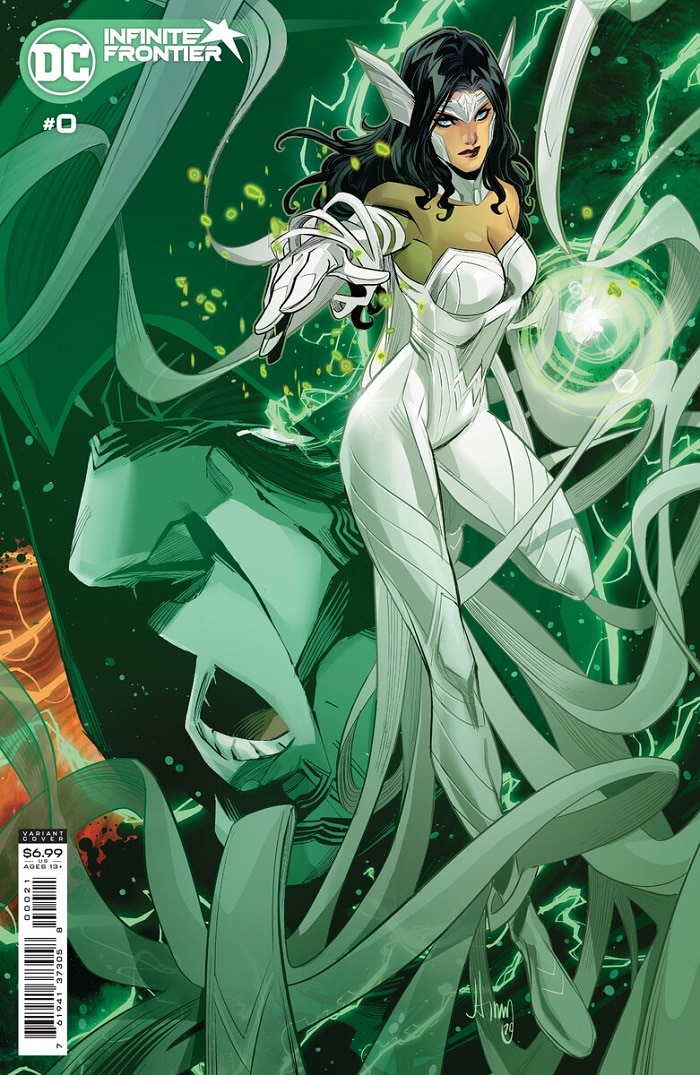 Yeah, that's a lot to take in. But get ready—March 2 is also the release date of Batman #106, Suicide Squad #1, and The Swamp Thing #1, all of which are part of DC's Infinite Frontier era. A line from the Teen Titans Academy story in Infinite Frontier #0 puts it best: this whole year's gonna be huge.