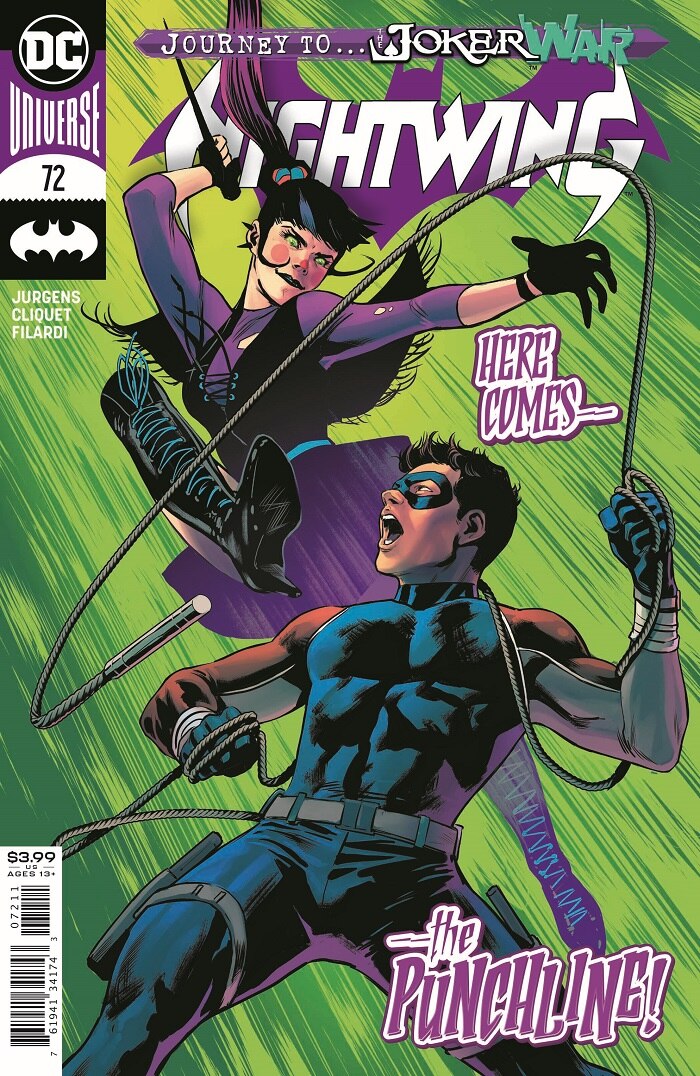 Dick Grayson—also known as Nightwing, Robin and most recently, Ric Grayson—spent much of his life honing his body into a finely tuned weapon. So perhaps it makes sense that lately his enemies all seem to be attacking his mind. While his body is fast, agile and athletic, with countless martial arts and fighting styles committed to muscle memory, his mind is vulnerable. Break it and there's no more Nightwing. Twist and warp it, as we saw the Joker do in last month's Nightwing #71, and Nightwing can shift from being a hero to a villain in a snap of your fingers.
Since suffering from a traumatic gunshot to the head, Grayson had largely given up his role in the Bat-Family, choosing instead to occasionally help out the team of informal Nightwings that have risen up in his absence. It was an arrangement that was never going to last. We all knew it. The Nightwings knew it. And apparently, the Joker knew it as well. At the end of last week's issue, we watched the Clown Prince of Crime hypnotize Grayson the same way that Dr. Haas had early in his recovery. But while Haas sought to lead Grayson towards a life as one of the Court of Owl's Talons, we can only guess what the Joker plans to do with him. It's going to be bad. Likely worse than our memory-addled hero can fathom.
And where does this leave poor Bea Bennett? The good-natured bartender has done nothing but try to help Grayson since they met, falling in love with him in the process. Now, Nightwing's past is about to catch up with her. Will their relationship survive? Will Bea? In this exclusive first look at Nightwing #72, a desperate Bea seeks help from Gotham. She'd hoped for Batman, but instead got Barbara Gordon. Will Nightwing's past and current flames be enough to finally set Grayson's mind right? Or will this prove once and for all that to love truly is to lose?
Nightwing #72 by Dan Jurgens, Ronan Cliquet and Nick Filardi is in stores and available digitally on Tuesday, July 14.