Stock up on candy, Sweet Tooth is coming to the small screen.
Announced today by Executive Producer Robert Downey, Jr., the wistful post-apocalyptic adventure has received a direct-to-series order from Netflix, making Sweet Tooth the third series on the outlet to be based on a former Vertigo comic.
Described as a "broad appeal, family-friendly, storybook adventure," the in-the-works adaptation tells the story of Gus—a hybrid child who's part deer and part boy—who leaves his home in the forest to find the outside world ravaged by a cataclysmic event. He joins a ragtag family of humans and animal-children hybrids like himself in search of answers about this new world and the mystery behind his hybrid origins.
Netflix's Sweet Tooth will star Christian Convery (Legion, Descendants 3, Playing with Fire) and Nonso Anozie (Zoo, Game of Thrones). Rounding out the core cast are Will Forte, Adeel Akhtar and James Brolin. The show itself will be managed by co-showrunners Jim Mickle (Hap and Leonard) and Beth Schwartz (Arrow). It'll be executive produced by Team Downey's Robert Downey, Jr., Susan Downey and Amanda Burrell, and Linda Moran, and produced by Team Downey's Evan Moore.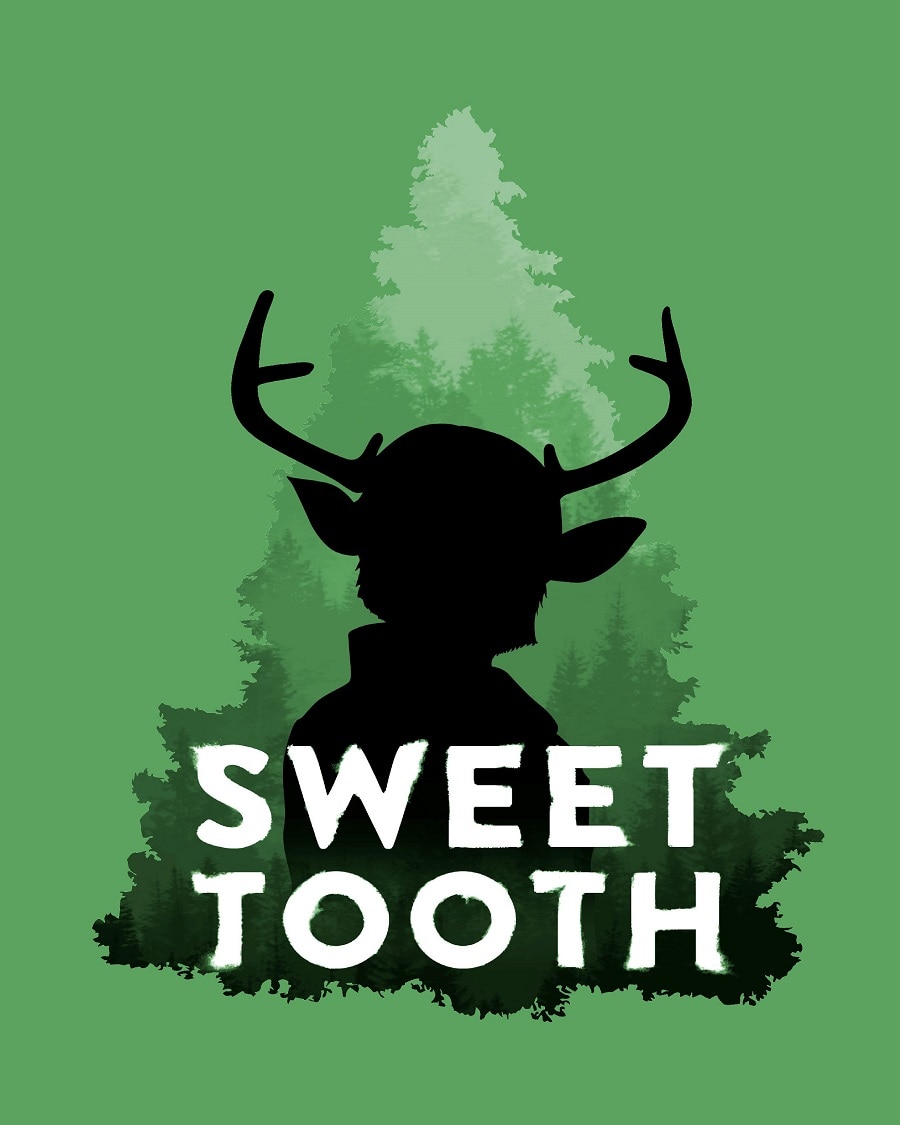 The comic, if you're unfamiliar with it, was the brainchild of Jeff Lemire, who both wrote and illustrated the series for Vertigo from 2009 through early 2013. Running forty issues in total, the book built a post-apocalyptic world based on rural sensibilities, and featured Gus befriending a world-weary drifter named Tommy Jepperd and setting off to find a rumored safe haven for animal hybrid children like Gus. Along the way, they wind up getting mixed up with a frightening cult that experiments on hybrid children and discovering the truth about what happened to the world. The book gets its name from Gus' unbridled love of candy and sweets.
Fans who have read the comic will tell you that Sweet Tooth is something of a unique book for Vertigo. While it does get dark at times and can be violent, Sweet Tooth has a gentleness to it as well, embodied largely through the grizzled Jepperd's deepening relationship with Gus. More than anything, it's a character driven story, with an unusual young hero at its core that you can't help but feel for, making it the perfect adventure for the small screen.
Keep an eye on DCComics.com for more on Netflix's upcoming Sweet Tooth and DC's other current and upcoming TV shows as it breaks. For now, though, let us know what you think of this news. Have you read Sweet Tooth? Are you excited to see it come to Netflix? And are you suddenly jonesing for chocolate the way that we are…?