Following an hour of revelation and confirmation in episode three, this week's Watchmen episode, titled "If You Don't Like My Story, Write Your Own," presents, perhaps, the most straightforward story structure to date. There are still plenty of oddities and new threads to pull on (Lube Man?), this is Watchmen after all, so we'll have to keep watching to see how, and if, those threads end up tying back to our mystery.
We begin the episode with the introduction of Lady Trieu (Hong Chau) as she makes a Tulsa couple an offer they cannot refuse. The couple, the Clarks, is coerced into selling Lady Trieu their home and surrounding property just before an unknown object falls from the sky and crashes nearby. Lady Trieu is a woman of means, financial and other, and is clearly not afraid to pull any levers at her disposal. Her leverage over the Clarks was the prospect of having a child. Lady Trieu knew their medical history and inability to have a child on their own. She presented them with a newborn child. A child that was biologically theirs. How this child was created is not explained, but it won't be the last time in the episode that we see someone with the ability to grow humans.
Described as the reclusive "billionaire building the big clock down the road," which she quickly corrects with "actually, I'm a trillionaire," Lady Trieu's intentions are not immediately clear. The "big clock" is the Millennium Clock, an object with similarly unclear intentions. But, among these uncertainties, there are a few things we do know. Lady Trieu bought Adrian Veidt's company after he disappeared. She views Veidt as "a truly great man" and that her success grew from "the seed of his inspiration." There's a golden statue of Veidt, in full Ozymandias costume, in her vivarium at the compound at the base of the Millennium Clock.
Veidt's inspiration clearly influenced Lady Trieu's base of operations. Its design and inclusion of a vivarium bear a striking resemblance to Veidt's fortress in Antarctica seen in the climactic moments of the comic.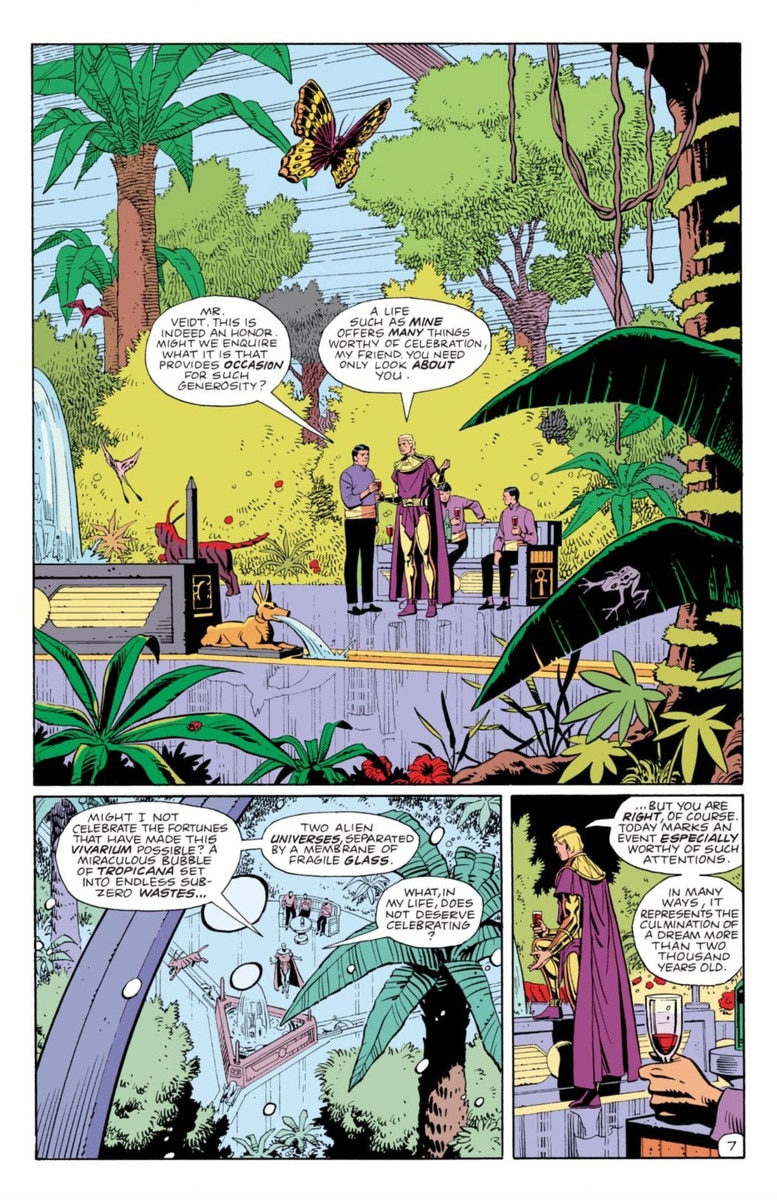 From Watchmen Chapter XI
We get to spend some time with Veidt (Jeremy Irons) in this episode as well, in scenes that are both disturbing and illuminating. We now know where the multiple versions of Mr. Phillips and Ms. Crookshanks come from. We know his manor is in some unknown area and that he is trying to escape. We know several years have passed since he was confined here. We know there's a hole in the sky, discovered by launching deceased versions of Mr. Phillips and Ms. Crookshanks from a catapult until they disappear into the great blue yonder.
The creation of a new Mr. Phillips and Ms. Crookshanks gives us a glimpse of Veidt's cloning process. With the existence of this technology and Lady Trieu taking control of Veidt's company, it's quite possible that she, too, possesses this power. This would explain her ability to deliver the Clarks a biological child
It also raises questions regarding Lady Trieu's daughter, Bian (Jolie Hoang-Rappaport). We saw Bian in a previous episode. She was the girl picking up the stack of newspapers in episode two.  She refers to Lady Trieu as her mother and there's no indication that she thinks otherwise, but she does reveal a curious nightmare to her mother: She was in a village in Vietnam. Men came and burned it. They made her walk. Her feet still hurt.
Is this an actual nightmare, or could these be residual memories that Lady Trieu personally experienced?
The location of Vietnam actually plays a big part in this episode. We know Lady Trieu is from Vietnam. Her "Lady Trieu" name itself is taken from a female warrior from Vietnamese history who resisted the Chinese occupation of Vietnam back in the third century. We know Angela (Regina King) was also born in Vietnam. She and Cal (Yahya Abdul-Mateen II) met in Vietnam and the "bakery" she uses as a front for her Sister Night activities is called "Milk and Hanoi Bakery."
There's more to unpack here, for sure, but this isn't the first time Vietnam has entered the Watchmen conversation. We previously noted Dr. Manhattan's ability to grow to 100 feet tall, as seen in his recollection of the surrender of the Vietcong. In those same pages, we see Dr. Manhattan's introduction to another "soldier," The Comedian, Edward Blake. He is burning a village.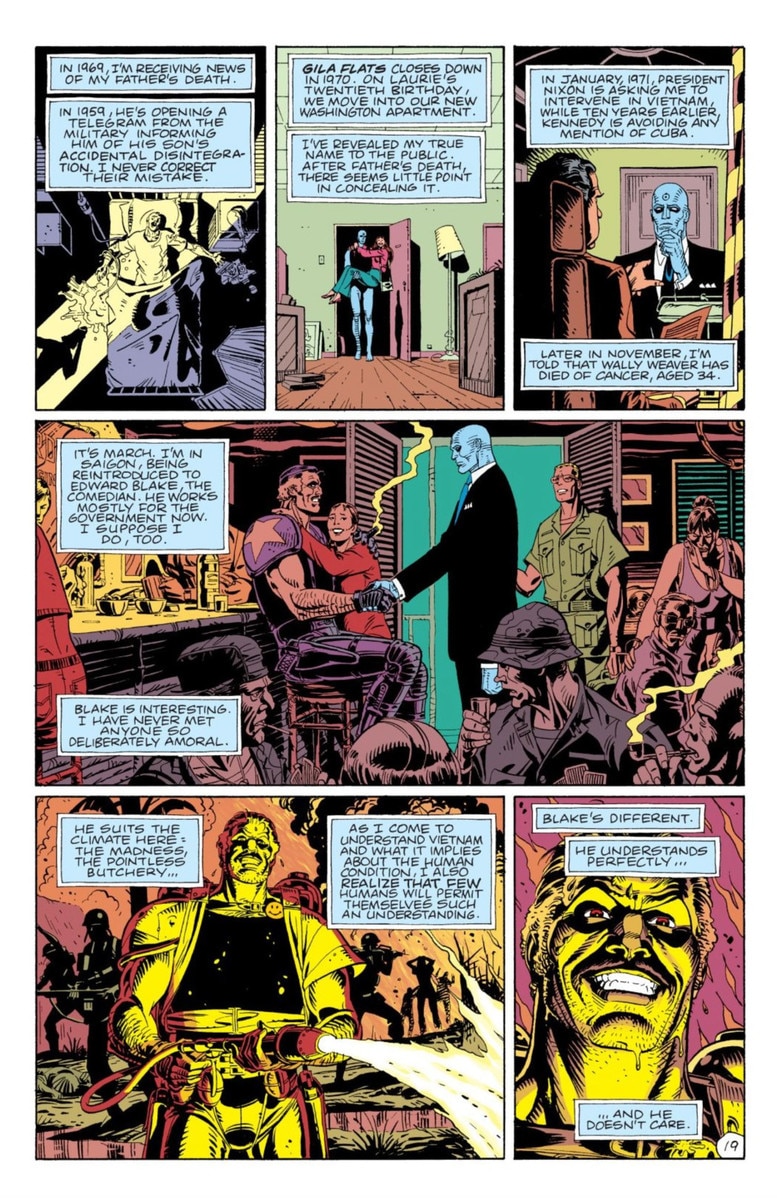 From Watchmen Chapter IV
And one more fun little nod to the book occurs as Agent Blake, Agent Petey and Sister Night are driving to see Lady Trieu at the Millennium Clock. As they discuss thermodynamic miracles, the need for masks to protect oneself from pain, and Laurie's history with The Minutemen ("Minutemen, like the TV show?"), the song on the car radio is Billie Holiday's "You're My Thrill." Whether by coincidence – sorry, thermodynamic miracle – or specifically selected by Laurie, we've heard this song before in a vehicle Laurie was traveling in. When she, as Silk Spectre II, and Dan, as Nite Owl II, take the Owlship to rescue a group of people stranded on the upper stories of a burning tenement building, this same song is playing.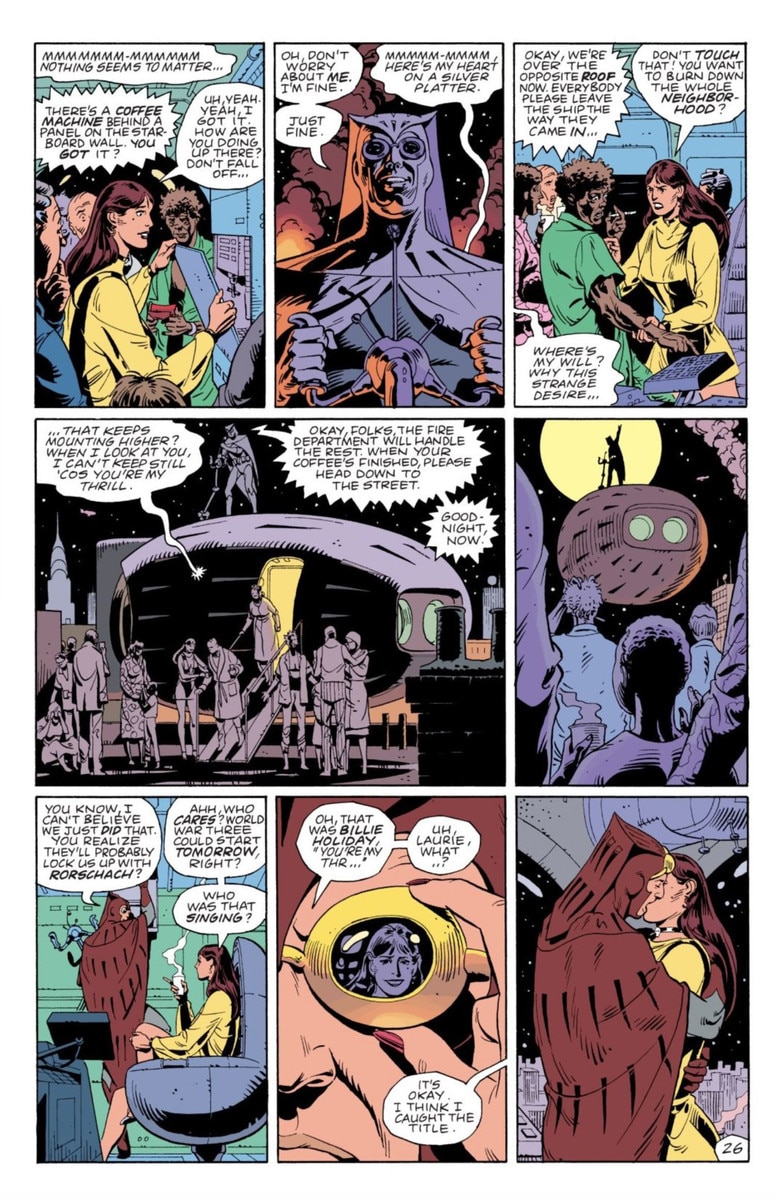 From Watchmen Chapter VII
It's a significant moment in the relationship of Laurie and Dan. Could the song signify another meaningful moment between two of our main characters? While trust and underlying motives may not be solidified just yet, we're clearly seeing the seeds of teamwork start to sprout. A comment from Dan during this moment with Laurie could just as easily apply to Laurie and Angela's current situation, "and all the mask killers, all the wars in the world, they're just cases – just problems to solve."
Watchmen airs Sundays at 9 p.m. on HBO. The Watchmen graphic novel, by Alan Moore and Dave Gibbons, is available wherever books and comics are sold.