We live in a Golden Age of series, movies and books for the youngest superhero fans. In fact, I can't help but feel a twinge of jealousy toward my ten-year-old. Every time I hear her giggling at Teen Titans GO! or spot her flipping through a DC Super Hero Girls graphic novel, I think, kids these days have it so good with superhero stories! (Oh, no, I'm officially That Age where I use the words "kids these days.")
And then I remember—there's no super-villain stopping me from watching that show or borrowing that book from my daughter. In the case of Dear Justice League, the new DC middle grade graphic novel by Michael Northrop and Gustavo Duarte, I nabbed that book from her before she even had a chance to crack open the delightful cover.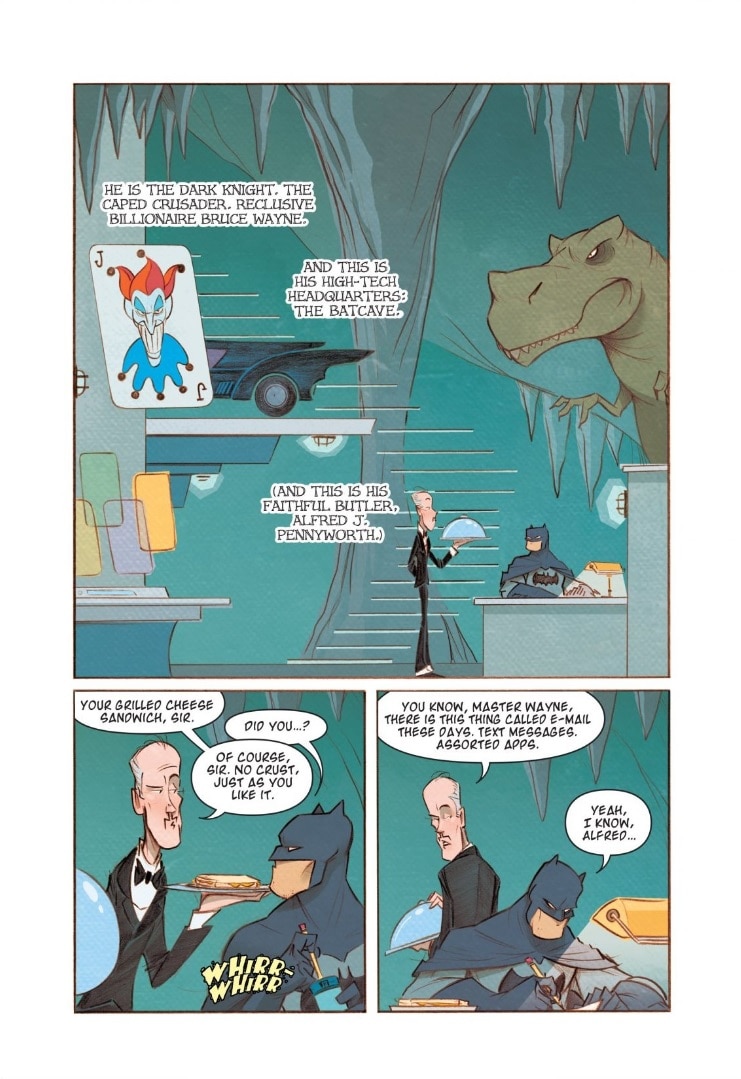 Dear Justice League is a rare comic that's truly for all ages. Whether you're 6 or 60, whether you loved superheroes as a kid or catching them at the movie theater has made you a recent fan, this lighthearted and brilliantly illustrated graphic novel immediately appeals to readers of any age or comics experience. And thanks to the Justice League's honesty and humor, it's a book that both my daughter and I will return to again and again. 
The heroes of Dear Justice League aren't the untouchable, stoic super-powered beings that you might think of when you recall the heroes of the big screen. The Cyborg, Aquaman, Green Lantern and other heroes in this story play video games, feel a little self-conscious at times and make questionable fashion choices.
Most importantly, they mess up.
While some of those qualities, like playing pranks—we see you Barry Allen—make the heroes highly relatable to kids, they're relatable to those of us on the upper side of 18 as well, regardless of whether or not you have kids. We've all been guilty of looking at our phones when we shouldn't (although we can't text while flying like Superman), feeling nervous on our first day at school or a new job and eating too much cake. The next time we do it, now we can shrug and say to ourselves, "Well, Wonder Woman does it too, it's okay!"
But most of all, Dear Justice League makes any reader feel like they could be a hero, no matter how many times they mess up or how many mistakes they make. What's important is that the Justice League keeps fighting and keeps learning, all with the help of their friends.
Speaking of fighting, there are plenty of action-packed heroics worthy of any comic book inside this graphic novel. From Hawkgirl swinging her mace to Batman defeating the Joker, there's no question that these are the superheroes we all know and love. Younger readers will get a kick out of seeing their favorite Justice Leaguers save the day from an alien bug invasion; older readers who are well-versed in comics will love catching little references to other beloved characters like Kanga, Jessica Cruz and the 1960s Batman.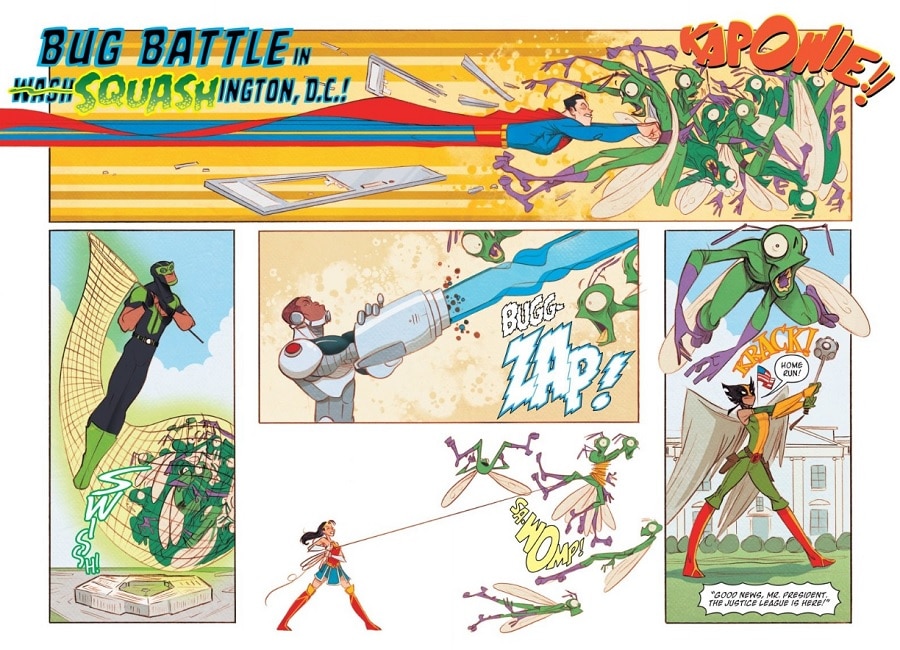 Dear Justice League does this all with a wink and a smile. From plenty of adorable animal friends, to Batman asking Alfred to cut the crust off his grilled cheese, to my favorite thing about this book—hilarious text callouts and sound effects that have never been seen in a comic—laughs are practically guaranteed. Every hero in this book feels joyful. Even Batman can be seen with a rare smirk.
So, let's recap. Relatable? Check. Super-powered action? Check. Funny as all get out? Check! All together that makes Dear Justice League a graphic novel for anyone who has ever dreamed of leaping tall buildings or eating a slice of birthday cake with Wonder Woman. Which is all of us.
 
Dear Justice League by Michael Northrop and Gustavo Duarte is now available in bookstores everywhere, your local comic shop, and as a digital graphic novel.
Kelly Knox writes about all-ages comics and animation for DCComics.com and her writing can also be seen on IGN, Nerdist, Geek & Sundry and more. Follow her on Twitter at @kelly_knox to talk superheroes, comics and crafts.