SPOILER ALERT: The following contains spoilers for Under the Moon. Don't let curiosity kill your enjoyment of a great book!
 
DC Ink's latest Young Adult graphic novel, Under the Moon: A Catwoman Tale, gives us an emotional and intense look into the origins and young life of one of DC's most popular female characters.
Life is anything but easy for young Selina Kyle in this novel, and author Lauren Myracle does not shy away from difficult-to-discuss topics such as abuse, self-harm and youth homelessness. However, she also doesn't shy away from important life lessons such as choosing for oneself, helping others and the pursuit of freedom in one's life. At its heart, this novel is really all about the choices Selina makes to put her on the path to becoming who she truly is—Catwoman. Along the way, this new backstory for the character also explains why she always seems to be in that grey area between hero and villain, even as an adult.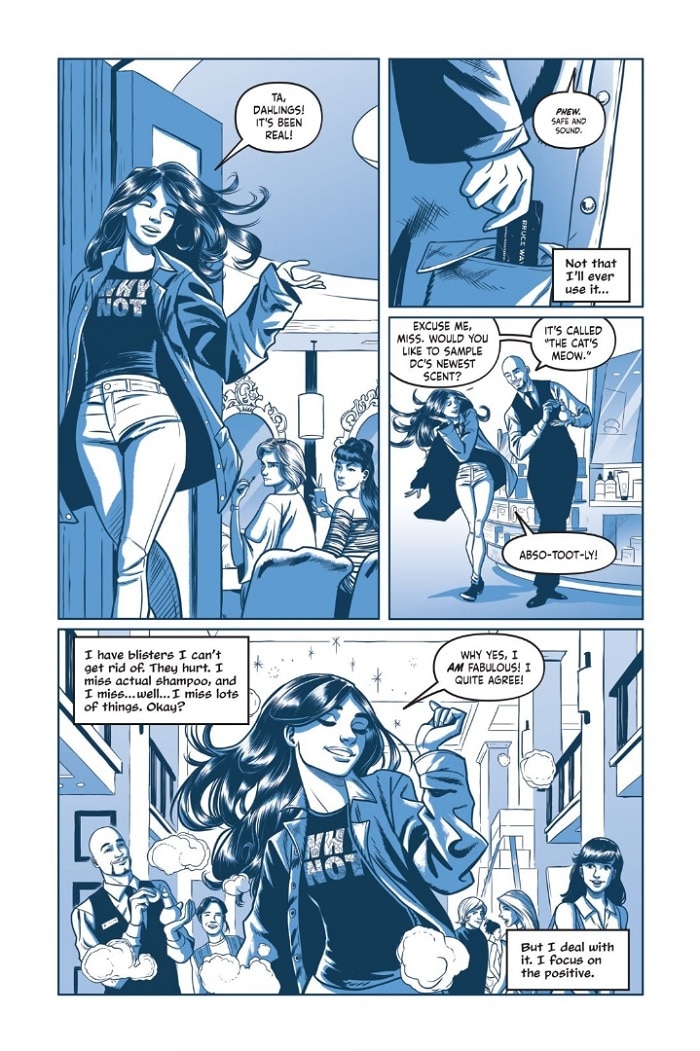 At the start of Under the Moon, poor Selina is forced to endure some horrible adult men treating her and her submissive mother like trash, which leaves her isolated with no honorable or supportive adult figure in her life. The first important choice she makes is to rise above her isolation and secretly adopt a kitten, whom she names Cinderella. Little Cinders brings a light to Selina's life until her mother's latest, horrendous boyfriend finds the cat and ends up murdering it. (This graphic novel does not shy away from the ugly side of life!)
This terrible event in Selina's life leads her to her next choice, and perhaps the most important of her life—to leave home and live out on the streets on her own. It's a brutal decision—a rash choice by a heartbreakingly desperate young woman—but it's made far gentler by artist Isaac Goodhart's otherworldly portraits of cats in the stars and the night sky that embrace Selina while inspiring her to say, "I don't know where I will go or how I will live. What I do know is this…I will be stealthy like a cat. I will be fierce like a cat. And like a cat, I will not fear the dark."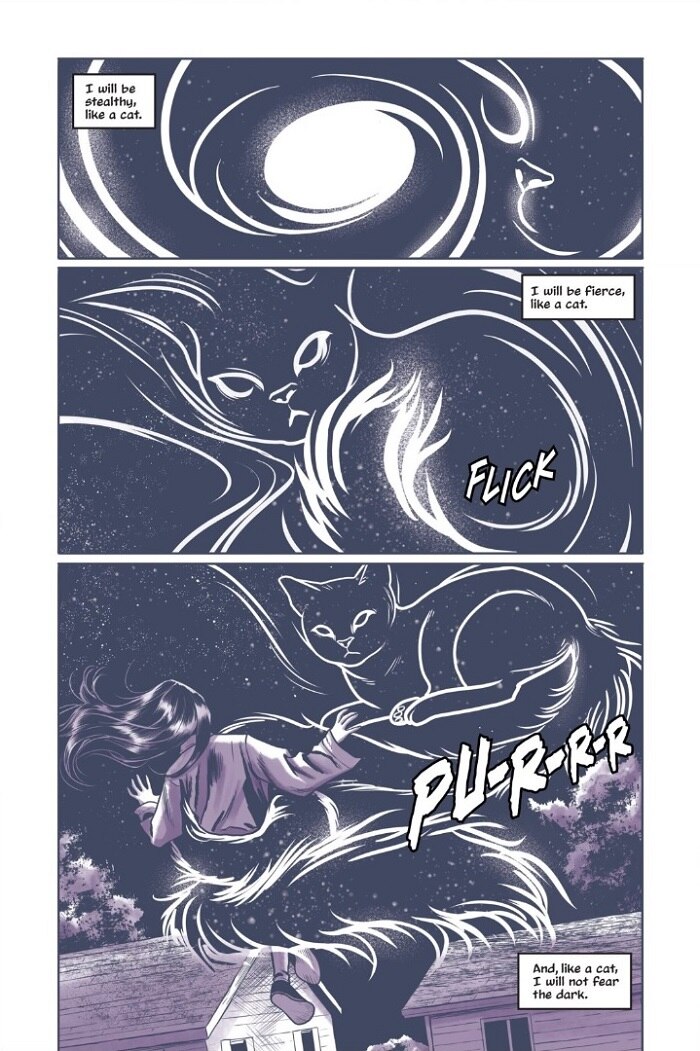 Myracle paints an accurate picture of what it would be like to live on the streets of Gotham as a teenager, as Selina endures having to steal food and clothing, skip showering and dropping out of school. Obviously, no good things come from being homeless on the streets. However, as a reader, and knowing her backstory of how she got there, you end up feeling happy for her that she at least has her freedom. Her choice may seem reckless, but it's hard not to see it as the best one available to her or admire her courage in making it.
It's a happy surprise to see a young Bruce Wayne playing a role in the story, well before his caped crusading days. He and Selina have been good friends throughout their childhood (of course, Selina daydreams about maybe being a bit more than friends). Having survived his own trauma, Bruce sees Selina quietly suffering and offers her sanctuary at Wayne Mansion. However, despite the generosity in the offer, her answer is no. It's another bold choice. While some could see it as an act of stubbornness and an effect of the damage that's been done to her, it also shows how independent Selina really craves to be. She doesn't want to be like her mother who relies solely on men to get through life.
Eventually, Selina meets another homeless teen named Ojo. She does not trust him at first, but before long, he begins teaching her the art of parkour—giving us an idea where the adult Catwoman picked up all of her acrobatic skills. Ojo invites Selina to join him and some other street kids he lives with, and at first, she says no. But after a disastrous trip back to Gotham High to possibly reintegrate herself back in with her old crowd at school, she realizes her true community is with Ojo and his roommates, Yang and Briar Rose, and chooses to live with them.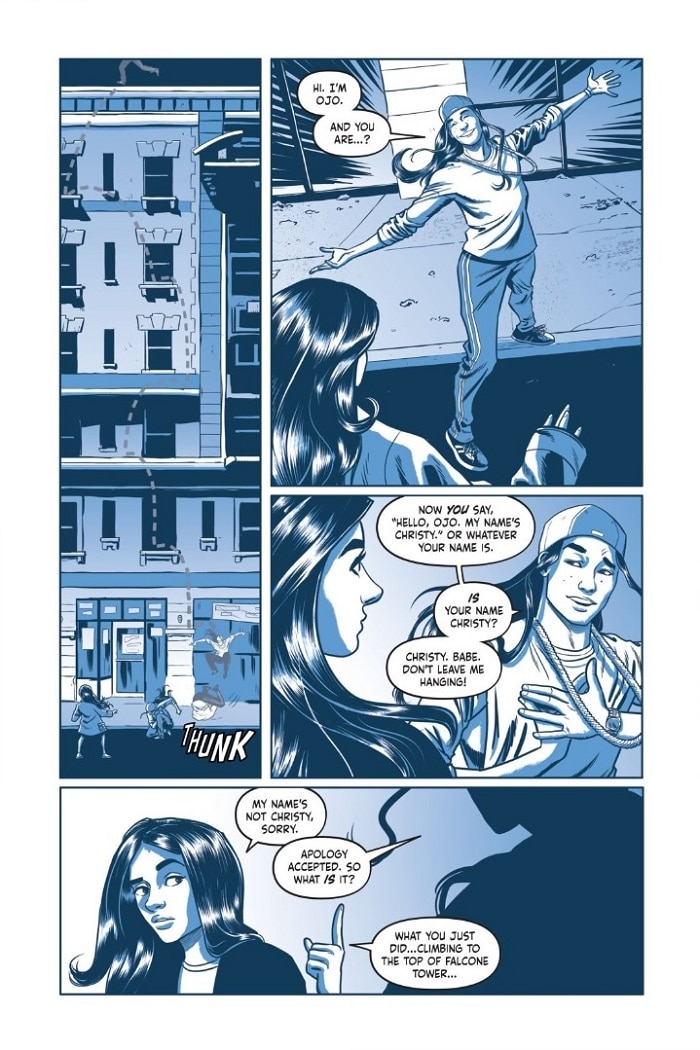 Selina choosing to be with others after being on her own for so long reinforces the fact that she isn't a black-and-white character. Catwoman works alone and Selina has traditionally preferred isolation, but only at times. Young Selina is able to form a close bond with her newly found friends, especially the youngest of the group, Briar Rose. An orphan who lost her parents and saw her brother taken away from her, Briar Rose comes to see Selina as a maternal figure, something that Selina embraces. Selina becomes something close to the mother figure she wished she had, and it shows incredible maturity on her behalf.
Ultimately, Selina herself learns that not only does she need to make decisions and choices that best suit her life and needs, she also has to respect other peoples' choices. Towards the end of Under the Moon, Rosie ends up finding her long lost brother and decides to be with him instead of going back with Selina and the others in their group. Selina, although concerned, recognizes that if she gets to make her own decisions, "Rosie does too."
It's a bittersweet moment, but it represents the final crucial step in this chapter of Selina Kyle's development—understanding that part of loving people is knowing that they're going to make choices that are painful to you and allowing them to make them. It's a decision that opens the door to Selina possibly forgiving her mother down the line. Possibly.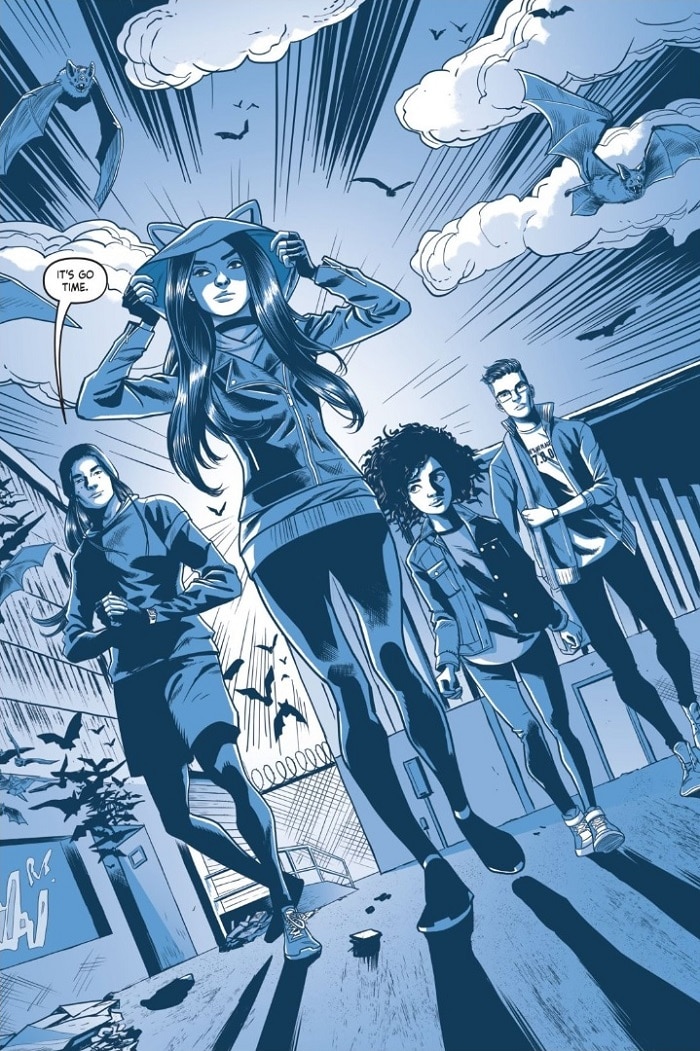 The very last pages of the book show Selina in much better place than where she started at the beginning. She is independent and sure about who she is and who she wants to be as a young woman. "I'm not a pack animal, despite any evidence to the contrary," she acknowledges. "I want to go wherever I want to go, live however I want to live. After all, cats have nine lives. I've only just begun."
Altogether, Myracle writes an emotional and very honest YA graphic novel about the strength it often takes to make the choices needed to become the person you truly are. It's an important, poignant lesson reached at the end of a sometimes tragic story. A beautiful sunrise after a long, cold night spent under the moon.
 
Under the Moon: A Catwoman Tale by Lauren Myracle and Isaac Goodhart is now available in bookstores, comic shops and as a digital graphic novel.
Amanda Levine loves everything DC, especially Harley Quinn, whom she often cosplays. Her favorite Young Adult books have always been Harry Potter and the amazing world that J.K. Rowling created. You can find Amanda and her cosplay adventures on Instagram or on Twitter.