Tour Stops will Include Autograph Signings and Free Giveaways in Los Angeles, Portland, Chicago and Cincinnati from May 3 – May 10
New YA Graphic Novel from DC Ink Hits Comic Shops Today and
Everywhere Books Are Sold on May 7
To celebrate the hotly anticipated release of DC Ink's new YA original graphic novel, UNDER THE MOON: A CATOMAN TALE, NY Times bestselling author Lauren Myracle is going on tour to meet fans and sign autographs in four cities: Los Angeles, Portland, Chicago and Cincinnati.
Beautifully illustrated by Isaac Goodhart, UNDER THE MOON: A CATWOMAN TALE is a complete reimagining of the iconic DC character and marks Myracle's first graphic novel and first work with DC.
"I have not had this much fun working on a project in ages," said Myracle. "Isaac is phenomenal. Seeing him bring fifteen-year-old Selina Kyle to life was mind-blowing. She's such a vulnerable lost soul; her story is equal parts coming-of-age angst and bad guy ass-kicking. And I got to write a for-real villain, with hollow eyes and creepy teeth and everything. Living the dream!"
Check out the complete tour schedule below and mark your calendars for the closest signing near you!
UNDER THE MOON: A CATWOMAN TALE is on sale now in comic book shops and everywhere books are sold May 7, 2019. An excerpt from the book will be given away for free on Free Comic Book Day on May 4 at participating comic book stores across North America.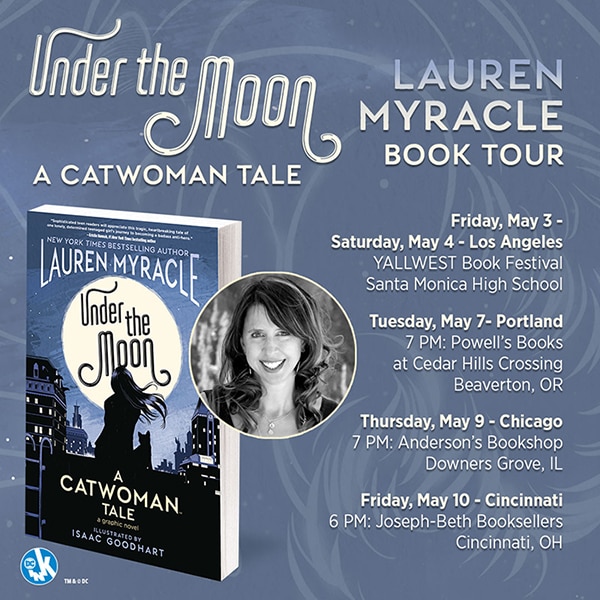 UNDER THE MOON: A CATWOMAN TALE
When 15-year-old Selina Kyle, the girl who will grow up to be Catwoman, becomes homeless, she must confront questions of who she is and who she will become.
Selina rejects human cruelty, but sometimes it seems as though brute force is the only way to win. And if Selina is going to survive on the streets, she'll have to learn to be tough. Can she find her humanity and reconcile toughness with her desire for community...and love?
From Lauren Myracle, the New York Times bestselling author of books like ttfn and ttyl, and artist Isaac Goodhart, comes a new graphic novel that tells the story of a teenage Catwoman as she struggles to find her own identity while living on the streets of Gotham City.