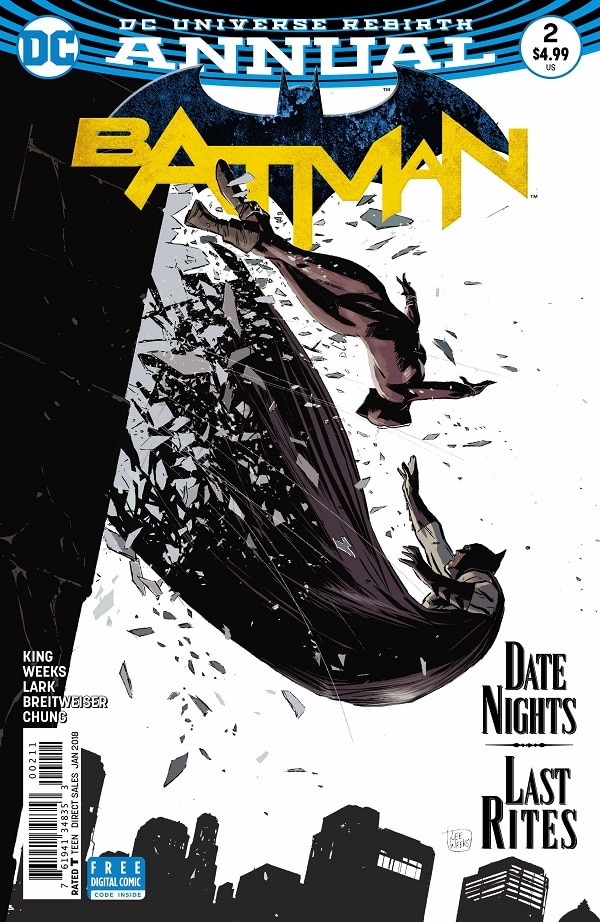 First dates can be awkward, but we're guessing even the worst of them don't involve stolen cars, breaking and entering, and major property damage. Then again, most of us aren't Bruce Wayne and Selina Kyle. While many stories have been told about the early days of Batman and Catwoman, it's rare that we've seen tales about their early relationship. How exactly did a professional thief manage to win the heart of a driven crimefighter sworn to bring people like her to justice?
In BATMAN ANNUAL #2, writer Tom King answers that question with a story set well in their past, before even the War of Jokes and Riddles. Partnering with him on this one is his BATMAN/ELMER FUDD artist Lee Weeks (with an assist from Michael Lark). Is there room in a young Bruce's life for both courtship and caped crusading? Will Selina even give him a choice? She certainly takes him—or rather, his car—for a ride in this exclusive first look.
BATMAN ANNUAL #2 by Tom King, Lee Weeks, Michael Lark, Elizabeth Breitweiser and June Chung is in stores this Wednesday.