All will be revealed...with your help. Click here to join the hunt.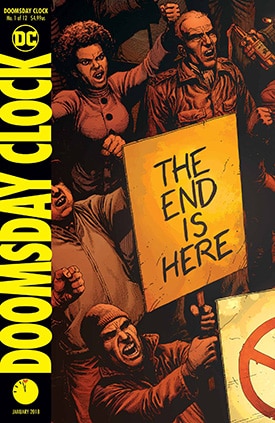 DC Comics presents to you a 12-issue maxiseries from the critically acclaimed team of writer Geoff Johns, artist Gary Frank and colorist Brad Anderson. You are not prepared for what lies ahead within these pages, good readers.


THE HUNT BEGINS… 
So, you think you're clever, do you? Let's see about that. There's very little we can say about what awaits you in November, but we've managed to hide something away that you're going to want to see. It's one final treat for you before the clock strikes midnight and DOOMSDAY CLOCK arrives.
We have to be very careful who we share it with. It's intended for only the brightest and most dedicated of you—the true believers who understand that good things are worth a little work. Therefore, we've stashed it away, and hidden the clues to unlocking it within a series of images that we'll be sharing over the weeks ahead. Those images will show up in a variety of places. We can't say exact where and when. (Though you may want to sign up for our newsletter and make sure you're following us on Instagram, Facebook and Twitter.)
This page will serve as your spot to keep track of everything. It will be updated below in real time throughout the hunt and will let you know what new clues may have been discovered…but only after one of you finds them. When you think you've discovered a new piece of the puzzle, share it in the comments. If we see your comment, and if you're the first to identify it, we'll give you credit when we update the page with that clue.
We encourage you to also use the comments to discuss the hunt in general, and to let us know if you're stumped. If it turns out many of you are, we might update this page with a hint.
To start, we suggest you look closely at the above image. And remember, it will all make sense in the end…
And the end is here.
Updates:
October 27: It looks like Alex Harper may be on the right path...
 
October 30: My, my... You certainly have given this some thought. As a few of you have pointed out, it's the W and the H that are important. And there's no need to go to Waffle House. Look for more clues this week!
 
October 31: Happy Halloween! No tricks today. No clues, either. But tomorrow you may want to keep an eye out... 
 
November 1: You've found our newsletter and Instagram images

—good! And it looks like Dan_DeHerrera and Junjie_Wang have done a stellar job piecing together the clues. Also, let's give Chance_Beaver1 a tip of the hat for being the first to spot one of today's new hints.


 
November 9: Consider us impressed! Looks like Don_Marcos and drewlandis8 have spotted the most recent clues. Way to keep a watchful "eye" out, guys...
 

November 17: Solve the riddle below. Then, check your inboxes tonight or Twitter on Sunday for the final clue!

Doomsday Clock secrets are almost here.
One challenge remains.
The final clue is before you.
Can you see it?
Once each piece is neatly in place...
Mission accomplished.


November 28: Looks like a bunch of you solved the riddle and found the hidden page. Nice work Eric Kyle Montalvo, markkawika, Jason Kline and everyone else who discovered The Great Lie.


December 22: New clues are starting to unfold. Keep an eye on the DC Comics social pages today and Tuesday, December 26th for details on our continuing investigation.