They say opposites attract. Well, not only is it true, but it seems like they're attracted to the Titans.
As revealed on Deadline today, Alan Ritchson and Minka Kelly have been cast in the roles of Hank Hall and Dawn Granger—better known as Hawk and Dove—on the upcoming Titans TV series. While the duo of dynamically different partners has been involved with the Teen Titans in the comics throughout the years, they're the first two heroes revealed who are not part of the current Titans or Teen Titans lineups.
Described as a crime-fighting, vigilante duo and romantic couple, Hawk and Dove are the perfect example of opposites attract. Hawk is an aggressive, offensive bruiser while Dove is strategic, defensive and lithe.
Hawk and Dove were first introduced in 1968 as Hank Hall and his brother Don, but after Don's death in CRISIS ON INFINITE EARTHS, Dawn Granger was introduced in the late 1980s to take on the Dove role. In the comics, Hawk and Dove were granted their gifts by the Lords of Order and the Lords of Chaos—two otherworldly sects that eventually went to war with each other. Both would gain their abilities by saying their name—"Hawk" or "Dove"—whenever danger was present. While Hawk's abilities are more hyper-physical, with super strength, speed, stamina and durability at his core, Dove's are more magical and tactical.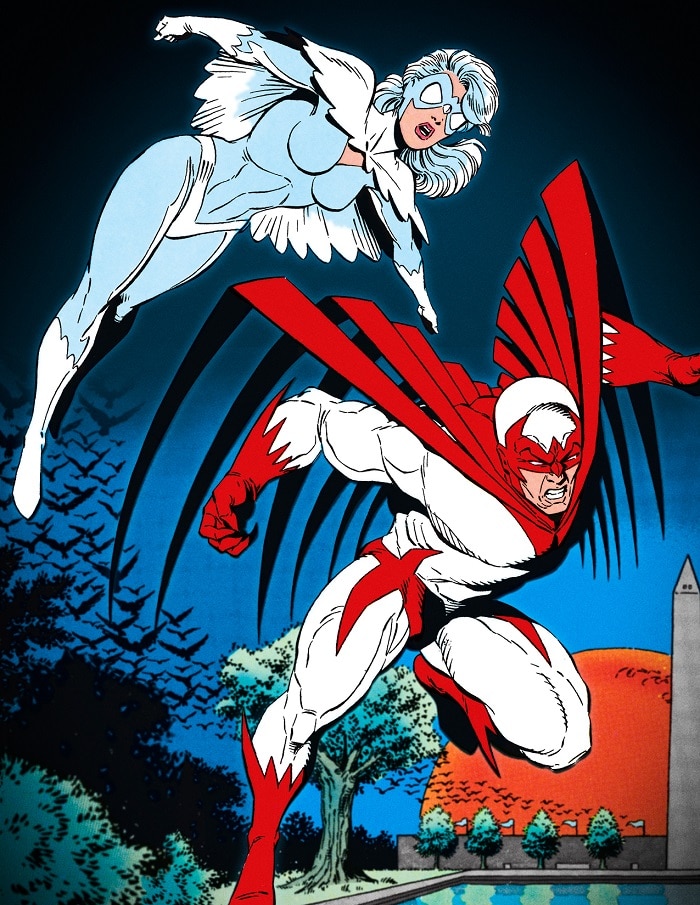 As for the two actors embodying the roles, you've likely seen them before. Ritchson appeared recently on the shows Blood Drive and Black Mirror, and also stepped into the shell of Raphael for the two recent Teenage Mutant Ninja Turtles movies. However, he's probably best known to DC fans from his role as Aquaman on The CW's long-running Smallville. Kelly, on the other hand, is known for her roles in shows like Friday Night Lights, Parenthood, Almost Human and Jane the Virgin.
Titans was first announced earlier this year and will air exclusively on DC's upcoming direct-to-consumer digital service. On the show, Dick Grayson emerges from the shadows to become the leader of a fearless band of new heroes that includes Starfire, Raven and others. Last week it was announced that Brenton Thwaites would be playing Dick Grayson, and earlier this summer, Anna Diop was announced as Starfire and Teagan Croft was revealed as Raven.
Written by Akiva Goldsman (Star Trek: Discovery), DC Entertainment President and Chief Creative Officer Geoff Johns (The Flash, Arrow) and Greg Berlanti (Arrow, DC's Legends of Tomorrow, The Flash, Supergirl), Titans will be debuting next year.
That's all we have on this for now, but keep your eye on DCComics.com for more news on Titans in the weeks and months ahead. Or, even better, you can sign up to receive updates on Titans, Young Justice: Outsiders and the DC digital streaming service directly in your inbox at www.DCFanUpdates.com.
So what do you think of this latest Titans announcement? Share your thoughts below in the comments!