The Mighty Mole is fit with drills, sensors, lazers and grapples. But does it have a sound system? If you're going to be burrowing hundreds of feet beneath the ground, you're going to want to bring some good tunes, right? I mean, there's not much to hear down there other than a few desperate screams.
If you've been reading CAVE CARSON HAS A CYBERNETIC EYE, you know what I'm talking about. The strange adventure crafted by Jon Rivera, Gerard Way and Michael Avon Oeming for DC's Young Animal boasts edge-of-your-seat action, wondrous underground landscapes, chills and horrors a-plenty… and now, an official playlist. Curated by Rivera and Oeming, it's an eclectic mix of classic rock, electronic jams and punk that's almost as trippy as the book itself.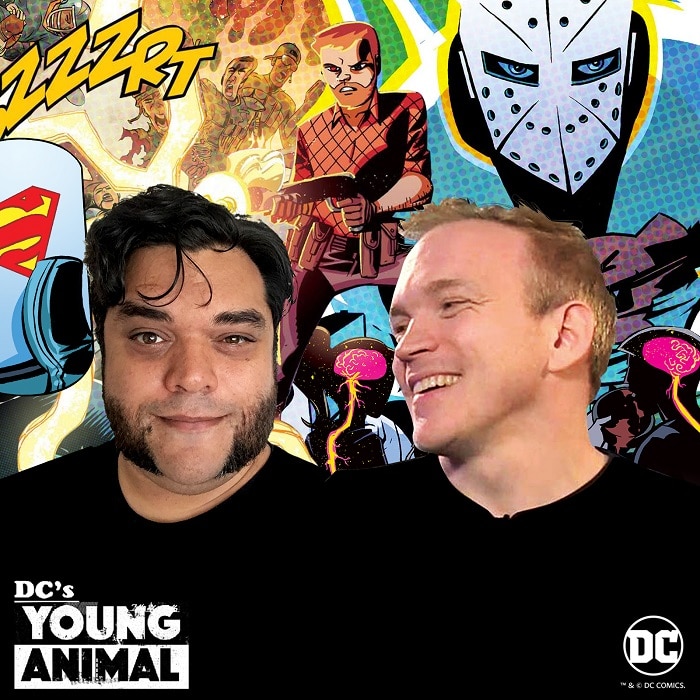 Don't worry, we wouldn't think of setting you loose in Muldroog without a guidebook. We asked Rivera if he'd share a few thoughts on the songs he contributed. Enjoy!
1.) Cannibal Holocaust:  A sweet, but ominous tune which reminds me of the book's B-Movie origins.
2.) Moonage Daydream: Cave and Mazra's unofficial love theme. Muldroog is a very glam place, and of course, "Keep your electric eye on me, babe!"
3.) Going Underground:  I think Cave would appreciate a song about wanting to escape society when your life is in a rut. The namesake for our first issue and trade!
4.) Have You Ever Seen The Rain?:  This was on one of the Creedence albums Wild Dog sent Cave after the funeral (complete with bourbon).
5.) Journey to the Center Of A Girl:  I'd like to think Chloe is a pretty big fan of The Cramps.
6.) Love War Call:  A classic bombastic Italian film score that perfectly captures the energy of this book.
7.) Simple Man: For Wild Dog.
8.) People Playground - Version A:  Time to grab some Night Pudding and relax.
9.) The Court of the Crimson King:  Always singing this tune when I write the Whisperer.
10.) I Got a Name:  A song from Cave's era that I think Chloe may someday relate to.