It's hard to believe DC Super Hero Girls is now over a year old. Since we first met them, the attendees of Super Hero High have bounced between animated shorts, a variety of toys, original graphic novels, and most recently, a digital first comic series. A new chapter of PAST TIMES AT SUPER HERO HIGH soars onto digital shelves today, December 14, and we talked with writer Shea Fontana about the ins and outs of storytelling in this format.
The digital first series has given Fontana the opportunity to broaden the horizons, so to speak, of the student stars. Fontana explains, "Past Times at Super Hero High has let us focus on the relationship between Batgirl and Harley, which is something we hadn't previously explored in the graphic novels or animation. Also, we get to see the Super Hero Girls interacting with characters from different timelines that they haven't met before—Vandal Savage, the Atomic Knights, some villainous versions of their favorite teachers and, of course, a whole herd of dinosaurs!"
Dinosaurs came into the picture when the students took a field trip into the prehistoric past. Like you do. As you can imagine, any antics involving dinos and superpowered teens has an element of hilarity. Harley Quinn's sense of humor, which was established in the animated shorts, carries over to the comic book page. Surprisingly, it seems like Harley's cracks are suited for the format. "There are definitely some Harley puns that actually work better when you read them rather than hear them spoken," Fontana says.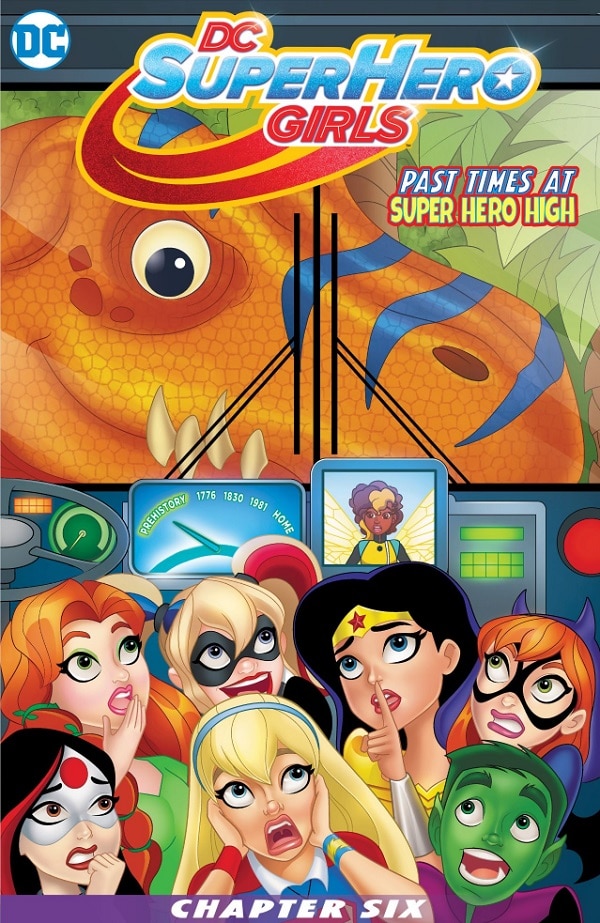 On the opposite side, Fontana says Starfire's a little harder to write for in the comics. "I love Starfire's unique dialect, but I find it harder to write her for the comics than animation. It's a balance between capturing her distinct speech patterns and making the meaning clear to the young reader. I'm always worried that people will read her dialogue and think it's a typo or mistake instead of understanding 'that is the way of which she does the talking.'"
The comics format also means Beast Boy gets do more shapeshifting. He's morphed into all sorts of animals in Past Times at Super Hero High—animals such as dinosaurs (of course) and a sloth. They don't exactly keep a wish list of creatures for Beast Boy to transform into, but his ability is always in the back of Fontana's head. "I do make a note whenever I hear a great animal idiom we haven't done that Beast Boy might be able portray. Busy as a bee, feeling sheepish, taking catnaps—Beast Boy does them all!" she says.
Because the students accidentally affected the timeline with their field trip in Past Times at Super Hero High, they returned to a different school than the one they left. Vandal Savage is in charge, and he's not the kindest of principals. The girls have some challenges ahead as they try to fix what they broke.
"To get back to the right timeline, the superheroes trapped at Savage High will have to take on their teachers—the weird/evil timeline version of their teachers—which includes Doc Magnus (who has, as Harley notes, made some unfortunate facial hair decisions by growing an 'evil' goatee), Crazy Quilt, Red Tornado, and Vice Principal Grodd," Fontana says.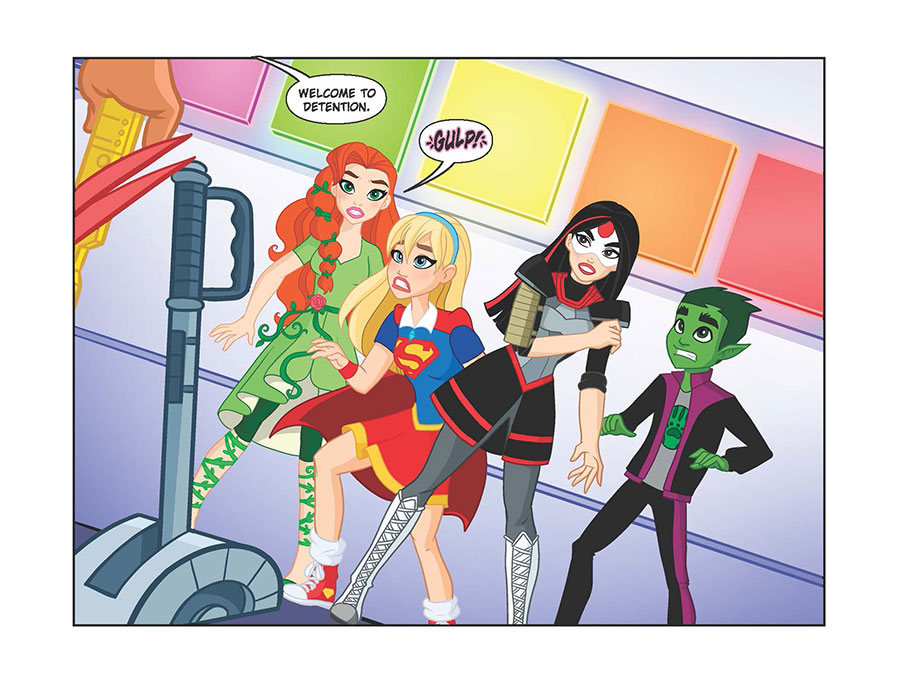 One of the super fun parts about what's ahead? More Harley and Batgirl teaming up. Though we'll see plenty more from characters such as Supergirl, Bumblebee, and Wonder Woman as the story unfolds and they repair the timeline, Harley and Batgirl will continue to be at the heart of the series. And during this arc? Fontana teases, "Harley and Batgirl are on a twisted journey through time that will have them meeting some notable women from history, including Amelia Earhart and Emily Dickinson."
All of these adventures written by Fontana are coming to life with the help of artist Agnes Garbowska. Fontana mentioned all artists working on DC Super Hero Girls have to follow an established style, but that Garbowska is bringing her own touch.
"Agnes brings a lot of cute, funny, and quirky facial expressions to the characters. Historically in comics, most female characters have always been portrayed as 'pretty,' but something that I think is great about DC Super Hero Girls is that we allow our girls to be a whole range of traditionally 'unflattering' things—silly, disgusted, angry, perturbed, exasperated, goofy. Agnes does a great job at capturing these moments and ranges of expressions, which makes our girls feel very relatable and real to the young girls who are reading the series."
Enjoy an exclusive preview of today's new chapter below!
DC SUPER HERO GIRLS: PAST TIMES AT SUPER HERO HIGH #6 by Shea Fontana and Agnes Garbowska is now available for digital download.