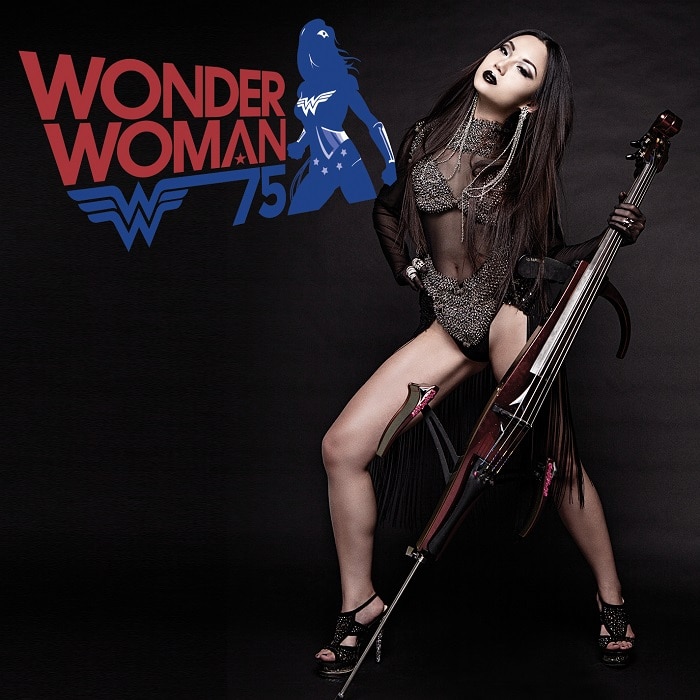 You may not recognize her name, but if you're a DC fan, you know Tina Guo's work. The internationally acclaimed cellist and recording artist has performed with the San Diego Symphony, played Dvorak at the Walt Disney Music Hall in Los Angeles, toured with Cirque du Soleil, collaborated with The Crystal Method and artists from Nine Inch Nails and Limp Bizkit and has nine albums available along with numerous singles. But to viewers of this year's Batman v Superman: Dawn of Justice, she's likely best known as the performer behind the unforgettable Wonder Woman theme.
It's fitting, since as her fans and viewers of Guo's recent DC All Access appearance will tell you, Guo's something of a wonder woman herself. A fiercely energetic performer who dabbles in just about every genre out there, Guo's work is exciting and unforgettable, as is her Wonder Woman 75th Anniversary playlist, which debuts today.
"I love how Wonder Woman carries thousands of years of ancient mythological wisdom and combat training as well as awesome high-tech weaponry," Guo says. "I've always strived to be like the ultimate warrior princess demigoddess she is, as demonstrated in my old MySpace username being 'WarriorCellist,' haha! I don't have indestructible bracelets or a Lasso of Truth, but I do have an Electric Cello with a very sharp endpin. Here are some of my favorite songs and thoughts on how they've inspired me musically and personally."
Wonder Woman Theme from Batman v Superman - Hans Zimmer, Junkie XL, feat. Tina Guo
Being asked by Hans to perform the new Wonder Woman theme was surreal! When I play my Electric Cello, my warrior alter ego kicks in. I love my classical cello too, of course, and am really a big dork in real life—but screaming on the electric cello puts me in touch with the aggressive, brazen and animalistic parts within myself.
The Runaways - Cherry Bomb 
Joan was not only a trailblazer for women in rock music, but the first female artist to own an independent record company. She founded Blackheart Records with her producer Kenny Laguna in 1980 and released her first solo album, selling them at shows and record stores out of a car trunk.
Rebel Girl - Bikini Kill
Produced by Joan Jett, this song talks about a super confident "rebel girl" that the all-girl band wants to be friends with. I love how the lyrics aren't competitive or jealous, but empowering and encouraging strong women to support each other. "Love you like a sister, always. Soul sister, blood sister, come and be my best friend, really rebel girl. I really like you, I really want to be your best friend."
Just a Girl - No Doubt
Awesome anti-female stereotype song, Gwen's lyrics fight against the portrayal of women as the weaker sex.
Rammlied - Rammstein
I love how carnal yet calculated and mathematical Rammstein's sound is, combined with Till's growl rhythmically driving me into a state of hyper-focus. I listen to all Rammstein when I work out, and I tried to listen while driving but realized quickly it was a bad idea. 
I also adore their theatrical and fire-heavy live performance and imagery. Admittedly, their lyrics can be extreme, and while I appreciate them, my focus personally is more on the actual energy from the music. In a way, not understanding German increases that effect for me personally. One of the repeated phrases in this song translated into English is, "Whoever waits patiently will be rewarded when the time is right."
Perfectly Flawed - OTEP
All of us have moments where we feel like we're not good enough, and this song's message is that no matter how bad things may feel like they are, to keep going. It's completely normal to be flawed and we are all a work in progress. I think part of being a strong person is being able to admit to weaknesses and fight to overcome them. 
Lift me Up - Five Finger Death Punch
The message of the lyrics in this song are so uplifting—about overcoming hardships and negative circumstances in life to still come out on top in the game of life.
"I won't be broken
I won't be tortured
I won't be beaten down
I have the answer
I take the pressure
I turn it all around."
Goyescas-Intermezzo by Granados/Cassado - Jacqueline du Pre
Jackie has been my cello role model since I was 7 years old. I've never heard a cellist more emotional and transcendent in her playing. I love her beautiful tone and outgoing personality from documentaries I've watched dozens of times. Sadly she stopped performing at 27 due to multiple sclerosis but made so much music in her brilliant but short life. Her Davidov Stradivarius is now owned by the Vuitton Foundation and played by Yo-Yo Ma. I adore this performance of the Goyescas-Intermezzo in 1962, when she was just 17 years old. 
Vocalise - Nina Kotova 
My father, who was my first cello teacher from the age of 7, bought Nina's debut album in 1999 and I immediately put the CD in my boombox and played it on repeat. I loved the selection of gorgeous music. I was also obsessed with the beautiful album artwork and the fact that she also composed and arranged a few of the tracks on this CD.
Rising Force - R. Armando Morabito, feat. Tina Guo (from the album Days of Tomorrow)
This song was composed by my husband Ray, and we met when he contacted me in January 2013 through Facebook to play cello for this piece. He ended up getting cello recorded for this cinematic battle track and a wife too! This battle piece drives forward with relentless passion and I sang the vocals also.
I Asked for Love by - Lisa Gerrard & Patrick Cassidy
I adore Lisa Gerrard and her work on Gladiator with Hans. I love Lisa's ethereal and evocative voice and also had the pleasure of meeting her in person when we both performed at a concert in Budapest two years ago. Her presence is refined and elegant, and her voice even more amazing live.
Summertime - Janis Joplin 
Her raw passion is such an inspiration and this is my favorite version of "Summertime." 
Eva Cassidy - Autumn Leaves
This is a live recording of Eva performing in January 1996 in the Blues Alley Jazz Supper Club in Georgetown, DC. She passed away in November of that year from melanoma. She was relatively unknown outside her hometown of Washington, DC during her lifetime but her posthumously released recordings have been number 1 records in the UK. When I first came across one of her videos on YouTube ten years ago, I was so drawn in by her beautiful and melancholy voice. I was so heartbroken to discover she had already passed at such a young age, and always remind myself that we never know what tomorrow brings.
The Trooper (Iron Maiden Cover) - Tina Guo feat. Nita Strauss (from the album Cello Metal)
This is my cover of Iron Maiden's "The Trooper," which also features my favorite female guitarist, Nita Strauss, trading solos with me. Not only is she an incredibly cool and kind person, I admire her drive and dedication to everything she does. She's a killer musician and gorgeous too!
Fight Song - Rachel Platten
I love this song's positive message of self confidence and continuing to believe in ourselves even when things are rough. Never give up! 
"This is my fight song
Take back my life song
Prove I'm alright song
My power's turned on
Starting right now I'll be strong
I'll play my fight song
And I don't really care if nobody else believes
'Cause I've still got a lot of fight left in me"

You can listen to Tina Guo's Wonder Woman playlist at the official DC Spotify Profile, or stream it below.
Soundtrack Links
"Is She With You?" from the Batman v Superman Soundtrack
Written by: Hans Zimmer & Junkie XL
Performed by: Tina Guo
Batman V Superman Soundtrack avail now:
itunes: http://smarturl.it/bvs_i 
Amazon: http://smarturl.it/bvs_az 
Spotify: https://open.spotify.com/album/71FSCrAPIWtgBqiQOtQaT4 
Tina Guo Links
iTunes: http://apple.co/1A8me7e
YouTube: YouTube.com/c/TinaGuoMusic
Facebook: Facebook.com/TinaGuoMusic 
Instagram: TinaGuoCello
Snapchat: tinaguo 
Official: TinaGuo.com