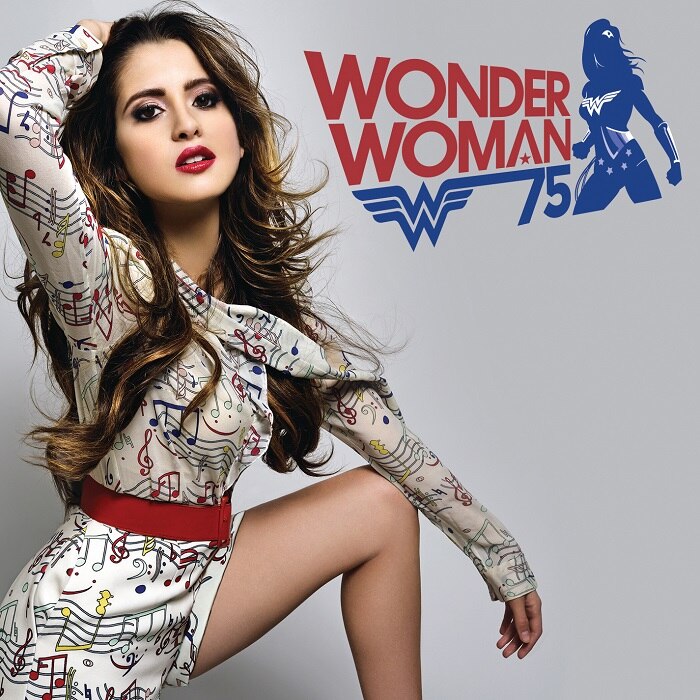 It's Fourth of July weekend here in the States, which means fireworks, barbecues and warm summer nights. So it's appropriate that Laura Marano's special Wonder Woman 75th Anniversary playlist is the perfect soundtrack for forgetting your worries and having some fun.
An actress and singer who first garnered attention playing Ally on the Disney Channel series Austin & Ally, Marano is now targeting the singles charts with her catchy new song "Boombox." She's also worked with UNICEF and the Humane Society, won Best Actress at the Kids Choice Awards, voiced roles in Finding Nemo and Ice Age: The Meltdown and recently released her first music video… all by the age of twenty.
"These songs make me feel like a powerful woman/human being in general," said Marano. "Diana, aka Wonder Woman, is a woman with extraordinary abilities put in very difficult circumstances. Although we aren't all Amazonian women with a really cool Lasso of Truth, we all have days where we feel like we need to rise above the hurdles that are put in our track. We can all be Wonder Woman, as long as we show the world that we are unstoppable."
Marano's list features plenty of pop written and performed by strong and confident young women, but it goes well beyond bubblegum with additional selections by Spoon, the Eels, Florence + the Machine and the Eagles. You can listen to it below, or find it at the official DC Spotify Profile.