The evil we do comes back to haunt us. Though it usually doesn't take the form of a winged and sharply clawed beast capable of turning people into undead assassins.
THE DARK & BLOODY takes us to the mud and sweat-stained world of the Kentucky backwoods, where veteran Iris Gentry scrapes out a meager living selling moonshine to locals while trying to forget the horrors of his time in Iraq. But not all of those horrors are ready to forget him. It's a Southern Gothic chiller that is dark…and bloody good.
To learn more, we recently gathered writer Shawn Aldridge, artist Scott Godlewski, cover artist Tyler Crook and colorist Trish Mulvihill to answer ten questions about the series, comics and anything else that many have been haunting us at the moment.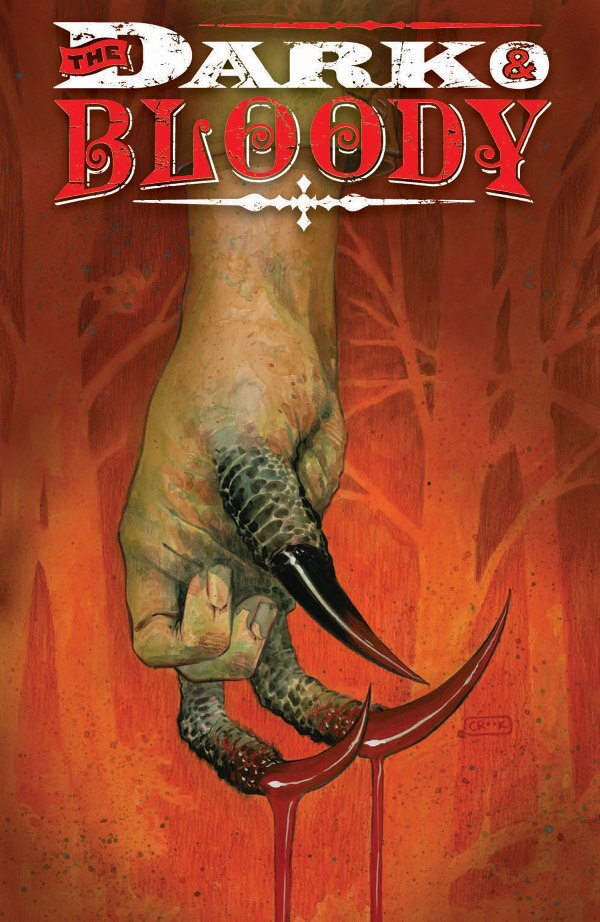 Tell us, briefly, how you would describe THE DARK & BLOODY:
Shawn Aldridge: A Southern Gothic tale about the monsters war makes us become.
Scott Godlewski: The literal horrors of war follow an Iraq vet home to Kentucky and are intent on destroying him and everyone he loves.
Trish Mulvihill: Creepy, hot and humid.
 
What was your first Vertigo comic as a reader?
Scott: I remember buying some SANDMAN and SANDMAN MYSTERY THEATRE, but I know HELLBLAZER was the first Vertigo book I read regularly.
Tyler Crook: I'm not sure it was the first I ever read but ENIGMA was the first Vertigo book that I became obsessed with. I wanted to draw like Duncan Fegredo for a long time after reading that book.
Shawn: A random issue of SWAMP THING, I'm sure. The first one that I truly read, though, was DEATH: THE HIGH COST OF LIVING.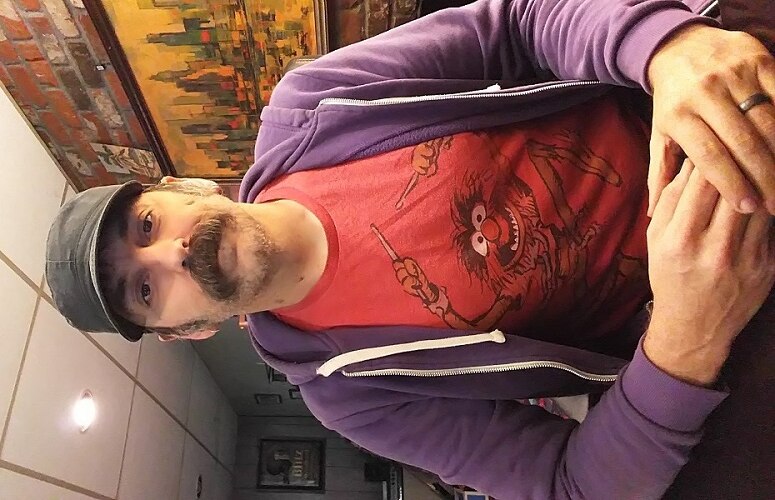 Shawn Aldridge
 
Is there one reason why you chose to bring THE DARK & BLOODY to Vertigo?
Shawn: The honor of being a part of Vertigo's rich history of storytelling.  (Also, they said "yes.")
Scott: Jamie S. Rich asked me nicely. And it was a great story.
Tyler: I was excited by the mustache to sideburn ratio after Jamie Rich joined the team.

When did you know for sure that comics were the thing you wanted to do?
Shawn: Since the moment I read my first comic, I knew I wanted to somehow be a part of them.  It wasn't until my first year of college, though, that I realized comics, or at least writing, was the only career I'd be truly happy doing.
Scott: After buying X-Men #1. Just like every other artist my age.
Tyler: I wanted to do comics as soon as I figured out that they were made by actual people who really existed. But I wasn't sure I wanted to do if for a living until I reached my 30s.
Trish: When my old apartment was next to DC Comics' office. Heh.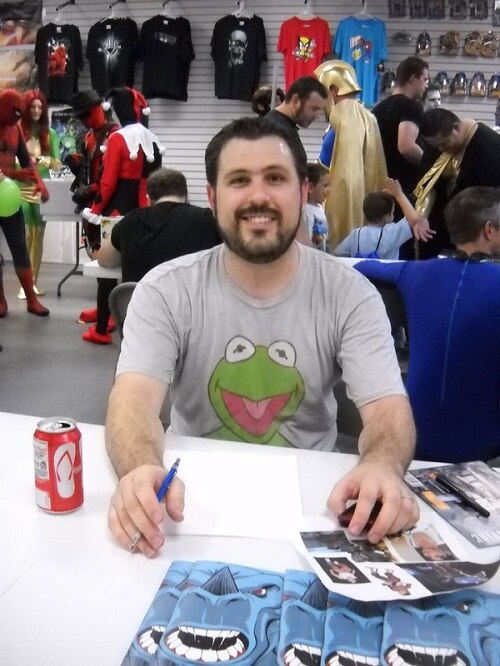 Scott Godlewski
 
What is your favorite genre of comics to work in?
Tyler: Horror comics.
Scott: I don't know if have a favorite. Horror is fun. So is sci-fi.
Trish: Always love to work on the seedy noir stuff. Once I stumbled into the world of Vertigo, that was it. Westerns are fun, too.
Shawn: Hyphen noir. Ha ha. I feel like I bring noir tendencies to whatever genre I'm doing. Crime-noir. Sci-fi-noir. Horror-noir.
 
Is there any genre of comics you have yet to dabble in, yet always wanted to?
Scott: I'd like to eventually do something I'd let my kids read.
Shawn: I'd definitely like to do a fantasy book someday.  Fantasy-noir.
Tyler: I'd love to do a character driven "slice of life" style comic, something similar to Love & Rockets.
Trish: I'd love to color more historical stories. Remember "Kal," the Superman story set in medieval England? Man, that would have been a dream job. The art was stunning.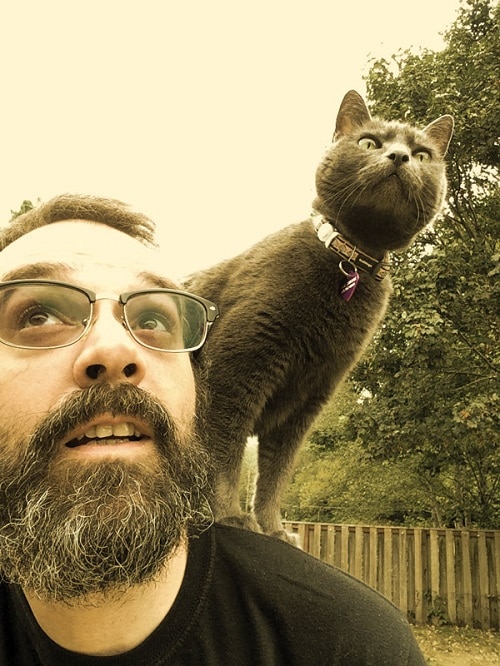 Tyler Crook (and Sibbie)
 
Describe what makes a good colorist important to you.
Shawn: They do so much to set the tone and mood of the book. I mean, color literally affects our mood, the way we feel, how we see things. A good colorist is invaluable.
Scott: Colorists set the tone and atmosphere. Trish Mulvihill makes me look like I know what I'm doing. She's the most important part of this whole thing, in my opinion.
 
How do you know when to call a page a finished page?
Scott: When it needs to be done.
Tyler: That's a really hard one. It usually comes down to a convergence of not knowing what else to do, being scared of screwing up the good bits, and deadlines.
Shawn: When my editor says, "This looks good."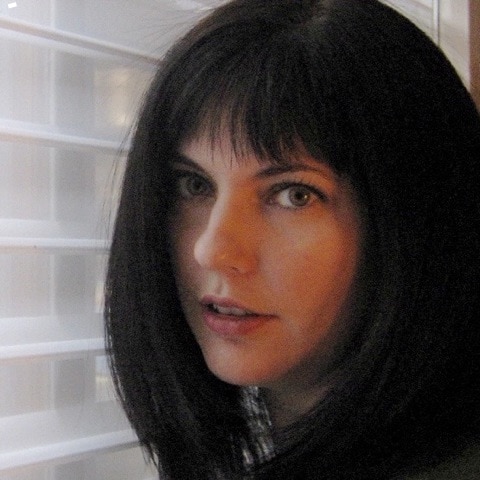 Trish Mulvihill
 
People often say, "If I could go tell ten-year-old me that I work in comics, that kid would be stoked," but if you could reverse it, and ten-year-old you could leave you something in a time capsule, what would that something be?
Scott: Whatever action figures he got for his birthday that year. I'm sure they're worth something now.
Trish: All the drawings I made as a kid. I don't have any of them. Sob!
Shawn: My dad had a really sweet Frank Zappa shirt. It was Zappa's face in this beautiful and intricate embroidery. I'd tell me to put that in a damn time capsule, so I could wear its awesomeness now.
 
You're can have one final coffee with 2 people, one living and one dead, before a zombie apocalypse.  Who are they and what do you discuss?
Tyler: Thomas Frienden and Nestor Redondo. Frienden because he's the head of the CDC and might know how stop the zombies, and Redondo because I want to talk to him about his inking and lettering on SWAMP THING.
Scott: Neil deGrasse Tyson would be a blast to talk to about everything. And my father-in-law so I could tell him what an amazing woman, wife, and mother his daughter turned out to be.
Trish: Dead person: My grandmother—I only got to see her briefly as a kid. Living person: That's tough. Stephen Colbert, maybe? If we're going to die, might as well leave laughing.

THE DARK & BLOODY #3 is now available in print and as a digital download.