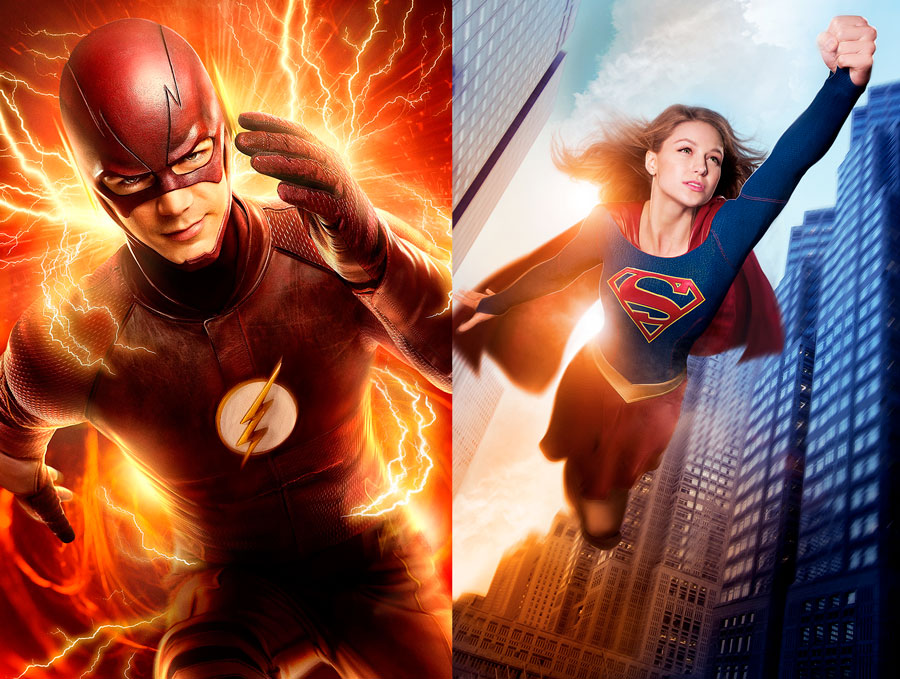 As the World's Fastest man, the Flash can run anywhere in the world in a matter of seconds. Even National City.
CBS announced today that Grant Gustin's Flash will be crossing over into an episode of Supergirl later this year—a development that's sure to please fans of both series. While details of what the crossover will entail are yet to be revealed, the episode is set to air on Monday, March 28th.
"We are so incredibly excited to announce something that we have dreamed of happening since we starting making Supergirl—The Flash and Supergirl are teaming up!," said The Flash and Supergirl Executive Producers Greg Berlanti and Andrew Kreisberg.  "We want to thank Grant Gustin for making the time to come visit (on top of his already immense workload) and all of the folks at CBS, The CW, Warner Bros. and DC for working this out. And finally thanks to the fans and journalists who have kept asking for this to happen. It is our pleasure and hope to create an episode worthy of everyone's enthusiasm and support."
Requests for Supergirl to cross over with either The Flash or Arrow have been loud and frequent among fans, particularly since the three shows share executive producers. This actually isn't the first time characters from The CW's shared DCTV universe have bumped into a character from a series originally launched outside of that universe. Earlier this season, Matt Ryan's John Constantine made an appearance on Arrow, after having previously debuted on NBC's now-canceled Constantine.
So what do you think? Are you excited by this news? And who do you think would win in a foot race? The Flash or Supergirl? She's still faster than a speeding bullet, right? Let us know in the comments below, and stay plugged into DCComics.com for more news about the crossover as it breaks!