Last night's episode of The Flash, "Legends of Today," kicked off this year's two part crossover event with Arrow by introducing us to an immortal villain, two reincarnated heroes and what's likely to be one major change to Oliver Queen's life. But this week's episodes of The Flash and Arrow are noteworthy for another reason as well. Even more than last season's crossover event, this year's two-parter required the cooperation and collective effort of hundreds of people working onscreen and behind the scenes in what were two of the more technically challenging episodes of television ever created. That's because while the event is being billed as a crossover between two shows, in reality, it's closer to a crossover between three—The Flash, Arrow and the upcoming DC's Legends of Tomorrow.
"We don't deserve extra credit for something like this, but to give you guys an idea of what was happening, we had already started to shoot the first couple of episodes of Legends before we shot this episode," explains Greg Berlanti, Executive Producer of The Flash, Arrow and DC's Legends of Tomorrow. "Also, there were Legends characters who had been on Flash and Arrow that we were shooting on those respective shows before we went into then shooting Legends, only to then have to come back and do the introduction of some of the characters here. So it was about as out of order as you can imagine, with most of it happening concurrently. There were a lot of conference and logistical sessions about how we could pull this off just on a basic level, let alone hopefully make it interesting, entertaining and coherent."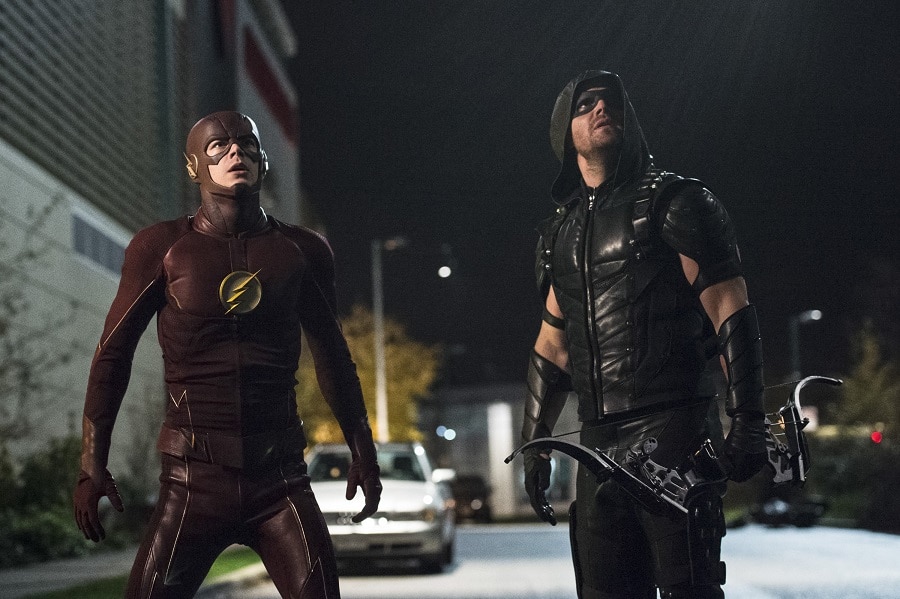 "I don't think it's possible to overstate the incredible amount of difficulty it was for just about everyone involved," adds Arrow showrunner Marc Guggenheim. "Certainly the actors being asked to shuttle from literally one set to two other sets, often times in the course of a single day, to the crews of the three different shows, to the Assistant Directors… I really have to give credit where credit is due to the ADs of Legends, Flash and Arrow. The ADs, among their many responsibilities, they have to handle scheduling. These guys put together schedules that were like higher mathematics.
"It was unlike anything that's ever been asked, I think, of three different productions before. This really was new territory for everyone involved. The fact it came off the way it came off I think is a testament to everyone who had a hand in it, and it was a lot of people."
As viewers very much know, Arrow, The Flash and DC's Legends of Tomorrow all share a universe. Characters frequently cross over between series, even outside of the touted yearly crossover event. (Earlier this year, Grant Gustin appeared as The Flash in the Arrow season premiere.) With such seemingly intertwined continuity, it's easy to overlook the fact that the shows are separate, with their own unique crews.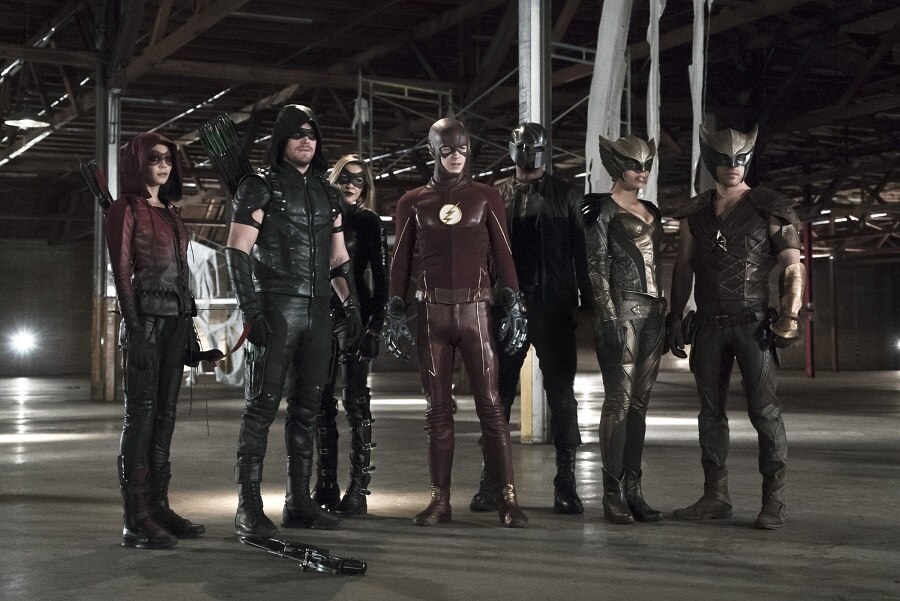 "It is one universe, but they really are three different shows with three different production teams, and as much as we are all friends, it was asking three different TV shows to coordinate," says Flash showrunner Andrew Kreisberg, who's also an Executive Producer on Arrow and DC's Legends of Tomorrow. "You had actors who were not only working on different things, but you had Falk , Ciara and Casper who had already been filming episodes of Legends who were then asked to go back. We had already established on Legends and then had to go back and introduce them."
"It was an acting marathon," explains Hentschel, who plays Hawkman. "It was great fun, but being carted from one set to another, it was a whirlwind. But it was really amazing to see it come together."
Along with Hawkman's debut, the crossover also marks a turning point for Renee's Kendra Saunders, who finally unlocks her past as Hawkgirl. It also introduces Vandal Savage, played by Crump, who last night easily went toe-to-toe with Green Arrow, the Flash and their respective teams. All three of these new characters will go on to play a major role on Legends of Tomorrow.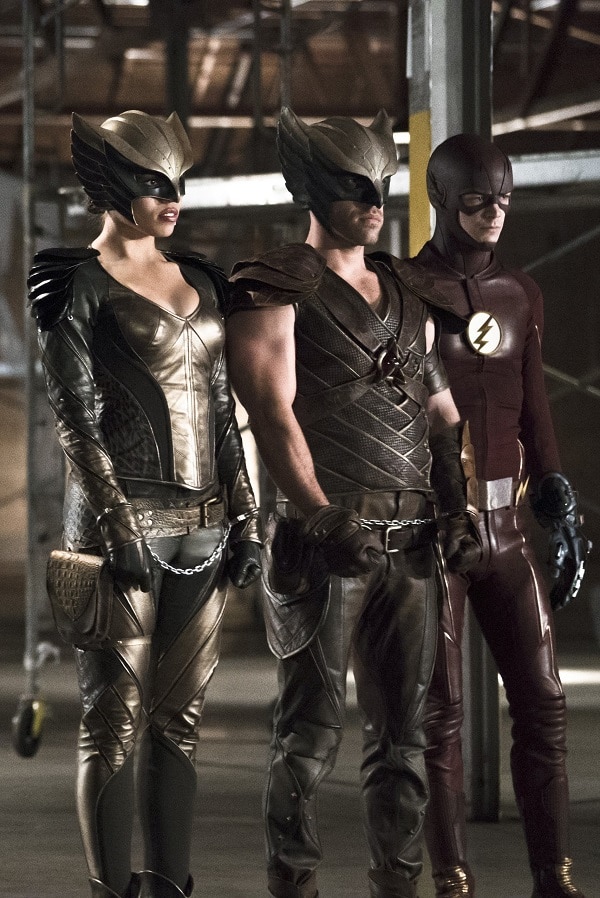 "The studio and the network were asking us from the very beginning of the year which characters from Legends were going to be in the crossover," Berlanti shares. "We wanted to have some, but not all. It felt right that we would use the characters that we hadn't introduced in the individual series yet, with the exception of Rip Hunter, who is saved for the Legends pilot."
Viewers who caught part one likely also noticed another key difference from last year's crossover. Unlike the first event, this one's an actual two-parter, meaning you have to watch both of this week's episodes to get the full story. The result feels almost more like a movie than an episode of television.
"With last year's crossover, it was obviously the first time we'd ever done one and we were very conscious of the fact that not everybody who was watching Flash was watching Arrow and vice versa, so we wanted to make sure that they both were self-contained episodes," Kreisberg explains. "I think this time around, given the success that we had previously and how people are viewing this as much more of a collective, shared universe, we felt emboldened. So we were able to really have a two-hour, true event with one story, villain and storyline and not worry so much about the mechanics of how it would air."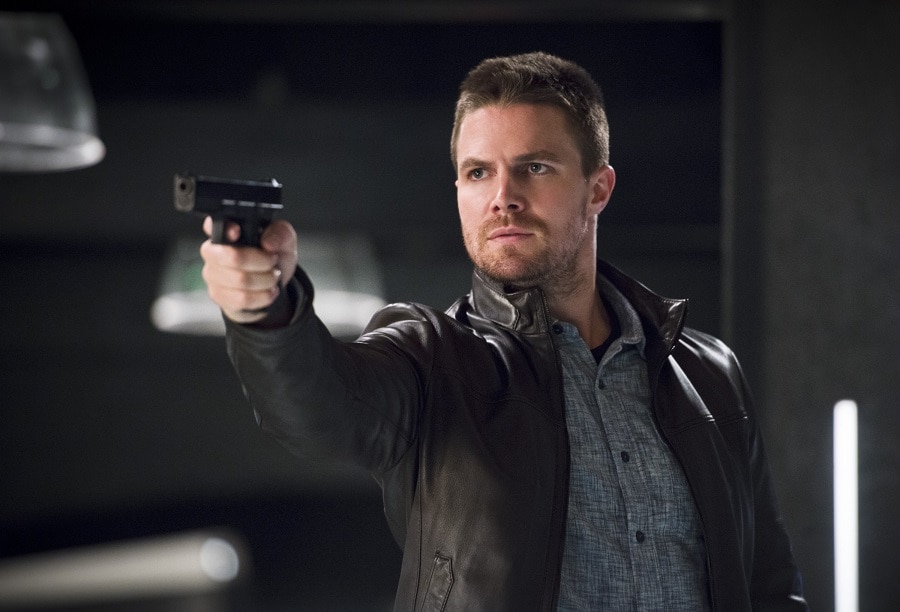 Adds Berlanti, "I also think that storywise, it was appealing to us to try to do something different than we had done previously. felt very episodic and contained last year. I think we wanted to challenge ourselves to see if we really had two hours worth of storytelling and could follow everybody all the way through, what that would look and feel like. That was also our goal—to try and do something different."
And then there's the matter of the three new characters at its core. As DC's Chief Creative Officer Geoff Johns puts it, "The Hawks and Vandal Savage kind of deserve a two-hour introduction. They're big characters."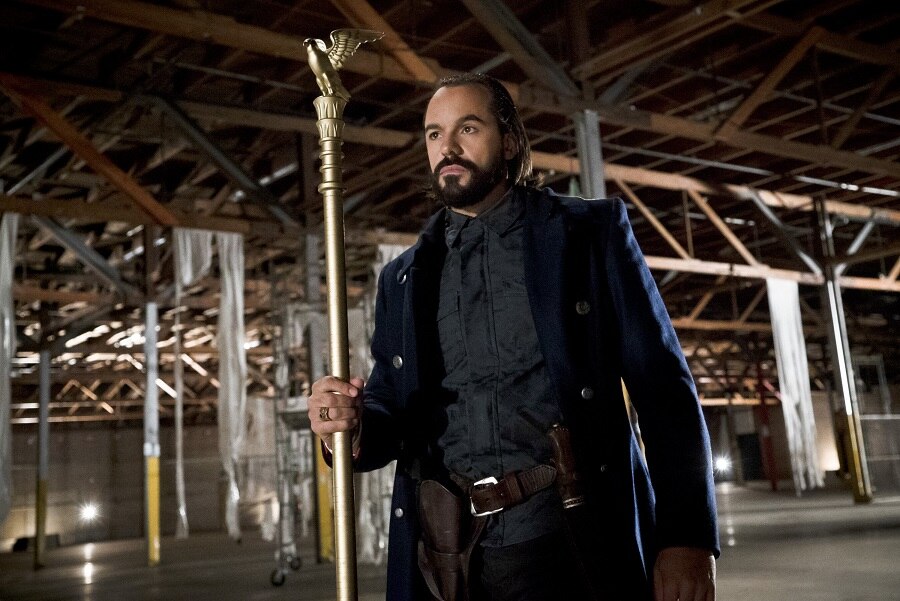 Tonight, fans will see if the Hawks, along with their newfound allies, are able to defeat Vandal Savage. But even if they do, we'll be seeing him again, and on a much wider scale.
"That's something you'll see in Legends," promises Guggenheim. "He has a very clear plan and trajectory. The thing about Vandal, for him, a lifetime is an eye blink. He thinks in thousand-year-old terms. He's very much a master of the long con. He does have his own personal agenda vis-à-vis the Hawks, but he's got much bigger plans for the world."
So do the shows' producers, it seems.

Part two of the Arrow/Flash crossover event, "Legends of Yesterday," airs tonight at 8 p.m. (7 p.m. CST) on The CW. For more from Falk Hentschel on playing Hawkman, be sure to read our exclusive interview with him.