Earlier this year, DC Collectibles announced that they would be releasing a new line of action figures based on the highly influential and almost universally beloved Batman: The Animated Series. Fans were excited, and so were we. In fact, after we heard the news, we held an entire weeklong event here on DCComics.com to celebrate the series.
As part of that event, we gave you an early look at the first two designs: Batman (from 1997's The New Batman Adventures) and Catwoman (based off of the original 1992 design). Well, we're now in the midst of April—Batman Month—which would make it the perfect time to share a little bit more and give you a first look at the second two action figures in the line.
To start, we should mention that it's still relatively early in the process, so what you're seeing below are the sculpts. The color will come later. (Not that there's anything wrong with black and white Batman. In fact, we have an entire line devoted to that as well!)

The New Batman Adventures: Two-Face Action Figure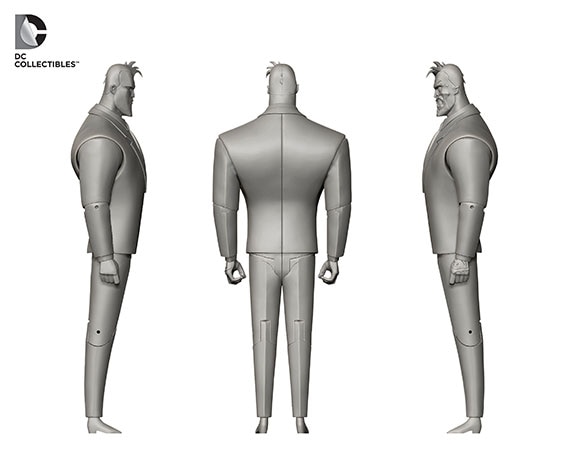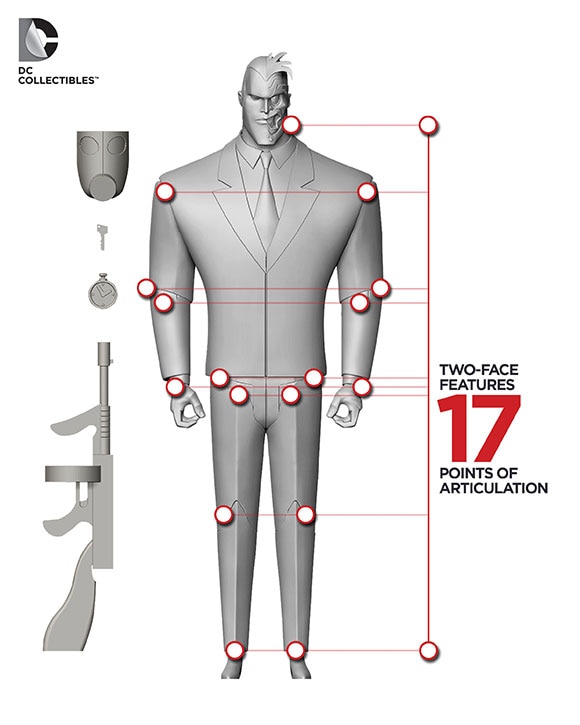 Like our earlier Batman figure, Two-Face is based off of the 1997 design. He'll feature multiple accessories, all of which were seen in the episode "Sins of the Father." He features 17 points of articulation.
You're going to want this one, so we don't suggest deciding whether to buy this action figure or not with a coin flip. At least, not without making "your own luck."

The New Batman Adventures: Mr. Freeze Action Figure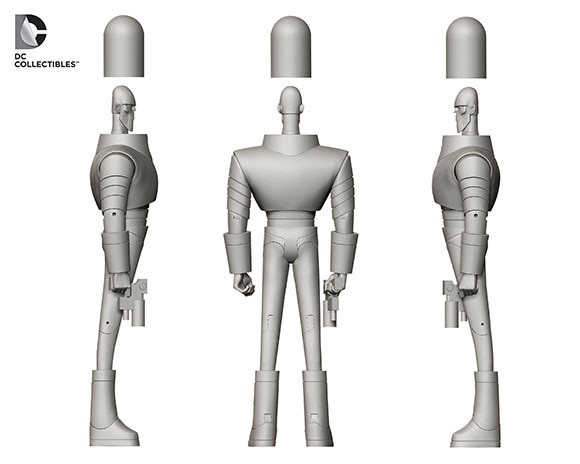 Also based off of the 1997 redesign, Mr. Freeze will feature two "cool" accessories (yeah, yeah, we went there: his freeze gun and his robot spider legs from the episode "Cold Comfort." He also features a whopping 26 points of articulation.

With all of the Batman: The Animated Series action figures, the goal is to give them as much articulation as possible without jeopardizing the art style's aesthetics. The DC Collectibles team is continuing to use the original character design sheets used by the animators, to ensure these figures are as accurate as possible. All of the figures are in the 1/12th or 6-inch scale and will be accurately scaled in relation to Batman.
Look for Two-Face and Mr. Freeze in your favorite comic and specialty store this November. Or shop for them online on Amazon or at www.shopdccollectibles.com. As for which figures we'll be putting out next year, well, there's only one thing we can say…
Stay tuned, bat-fans, stay tuned…