Did you know that you no longer have to wait till Wednesday to read a brand new DC comic? From the early adventures of a still-developing Superman to epic-scale action set far in our future to vastly imaginative Batman tales spun by some of the best creators in comics, you can find the action you crave starring the characters you love Monday through Friday, and you don't even need to leave your living room to do it. (Also, be sure to read to the end of the article to find out how you can win a free download of each day's title!)
If you're a Batman fan, you have plenty of great choices when it comes to monthly Bat-books. But are you aware that one of the most original and exciting Batman titles is only available digitally? For the next title in our week of Digital First spotlights, we take a nice long look at LEGENDS OF THE DARK KNIGHT, a weekly series of stand-alone tales all starring the Dark Knight and told by some of the most popular writers and artists in comics. Past creators have included JG Jones, Damon Lindelof, Jeff Lemire, Nicola Scott, Ben Templesmith, B. Clay Moore and Steve Niles.
Even better, there are more great legends to come. Today, Legends of the Dark Knight launches into a brand new tale written by I, Vampire writer Joshua Hale Fialkov and drawn by artist extraordinaire Phil Hester. Here's Joshua to tell you more about it:
"Batman is an icon for one very simple reason. Elasticity. Batman has appeared in so many different versions, from the gun-toting Golden Age original to the guffawing fun of the '60s Silver Age (and accompanying TV show), to the Grand Guignol glory of the modern age. What was most exciting for me in writing a story of the digital series has been contributing to that legacy of change.  
And look at the range of stories we've seen so far. From the smart, delicate story behind Lindelof and Lemire's first entry, to the whizz bang fun of Jonathan Larsen and JG Jones and the dirty, nasty, delight of B. Clay Moore and Ben Templesmith's, to the thoughtful and heartfelt run by Steve Niles and Trevor Hairsine.  
When I first spoke with editor Ben Abernathy about telling a story in such great company, I knew exactly what I wanted to do. I wanted to tell a story of the city of Gotham, and the people who live in it, constantly rubbing up against the colorful world of the Batman and his rogues gallery. And I wanted to do it with one of the few DC characters who predates Batman (and Superman, even!): Slam Bradley.
Slam is a character that means a lot to the DCU, despite never quite getting the spotlight shone on him. He was the first—the quintessential—pulp detective in a world about to change. Much like Slam's actual life, he was a solid, strong and smart creation born on the eve of something much different. With the rise of the super heroes, poor Slam held on to a spot in Detective Comics until issue #152, wherein he disappeared more or less until the brilliant work of Ed Brubaker and Darwyn Cooke brought him back to life in the pages of Catwoman.  
So, the idea for me was to take that original character, a guy who doesn't fit in, who knows he's been muscled out by the kooks in tights, and throw him smack dab in the middle of something that he just can't quite handle. And if we're doing noir, who's a better villain than the Black Mask? Jimmy Cagney with a skull for a head! Beat that!
When we began talking art…well, I laid out my dream artists…and sure enough, I got them. The work of Phil Hester has been a huge inspiration throughout my career. And, oh yeah, he's a WAY better writer than me, so I got the benefit of not just his pencil but of his amazing storytelling and writer's brain. He and inker Eric Gapstur and colorist Jim Charalampidis have made what, for me, is one of the most beautiful Bat-comics in a long, long time.
But enough about our little three-parter… (On sale today! Click the link! Seriously!)
What this series represents to me, ultimately, is the power of an idea. The power of a character that's so well defined and understood you can do literally anything to him and he will not crumble. Whether it's fighting bad guys in Gotham City alleyways or wrestling Amazo on the Justice League Watchtower, or, yes, doing the Bat-usi, Batman will always come out standing, grimacing, and completely and utterly awesome.
Now, who do I talk to around here about a 'Tales of the Man of Steel' series?"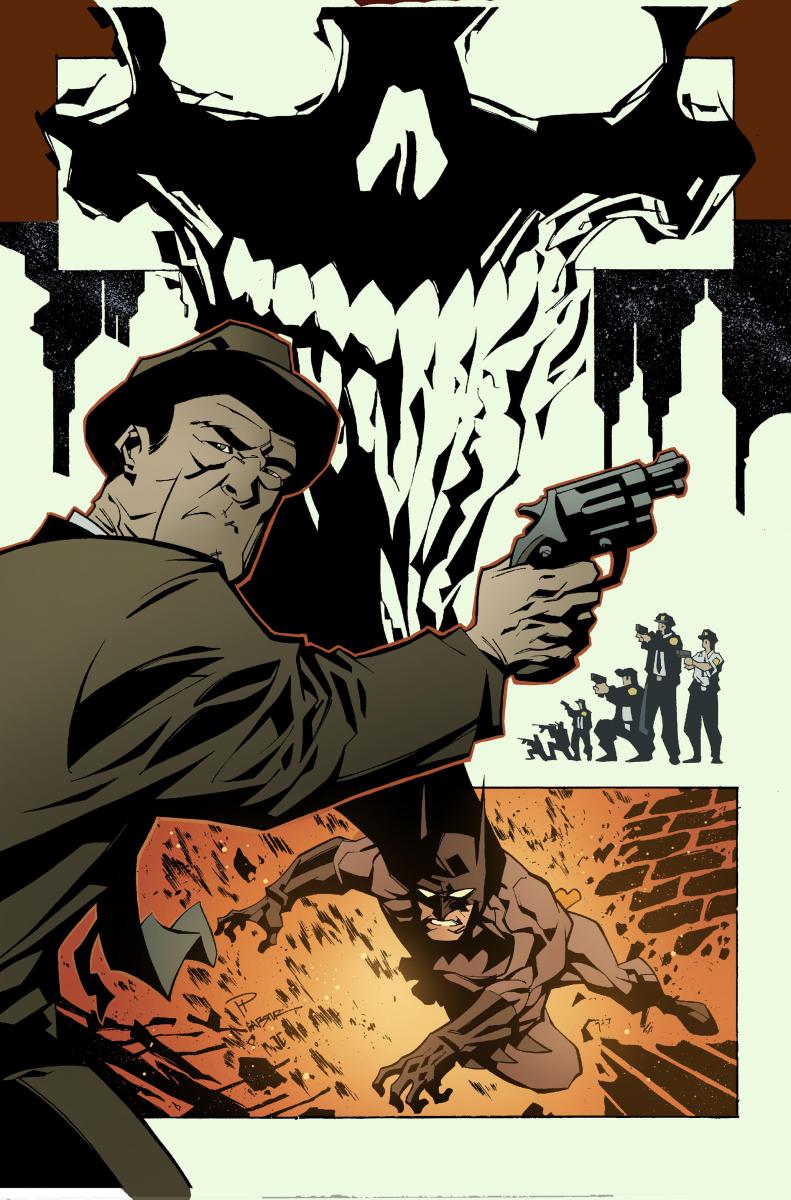 The cover for Legends of the Dark Knight #11-13 (Art by Phil Hester, Eric Gapstur and Jim Charalampidis)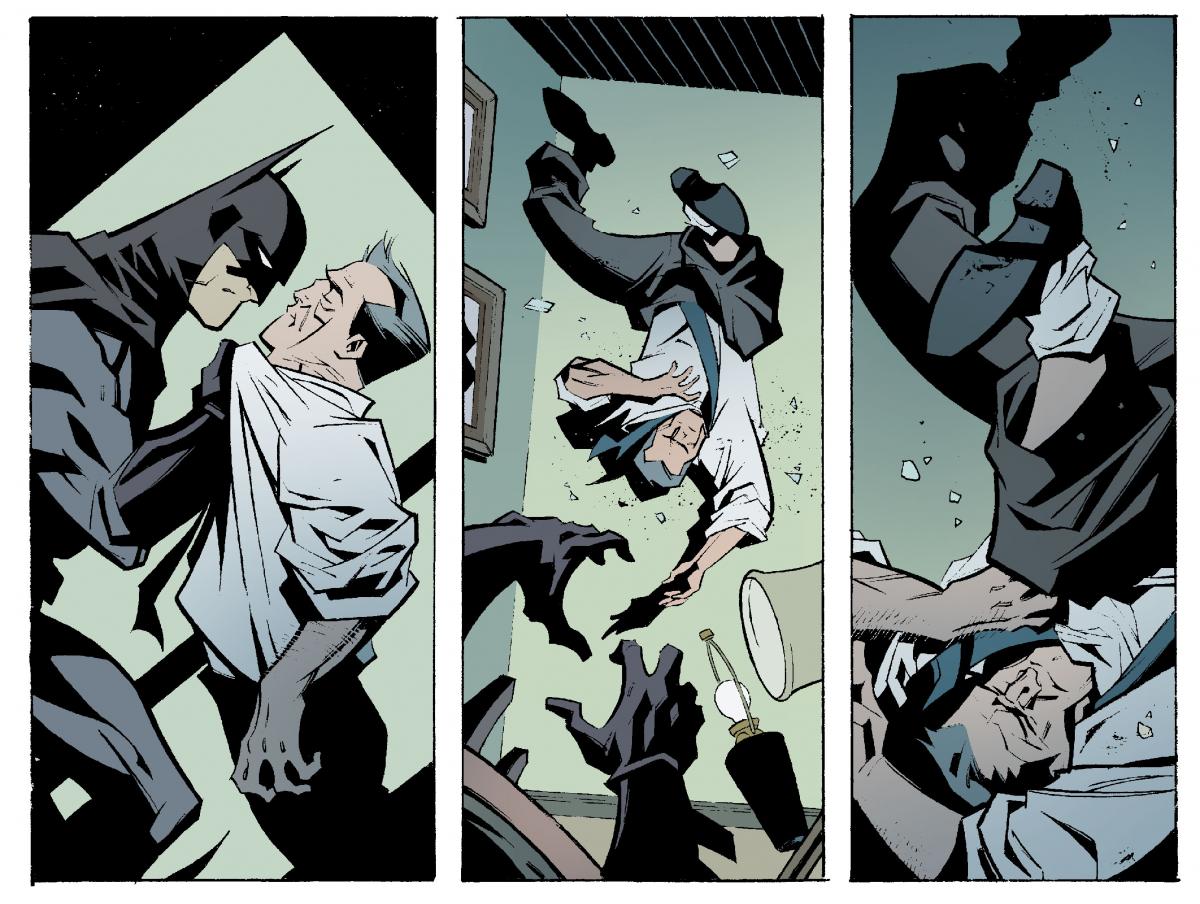 Interior page from Legends of the Dark Knight #11
(Art by Phil Hester, Eric Gapstur and Jim Charalampidis)
***
The first chapter of LEGENDS OF THE DARK KNIGHT: SLAM! hits our digital shop today. But if you're new to this star-powered Batman anthology series, we're giving you a chance to download an issue on us. For today only we will be giving away 50 promotional codes on Twitter that will allow you to download the first chapter of Legends of the Dark Knight (written by Damon Lindelof and drawn by Jeff Lemire) for free.
Here's what you have to do to enter:
1) If you're not already doing so, be sure to follow @DCComics on Twitter.
2) Simply tweet or retweet the following, "Retweet for your chance to win a free digital download of Legends of the Dark Knight. #dcdigital http://bit.ly/PluB5Z"
That's all there is to it! At 5pm PST today, 50 tweeters will be chosen at random and direct messaged a redemption code for a free copy of Legends of the Dark Knight #1 that can be entered at http://www.readdcentertainment.com/redeem. (You'll need a Comixology account to download your free copy.) Good luck and enjoy your visit to Gotham!
Click here for the giveaway terms and conditions.