Did you know that you no longer have to wait till Wednesday to read a brand new DC comic? From the early adventures of a still-developing Superman to epic-scale action set far in our future to vastly imaginative Batman tales spun by some of the best creators in comics, you can find the action you crave starring the characters you love Monday through Friday, and you don't even need to leave your living room to do it. (Also, be sure to read to the end of the article to find out how you can win a free download of each day's title!)
This week in THE SOURCE and on DCComics.com, we'll be spotlighting some of our great Digital First comics. If you're new to the world of DC Digital Firsts, this is your chance to find out what these titles are about. And if you're already a fan, it's your opportunity to learn about what's coming in current and future storylines from the people who are working on them.
We start things off with a look at AME-COMI GIRLS, a splashy, fun action series featuring alternate versions of your favorite DC heroines based on the popular line of figures from DC Collectibles. A new installment of the Ame-Comi comic is available every Monday in the DC Digital store.
Here's series writer Justin Gray (All-Star Western, G.I. Combat) on what makes Ame-Comi worth a look:
"Fun. There I said it. Out loud. Fun seems to be one of those words people shy away from in comics. Like it is a curse or somehow diminishes the respectability of the characters and medium. Seems everyone wants a lot of teeth clenching and 'Grrr, I'm angsty' in their comics, which I'm cool with, but every once in a while fun is good, fun is refreshing, fun is taking all the great women of the DCU and watching them rule the world. That's what Ame-Comi Girls has been and continues to be in bite-sized digital installments every Monday. (Don't worry if you're not doing digital, in October the series kicks off the ongoing print run with Wonder Woman.)
Ame-Comi Girls is an ongoing team book featuring the likes of Batgirl and Robin, Power Girl, Duela Dent, Steel, Green Lantern and so many of your favorites. It is the DCU and characters in ways you haven't seen before and I'm not just talking about the costumes. What if I told you that Krypton and Earth were related? What if the Silver Banshees were mecha armor-wearing, xenophobic terrorists trying to rid the world of Power Girl?
Whether in digital or print everyone involved hopes you'll give Ame-Comi Girls a read!"
Co-writer Jimmy Palmiotti (All-Star Western, Phantom Lady) also had a few things to add:
"Whenever I explain this series, I always just tell people that we are delivering a weekly dose of the coolest female characters in the DC Universe. It really is that simple, and yet it's something that has never been done before…which was the attraction and challenge for us. With this ongoing series, we took everything we love about these characters and focused on the core of what makes them so cool to everyone. We know what people are expecting and we plan on continuing to surprise them each and every week."
AME-COMI GIRLS: POWER GIRL #3 is out today, while next Monday marks the launch of the latest Ame-Comi arc, AME-COMI GIRLS: SUPERGIRL #1.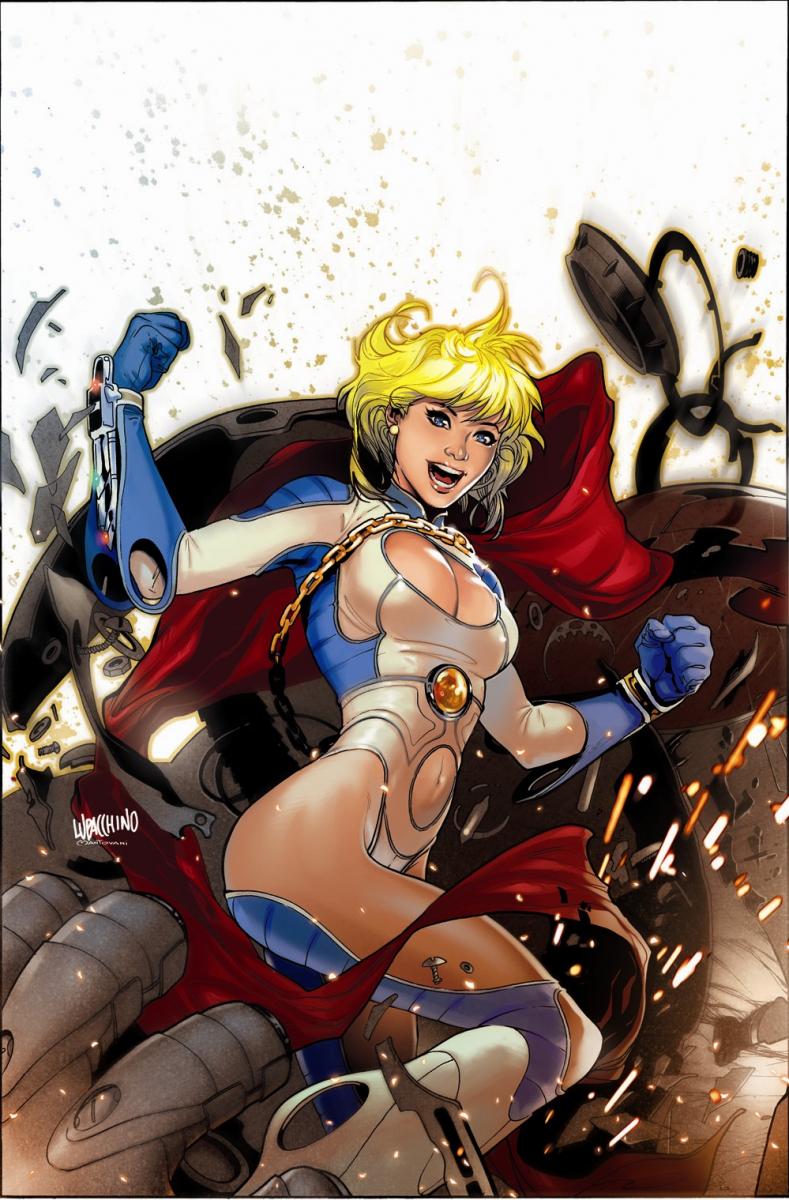 The cover for Ame-Comi Girls: Power Girl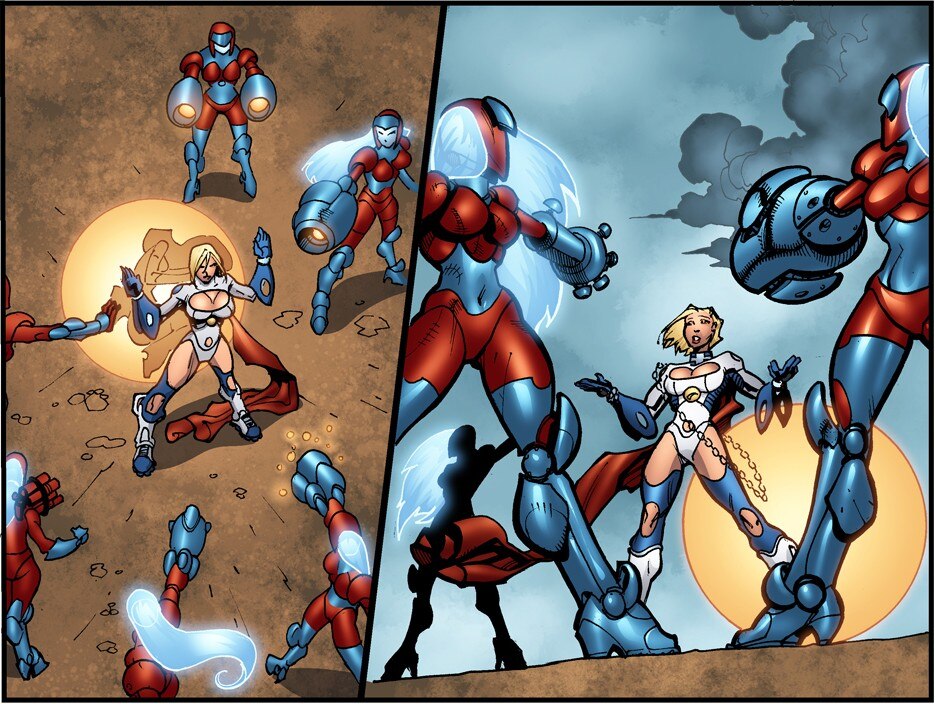 Interior page from Ame-Comi Girls: Power Girl #3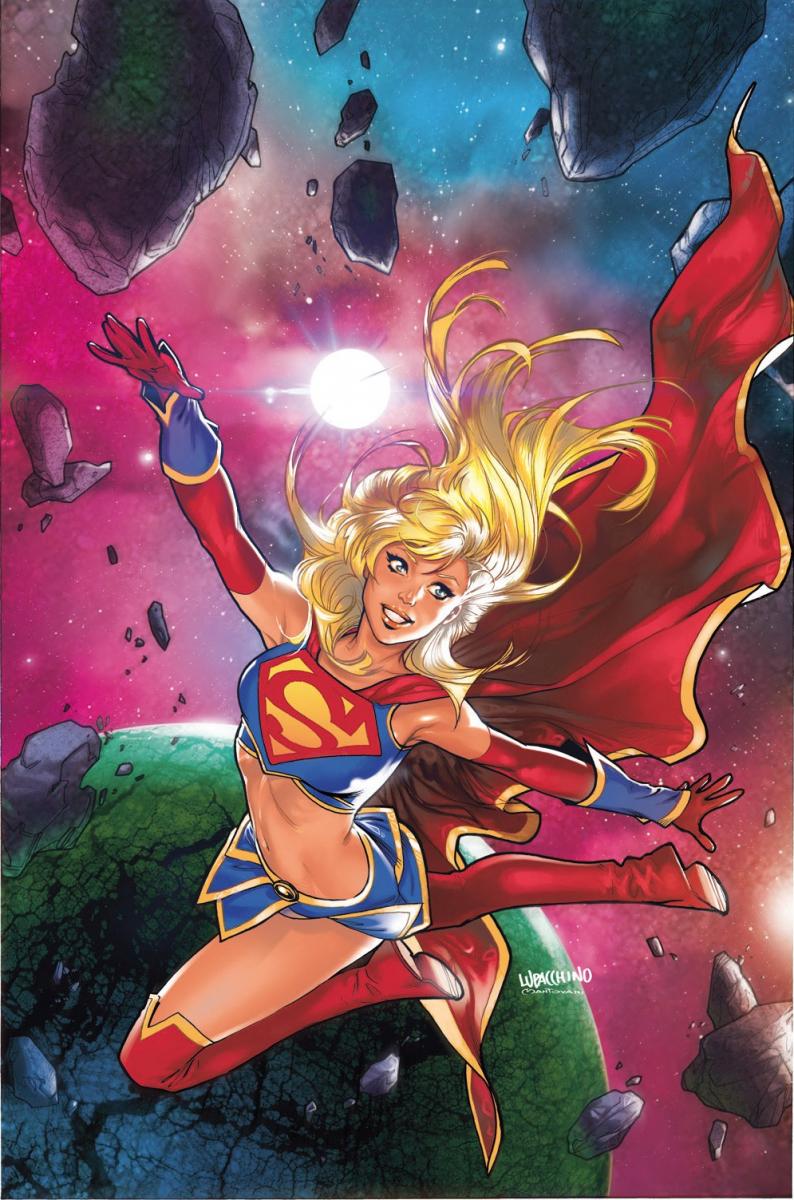 The cover for Ame-Comi: Supergirl
***

Are you new to the world of Ame-Comi? Well, now's your chance to check it out for free. For today only we will be giving away 50 promotional codes on Twitter that will allow you to download the first chapter of Ame-Comi: Wonder Woman on the house.
Here's what you have to do to enter:
1) If you're not already doing so, be sure to follow @DCComics on Twitter.
2) Simply tweet or retweet the following, "Retweet for your chance to win a free digital download of Ame-Comi: Wonder Woman. #dcdigital http://bit.ly/R8GVdf"
That's all there is to it! At 5pm PST today, 50 tweeters will be chosen at random and direct messaged a redemption code for a free copy of Ame-Comi: Wonder Woman #1 that can be entered at http://www.readdcentertainment.com/redeem. (You'll need a Comixology account to download your free copy.) Good luck and hold your hammer high!
NO PURCHASE NECESSARY. A purchase of any kind will not increase your chances of winning.
This Sweepstakes is open only to legal residents of the 50 United States or the District of Columbia who are at least 18 years old as of the date of their entry. Employees of DC Entertainment and any of DC Entertainment's affiliates, parents, subsidiary companies, or advertising and promotion agencies and members of their immediate families are not eligible to enter or win the Sweepstakes. Void where prohibited. By entering the Sweepstakes, entrants agree to these Official Rules and DC Entertainment's Privacy Policy. The decisions of Sponsor are final and binding on all matters relating to this Sweepstakes. Odds of winning depend on the total number of eligible entries received.
One entry per person. All entries must comply with these Official Rules and meet the submission guidelines detailed herein. Each entrant is solely responsible for any and all uses of his/her registered Twitter account.
The random selection will be held on 5 p.m. Pacific on the day of the Sweepstakes from all eligible entries received. We will then Direct Message the winners on Twitter with prize. Total value of prize is $.99.
Sponsor not responsible for late, lost, stolen, incomplete, misdirected, garbled, damaged, delayed or undelivered entries.
The Sponsor of the Sweepstakes is DC Entertainment, 1700 Broadway, New York, NY 10019.