(DC Entertainment Co-Publisher Dan DiDio catches up with his old friend, Solomon Grundy at New York Comic Con)
Everyone from Solomon Grundy to DC Entertainment Co-Publisher Dan DiDio was at New York Comic Con this past weekend. In case you've been unplugged from the Internet all day, there are ton of recaps from the convention.
MTV GEEK
chatted with the rock star creative team of JUSTICE LEAGUE, Geoff Johns and Jim Lee. "It's really about how you tell the stories," said Lee of DC COMICS-THE NEW 52. "It's interesting – there was a lot of skepticism going into September but then once the books came out, the whole nature of the dialogue changed from 'I hate what you're changing' to 'I love what you've changed. I love the new directions.'" "I think we've turned a lot of the skeptics around," continued Johns. "I think there's a lot of people that have turned around and said, 'wow, this is really exciting,' and are on board."
DAILYMOTION
spoke with DC Entertainment Co-Publisher writer Dan DiDio on the NYCC floor. "What I love about what we're doing right now is that it's not just about superheroes," DiDio said of DC COMICS-THE NEW 52. "We've got Westerns, we've got science fiction, we've got horror – so we've got such a wide array and I think that shows diversity and the strength of DC and I think this is what makes the company great."
KOTAKU
reported on the statues on display in the DC Entertainment booth at New York Comic Con. Check out their coverage to see your favorite heroes and villains as well as
MAD Magazine
's take on some of the most iconic DC characters. Following New York Comic Con, lots of outlets ran their exclusive previews of the DC COMICS-THE NEW 52 titles being released this Wednesday. Here's a rundown:
USA TODAY
ran their exclusive preview of BIRDS OF PREY #2. "Yes, she's been a bad guy, but every villain has a great motivation," said series writer Duane Swierczynski when asked about Poison Ivy. "They see themselves as the good guy in their own stories, and she's doing what she's doing for a good reason. It may sound strange but you can be there for your friends and still be a not-so-great person."
MAXIM
has your first sneak peek at WONDER WOMAN #2. "Already one of the best-reviewed books of the new 52, Azzarello's take on Wonder Woman is doing, er, wonders for the character," MAXIM wrote in the introduction of their exclusive preview. "Showcasing her bad-ass warrior side as well as a sense of humor … Azzarello is also rebuilding the mythology of Wonder Woman, simplifying it and making it more accessible to new readers while explaining her powers and attitude."
TV GUIDE MAGAZINE
debuted the first five pages of SUPERGIRL #2. "She has the same core basics: flight, strength, invulnerability, heat vision, x-ray vision," series co-writer Mike Johnson told TV GUIDE MAGAZINE of Kara. "And then we're going to reveal a new power in issue 3 that is unique to her and also a result of her new origin story."
BLASTR
previewed not just one but
two
titles with a science fiction flavor coming out this week! Head on over to their site for your first look at BLUE BEETLE #2 and CAPTAIN ATOM #2.
POPMATTERS
has your first look at RED HOOD AND THE OUTLAWS #2 and
COMIC BOOK RESOURCES
has an exclusive preview of CATWOMAN #2. And be sure to head on over to
DC Comics' official Facebook page
to read an exclusive preview of LEGION OF SUPER-HEROES #2--and scroll through our photo galleries from each day of New York Comic Con. Got more time to surf the web? Check out
THE LOS ANGELES EXAMINER
's, er, terrific review of MISTER TERRIFIC #2, written by L.A. local Eric Wallace and illustrated by Gianluca Gugliotta. "Wallace keeps the action coming and provides new and inventive ways for the hero to travel and solve the mysteries of Brainstorm," wrote THE EXAMINER. "Gugliotta's art also keeps to the tone of the story. This is pulse pounding adventure with a scientific background." To be continued …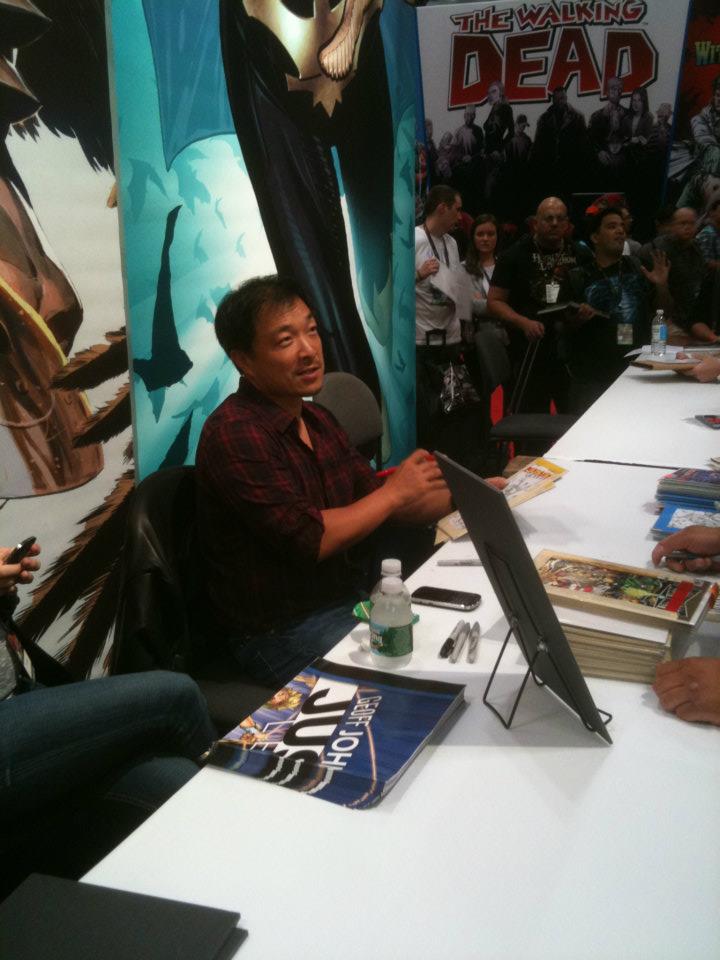 (DC Entertainment Co-Publisher and JUSTICE LEAGUE artist Jim Lee signing at the DC Entertainment booth at New York Comic Con)